Six Months After Newtown, Connecticut - A New Political Landscape On Guns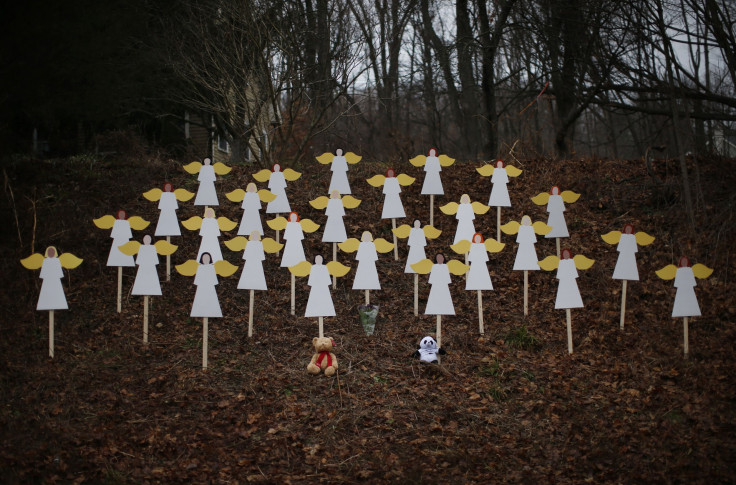 Six months ago today, alleged killer Adam Lanza turned Newtown, Conn., into a physical, emotional and symbolic battleground. Though Lanza's guilt has never been in doubt, his suicide prevented him from being tried for the shooting rampage that killed 20 first-grade children and six educators at Sandy Hook Elementary School on Dec. 14, 2012. Likewise, there has been no closure for the gun control debate, despite predictions that Newtown would galvanize public opinion into believing that enough is enough.
The families of the victims marked the anniversary by gathering on Capitol Hill on Thursday to once again beg Congress to pass legislation expanding background checks for gun purchases. Democratic lawmakers, who have tried and failed to pass any gun legislation since the shooting, took to the podium to promise that the fight is not over. Sen. Majority Leader Harry Reid, D-Nev., discussed his own father's suicide with a pistol. The event wasn't an admission of defeat, but it didn't look like victory, either.
Despite Congress' inability to enact even a compromise background-check bill, however, Newtown did more for the gun control movement than any other event in decades, prompting a flood of new legislation in state capitals.
"I think that something about the fact that it was children in a classroom," said Robyn Thomas, executive director of the Law Center to Prevent Gun Violence, trying to describe Newtown's impact. "It's hard to sometimes pinpoint what triggers people's psychological experience."
Whatever the reason, Thomas said she couldn't think of another event that had changed the national landscape for gun control groups the way Newtown did.
In the days and weeks after the shootings, President Obama and Democrats in Congress began a renewed effort to expand background checks and ban the purchase of assault weapons and high capacity magazines. The legislative efforts stalled or were abandoned until all that remained was a background check compromise brokered by Sens. Joe Manchin, D-W.V., and Pat Toomey, R-Pa. On April 17, despite a vigorous public campaign by the president and the Newtown families, the Manchin-Toomey compromise fell short of the necessary 60 votes it needed in the Senate.
Still, advocates say Newtown helped transform the gun restriction measures into a politically popular issue. According to Josh Horwitz, executive director of the Coalition to Stop Gun Violence, Thursday's press conference proved that point.
"The most important, I think, political change is that the Democratic leadership knows that it's a winning issue and are eager to get involved, eager to have votes," Horwitz said afterward. "When you get Harry Reid, who was not very long ago completely in the [National Rifle Association] camp going into 2012, when you get him out there talking in very personal terms about what this means to him and also the fact that he's going to get this done -- complete sea change."
Despite the Senate's failure to pass background check legislation, Horwitz sees a bigger picture. "We got 55 Senators to vote with us," he said. "You've gotta realize that that's just an historic high." He added: "At this point, it's about winning, but it's also about building a winning coalition to keep moving that ball forward." He predicted Democrats will continue to bring up votes on background checks now that the issue is considered a winner.
If Newtown has at least begun influencing the political debate in Washington, it has had a more immediate effect in state legislatures, where a number of states have pushed strong gun safety reform packages and are re-evaluating their mental health laws. Between 2009 and 2012, states cut $4.3 billion from their mental health budgets nationwide, a trend that is now coming to a halt. Colorado passed a $20 million mental health bill after the Aurora, Colo., movie theater shooting last year, and California, Wisconsin and Connecticut are among states currently considering legislation to expand mental health services, according to Politico. States are also evaluating their laws on involuntary commitment; President Obama held a mental health conference at the White House last week. "It's on the move in terms of being high on the national agenda," said Bob Carolla, spokesman for the National Alliance on Mental Illness. Newtown "certainly ended up being the tipping point. [It] caused a greater degree of public attention probably than in the last 20 years."
As of early June, the number of bills proposed across the country to strengthen gun restrictions had gone up 231 percent compared with the previous year, according to the Law Center to Prevent Gun Violence. Strong gun control measures have passed in New York, Maryland, Delaware, Connecticut and, to the surprise of some, Colorado. Advocates expect more to pass in California, Rhode Island and possibly other states.
"We've been working on this issue for 20 years, and it is rare to get a package of bills through in any state," said Thomas, calling the movement this year "absolutely unprecedented."
In a normal year, Thomas' group will work with three to five states to craft gun safety legislation. After Newtown, legislators from 24 states reached out for help on the issue. "We have more requests for assistance than we can manage," Thomas said. Even though legislation is unlikely to pass in all these states, lawmakers around the country want to learn about the issue, she said.
"I think after Newtown it's different," Thomas said. "It's different in terms of the grassroots, it's different in terms of the lobbying, it's different in terms of the way Americans perceive the issue in a personal way."
Whether the trend continues will depend in part upon a growing infrastructure of groups -- the most visible of which is New York Mayor Michael Bloomberg's Mayors Against Illegal Guns -- that will put money behind the cause and apply political pressure. Bloomberg's group spent $12 million ahead of the Senate vote and has spent millions more since, pressuring senators to switch their votes on the issue.
"I think that's one of the things that's a real game changer, because, again, without a balanced voice to what the NRA can bring to Washington in terms of money and power, it's hard to even get legislators to listen," Thomas said. "And Bloomberg helps make sure that they do have to listen to information and the ideas on the other side."
Joining Bloomberg's group are a host of new grassroots organizations and a super PAC founded by former Rep. Gabrielle Giffords, D-Ariz., one of the victims of a Tuscon shooting in January 2011. In addition to the new groups, progressive groups like MoveOn.org, which generally focused elsewhere before Newtown, are now throwing their weight behind the gun issue. "It's this political infrastructure that has grown out of this tragedy in part that is going to force people to do the right thing," freshman Sen. Chris Murphy, D-Conn., said at the press conference Thursday.
Horwitz sees Newtown as the final straw after a string of shootings in the last few years began to alter the political landscape on the gun issue, beginning with the Tuscon shooting and continuing with the the Aurora, Colo., and Oak Creek, Wis., shootings. Looking into his crystal ball, Horwitz said that guns will be the "defining issue of the 2016 election."
But not everyone responded to Newtown by embracing more gun regulations. Many gun rights supporters have responded to new gun control proposals by buying more guns and joining the NRA as it wages a very public campaign against the Democrats' gun measures in Washington. Several conservative states have moved to relax gun laws since Newtown, with 67 percent more bills proposed to weaken gun laws this year than last. Despite serious pressure and millions in ads, just four Republicans ultimately voted for the Manchin-Toomey amendment.
"I don't believe that these efforts of gun control advocates will ultimately prove to be effective in anything more than a handful of cases," Republican strategist Liz Mair said in an email. "The reality here is that America remains a rather pro-gun country, with good historical reason, and even the most supposedly modest of gun control measures tend to have a lot of devil in the detail that even very moderate Americans would be uncomfortable with under normal circumstances."
Democrats and advocates, by contrast, argue that background checks are a popular measure, and they tout polls that show that 90 percent of Americans support them. They also point to sliding poll numbers for Republicans, including Sens. Kelly Ayotte of New Hampshire and Jeff Flake of Arizona, who saw their approval ratings go down after they voted against Manchin-Toomey. It will be a few election cycles before it's clear whether the movement Horwitz believes is growing will truly change the political landscape, but so far, Republicans like Mair are unconvinced.
"I think most Republicans know that unless you're running in New England (with the exception of New Hampshire), a vote for gun control tends to be a political nail in your coffin, not an act of self-preservation," she wrote. "And I think most of them will be able to see that, even when the pressure is on and the volume is turned up to eleven."
FOR FREE to continue reading
✔️ Unlock the full content of International Business Times UK for free
offer available for a limited time only
✔️ Easily manage your Newsletters subscriptions and save your favourite articles
✔️ No payment method required
Already have an account?
Log in
© Copyright IBTimes 2023. All rights reserved.