Six Surprising Finds In The Newly Released Clinton Files
On Friday, the Clinton Library posted some 4,000 pages of previously unreleased documents onto the Web. Most of the information is communication between insiders, but there are a few interesting nuggets buried in the documents. Here are six of the most interesting finds in the Clinton Library documents.
Drop the "the." Just "Internet." It's cleaner.

Showing just how little we understood about the Web in 1995, one memo between Hillaryland officials refers to the Internet as just "Internet," without the article. "As Karen has said, Internet has become a very popular mode of communication. Hillary could speak to young women through Internet," the memo reads. It keeps going on like that.
Hillary Clinton: Sitcom Star

"Internet" wasn't the only outreach tool available to Hillary Clinton in 1995. In the same memo, staffers also suggested that the then-first lady could appear on the Tim Allen sitcom, "Home Improvement." Maybe Tim "the Toolman" Taylor could have done some renovations on the White House.
Hilary is against the individual mandate when it's a Republican proposal.

Hillary Clinton, as first lady, was against the idea of an individual mandate on making Americans buy health insurance in the '90s, possibly because it was a Republican idea at the time. In a 1993 speech at the Capitol, Clinton described an individual mandate as a "much harder sell" than President Clinton's health-insurance reform.
"Shove it up his ass."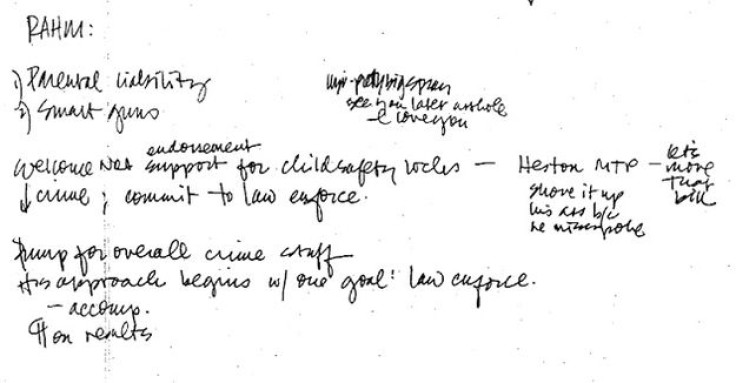 Chicago Mayor Rahm Emanuel, then a Clinton aide, has an interesting suggestion for handling National Rifle Association president Charlton Heston. In a 1998 memo, speechwriter Jeff Shesol noted that Emanuel suggested Heston "shove it up his ass."
Speechwriters are vulgar.

Outside of Emanuel's handwritten "shove it up his ass" comment, the only other swear word in the released documents comes from speechwriter David Shipley, who wrote in the draft of a speech: "tax cut f*cks up."
Speechwriters make good artists.
Shipley isn't just a pottymouth, though. As Politico notes, he's also a pretty impressive artist. He and Shesol have been credited with a number of impressive doodles that turned up in the documents' margins.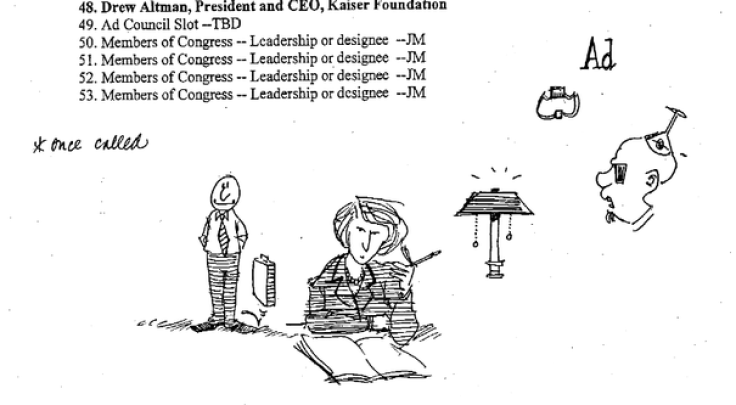 © Copyright IBTimes 2023. All rights reserved.