Skid Row Homeless Man's True Identity Revealed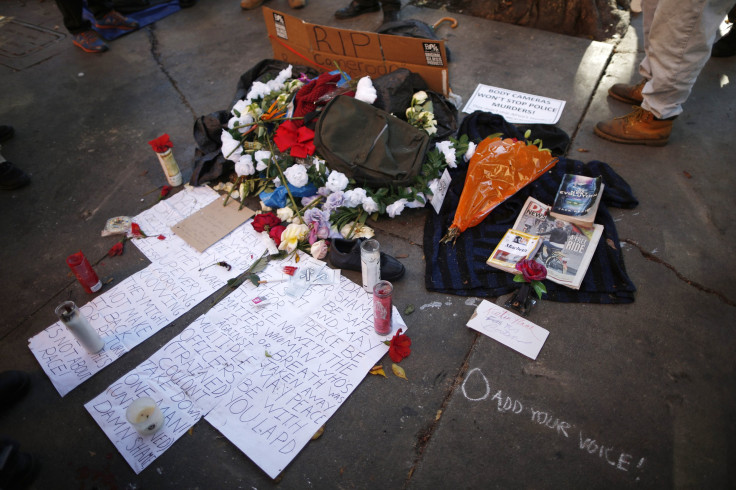 A homeless man who was killed by police during a confrontation in Los Angeles' Skid Row district was identified Thursday. He had previously only been known by the stolen identity he used for years.
Charly Keundeu Keunang, 43, had been living under an identity stolen from a French national, the coroner's office told The Associated Press. Investigators from the coroner's office discovered Keunang's true identity from federal investigators and were able to track down his family, who are living on the East Coast, and positively identified him, The Los Angeles Times reported.
The Cameroon native was killed on Sunday by police answering to a robbery report. Officers claim Keunang became combative and tried to grab a policeman's gun before being shot by three other officers. The shooting, which was captured on camera, has been widely condemned.
Keunang, who was reportedly known as "Africa" on the streets where he lived, obtained French travel documents in 2013 under a false name -- Charley Saturin Robinet. Keunang came to the U.S. and was convicted under Robinet's name for robbing a bank. French officials found the real Robinet in France while Keunang was in federal prison. Federal authorities determined that the suspect was from Cameroon, but the country reportedly ignored repeated requests for information.
Keunang was ordered into a halfway house in Los Angeles in September 2013, after which he was released and eventually ended up in Skid Row. He reportedly lost touch with his probation officer and failed to provide required reports in November, so a warrant was issued for him in January.
The shooting has highlighted ongoing tensions between police and poor communities in cities across the country, where many homeless people, a quarter of whom are thought to be mentally ill, congregate. Backlash against the killing led to protests with over 100 protesters marching from Skid Row to the LAPD's headquarters on Tuesday.
The LAPD has delayed identifying the officers involved in the shooting until they determine whether they are under threat. Commander Andrew Smith told the LATimes that Keunang's killing was the first time the sergeant and two policemen involved had fired their weapons during their time with the department.
© Copyright IBTimes 2023. All rights reserved.
FOLLOW MORE IBT NEWS ON THE BELOW CHANNELS