Smithfield Foods Shareholders Approve $4.7 Billion Acquisition By China's Shuanghui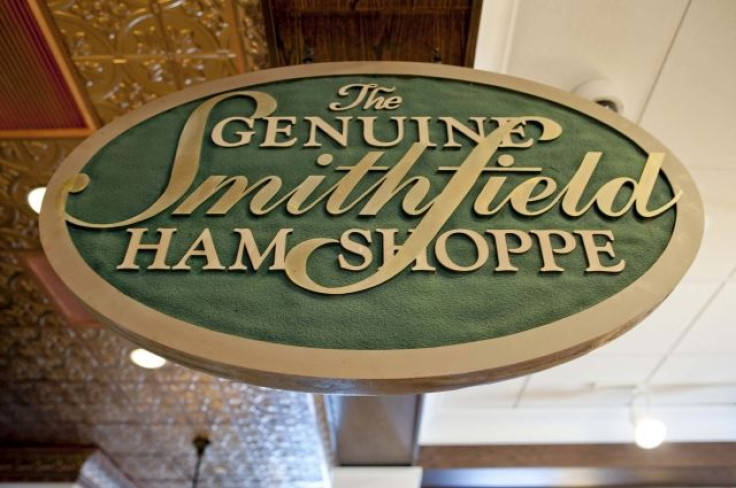 Shareholders of Smithfield Foods Inc. (NYSE:SFD) approved the proposed $4.7 billion sale of the Smithfield, Va.-based company to China's largest pork producer, Shuanghui International Holdings, sealing the biggest acquisition of an American company by a Chinese firm, Smithfield said in a statement on Tuesday. More than 96 percent of the votes were in favor of the transaction, which is valued at $7.1 billion including debt, and the merger will be complete by Sept. 26.
The purchase of Smithfield, the world's largest pork producer by Shuanghui had stirred concerns about Chinese access to U.S. intellectual property such as agricultural technology and the long-term effect of U.S. agribusiness coming under foreign control. The deal had also sparked doubts about the deal's impact on the safety and availability of heparin -- an anticoagulant derived from pig intestines -- and lawmakers had expressed concerns that Smithfield, under Shuanghui's control, may be pressured to export its crude heparin product to China instead of supplying it to U.S. companies.
"This is a great transaction for all Smithfield stakeholders, as well as for American farmers and U.S. agriculture," Larry Pope, president and CEO of Smithfield, said in a statement.
Smithfield's association with Spanish packaged meat company Campofrio, in which Smithfield holds a 37 percent stake, remains undecided, as Shuanghui can either buy the remaining stake in Campofrio or reduce its stake to less than 30 percent, Reuters reported.
The Committee on Foreign Investment in the United States, an executive panel that examines foreign investment for potential threats to national security and clears investment proposals within 30 days, approved the deal on Sept. 6 after subjecting it to an additional 45-day scrutiny.
Smithfield shareholders will receive $34 a share in cash under the terms of the agreement, and Smithfield will continue to operate under its existing brand name as a wholly-owned subsidiary of Shuanghui after the merger. In 2012, Smithfield's annual turnover was $13 billion while Shuanghui generated $6.2 billion revenue in the same period.
© Copyright IBTimes 2023. All rights reserved.