Somalia's Al-Shabab Fighters Target African Union Peacekeepers, Witnesses Say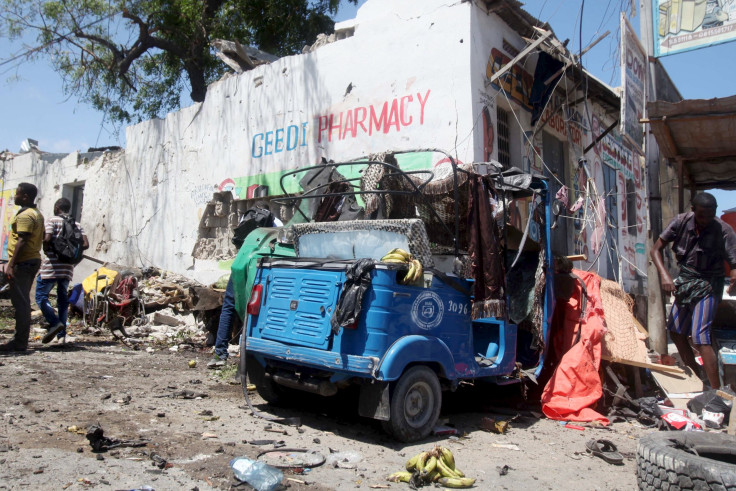 (Reuters) -- Islamist al-Shabab militants attacked an African Union peacekeepers' convoy in southern Somalia Sunday, wounding at least three people and burning two vehicles, a Somali army officer said. Meanwhile, al-Shabab acknowledged launched the attack near the town of Leego, in the southern Lower Shabelle region, and that it had killed five members of the AU force while destroying two vehicles.
The militant group aims to topple the Western-backed government and impose its strict interpretation of Islam on Somalia. African and Somali forces have driven the group out of major strongholds, but it continues to harass them and launch bomb and gun attacks against officials, politicians and others.
The African Union Mission to Somalia could not be reached for immediate comment.
Dozens of well-armed fighters attacked the AU convoy, prompting an exchange of heavy fire, residents said.
Col. Aden Mohamed, a senior Somali military officer in Leego, told Reuters he had seen at least three soldiers wounded and two burned vehicles. He said the casualty figure could be higher.
Sheikh Abdiasis Abu Musab, al-Shabab's military-operations representative, told Reuters of the five dead and the two destroyed vehicles. The al Qaeda-aligned militant group frequently cites higher death tolls or casualty figures than numbers given by officials.
Last week, al-Shabab militants stormed a government building housing two ministries in the heart of Mogadishu, killing at least 10 people.
(Reporting by Abdi Sheikh and Feisal Omar; Writing by Edmund Blair; Editing by David Goodman)
© Copyright Thomson Reuters 2023. All rights reserved.