Somber Ceremony In Ukraine As First MH17 Victims Depart For Netherlands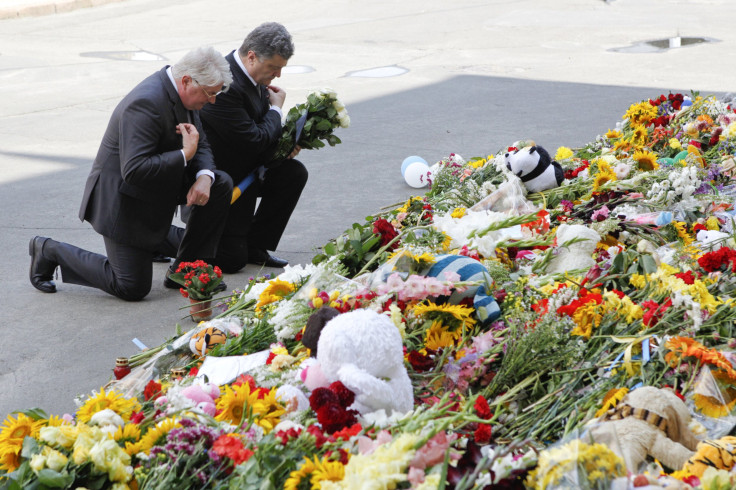 Ukrainian soldiers carried the bodies of dozens of passengers killed in Malaysia Airlines flight MH17 to transport planes that ferried them to the Netherlands Wednesday in a solemn processional on a national day of mourning.
The remains, carried by two military aircraft, arrived in the Dutch city of Eindhoven at 4 p.m. local time (10 a.m. EST), where they were greeted by a single bugler as well as Dutch King Willem-Alexander and Queen Maxima. The plane's arrival was followed by a minute of silence across the Netherlands to commemorate the memory of the 298 passengers knocked out of the sky last week by a surface-to-air missile believed to have been fired by pro-Russian separatists. The plane was traveling from Amsterdam to Kuala Lumpur last Thursday, with Dutch citizens making up 193 of those on board.
A Dutch government spokesman told reporters that about 40 coffins, the first to be sent from Ukraine, were sent via two Hercules transport planes. Forty hearses awaited in Eindhoven, prepared to take the corpses to forensic investigators, where the remains will be identified and examined.
Another solemn ceremony met the corpses upon their arrival, with soldiers standing at attention as the bugle sounded and relatives of the deceased wept.
A misleading tweet from the Associated Press flung Twitter into a momentary panic in the moments before the plane arrived. The message, which only conveyed clumsy wording rather than another tragedy, was quickly contradicted by reporters at the Eindhoven airport and clarified in a second AP tweet.
© Copyright IBTimes 2023. All rights reserved.