Malaysian Plane: No Direct Link To Russia But MH17 Likely Shot Down By Pro-Russian Separatists, Say US Officials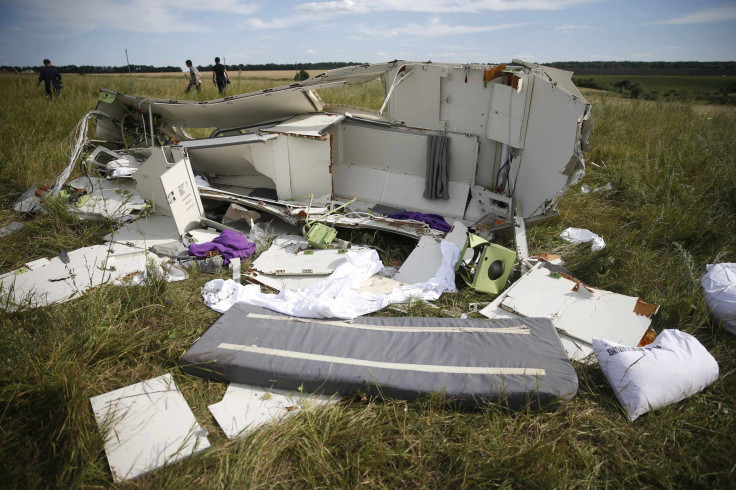 Russian President Vladimir Putin and his government aren't directly responsible for the shoot-down of MH17, but -- senior U.S. intelligence officials say -- it's probable that Russia "created the conditions" that led to the Malaysia Airlines disaster.
The evidence suggests, Associated Press reports, that the plane was shot down by a pro-Russian separatist missile suspected to have gotten to Ukraine with Russian help. In what reporters are calling the "most detailed case yet," photos and circumstantial evidence that were presented Tuesday suggested the missile was an SA-11 surface-to-air missile, known as a Buk missile.
U.S. officials said the information built a "solid case it was an SA-11 fired from Eastern Ukraine under conditions created by Russia." However, Putin is making what U.S. officials called a "full court press" to blame the Ukrainians for the tragedy. U.S. officials said Putin's version of events is "not plausible to us."
According to the Wall Street Journal, the U.S. was able to detect that an anti-aircraft missile was shot in the same area at the same time the plane was hit. The missile was likely one of the growing number of weapons entering Ukraine from Russia, officials said, adding that Russians have been known to train separatists on using such weapons in southwest Russia. Further evidence suggests separatists have downed "more than a dozen aircraft during the conflict," WSJ writes.
The Soviet Union developed the Buk missile and, according to USA Today, it is capable of shooting down an aircraft flying as high as 70,000 feet.
U.S. officials say the likely reason for the missile shot over eastern Ukraine that killed 298 people was an accident of some kind. "We don't know a name, we don't know a rank and we're not even 100 percent sure of a nationality," one official said.
U.S. officials briefed reporters on Tuesday on the condition that their names not be used.
On Monday President Barak Obama confirmed in a press conference that the plane was shot down in an area controlled by pro-Russian separatists whom Russia both trained and "armed ... with military equipment and weapons, including anti-aircraft weapons."
In Tuesday's briefing, intelligence officials stated they do not think Russia has stopped aiding rebels.
Nearly six days after the crash, only 200 of the 298 bodies have been sent to the Netherlands, where a forensic team is leading the investigation into the crash. Victims were from 11 countries.
© Copyright IBTimes 2023. All rights reserved.