SOTU Tea Party Response: 3 Things To Know About Utah's Mike Lee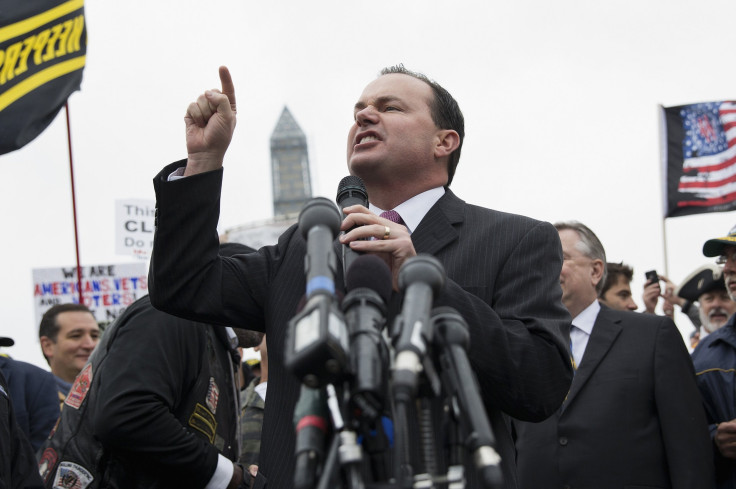 Utah Sen. Mike Lee will deliver the Tea Party's fourth annual response to President Barack Obama's State of the Union address later Tuesday.
If the name sounds familiar, it's because Lee, a first-term Republican, already cemented his reputation as an outspoken, opinionated conservative on major policy issues, even it means disagreeing with the Republican leadership.
"Mike Lee ... has proven to be an effective leader within the Senate, offering tangible solutions in the face of Obama's empty rhetoric," read a statement from Tea Party Express. "As we enter into another significant election year, we expect Senator Lee's response will offer a message relevant to the current challenges we face under this Administration and how we can meet those challenges together."
Here are three things to know about Mike Lee:
Architect Of Defund Obamacare Strategy
Last July, when the rest of America was focused on the Obama administration's employer mandate delay -- and House Republicans were sounding the alarm -- Lee had bigger plans. That month the freshman senator released a strategy to fund every other part of the government but the health-care law. That soon became the go-to play for congressional Republicans who have tried more than 40 times to repeal Obamacare.
"If congressional Democrats want to oppose appropriations bills without additional Obamacare funding, shut down the government, and side with the President and big business against the American people, then it's their choice," Lee said in a statement. "The only responsible choice now is to protect the country from Obamacare's looming disaster, start over and finally begin work on real health care reform."
Helped Shut Down The Government
Then the unthinkable happened: the federal government underwent a partial shutdown in October for 16 days and a $24 billion cost. It was the first in 17 years, resulting from futile efforts on the part of the Republicans to remove the law's funding even though they knew Democrats would have never agreed to that. Sen. Ted Cruz of Texas was the public face of the effort, staging a 21-hour "filibuster" of the president's signature policy achievement in September. Lee appeared the loyal right-hand man throughout.
All that didn't come without a price and Lee certainly paid it back home when his favorability dropped 10 percentage points in October to 40 percent. Lee also began to rate poorly within his own party. A majority of Utah voters (57 percent) felt Lee should have compromised on the budget issues
First Tea Party Big Success Story
An ideological battle in 2010 took out incumbent Sen. Robert F. Bennett, who lost his nomination when Republicans decided to support candidates who never held political office. It was a huge win for the tea party over the mainstream wing of the Republican Party.
Bennett was reduced to tears when he didn't make it to the Utah GOP convention, according to Fox News, which reported, "Wiping away tears, Bennett called the political atmosphere 'toxic' and said it's 'Clear some of the votes I've cast have added to that toxic environment, looking back with one or two minor exceptions, I wouldn't cast [them] any differently, even if I knew it would cost me my career."
© Copyright IBTimes 2023. All rights reserved.