South Africa Drops Charges Against Comrades Of Slain Miners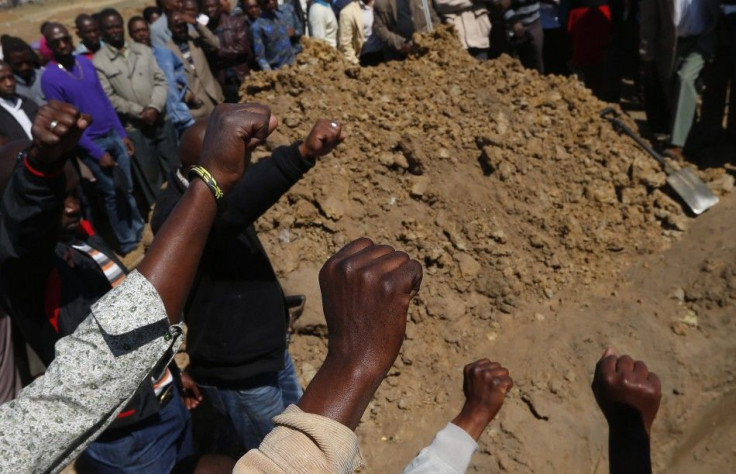 South African prosecutors reversed course Sunday and provisionally dropped murder charges against 270 miners whose fellow strikers were gunned down by police on Aug. 16.
The charges cannot be dismissed formally until the end of the inquiry, but prosecutors said all detained miners would be freed, the BBC reported.
Local authorities used an apartheid-era law to accuse the miners of provoking police to open fire at the Lonmin-owned Marikana mine, outraging the ruling African National Congress' own constituency. Thirty-four miners were killed and 78 wounded that day.
State prosecutors had charged the 270 miners with murder under the "common purpose" doctrine, which was used by the white-minority apartheid regime to repress its black opponents, led by the ANC.
Lawyers had asked President Jacob Zuma to reverse the decision, but he said in a statement earlier that he would not step in.
The acting national director of prosecutions, Nomgcobo Jiba, called a news conference Sunday to announce the charges would be scrapped.
"The National Prosecuting Authority views the public violence that resulted in injury and death of so many people in a very serious light," she said. "Final charges will only be made once all investigations have been completed. The murder charges against the current 270 suspects will be formally withdrawn provisionally in court."
She said those whose addresses have been verified by police would be released on Monday, and the rest would remain in custody until their next court appearance on Thursday.
Public anger, already high over the shootings, was exacerbated by the charges. On Friday, Justice Minister Jeff Radebe said the indictment had "induced a sense of shock, panic and confusion" in the public and demanded a report from state prosecutors to explain their rationale.
No police officers have been charged over the deaths because a judicial inquiry and an internal police review are under way, but these are expected to take several months to complete.
The investigation's findings won't be released until after a crucial ANC conference later this year, the Wall Street Journal reports. If Zuma gets a renewed endorsement at the conference as party leader, he is virtually assured a second term as president, since the ANC overwhelmingly controls the parliament.
ANC activists demanded an explanation for charging fellow protesters for the deaths of their comrades. The Congress of South African Trade Unions, an ally of the ANC, said it was outrageous to charge the protesters with murder and risked jeopardizing the outcome of the inquiry set up by the president.
The Lonmin strike began Aug. 10 when 3,000 rock drillers refused to go underground without a wage increase. Fighting among workers left 10 people dead, including two police officers in the days that followed.
Then, on Aug. 16, police say they gave their last of several warnings before cordoning their camp off with barbed wire. Police say a group of protesters charged at them and they responded with rubber bullets and water cannons but that failed to repel them. They then resorted to live ammunition, police say.
Since then unrest in the mining sector has spread. South Africa's second-largest gold producer, Gold Fields Ltd., said Friday it has been hit by a 12,000-person strike that has shut part of its KDC mine since Wednesday.
© Copyright IBTimes 2023. All rights reserved.