South Africa Votes Against Impeaching President Zuma Amid Corruption, Cronyism Allegations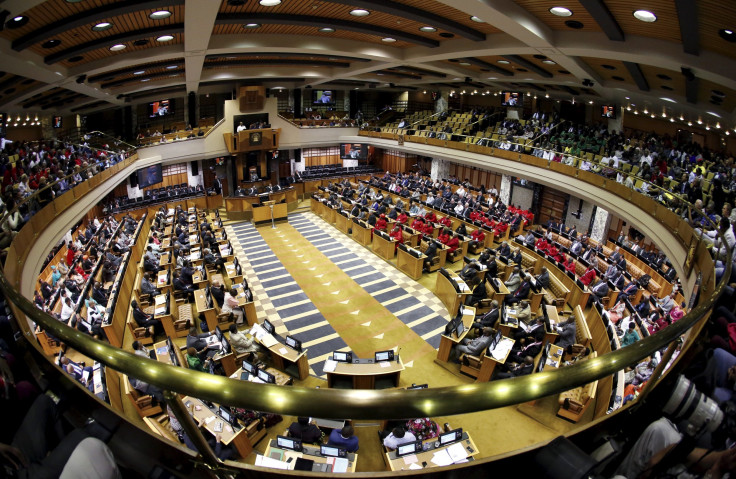 South African President Jacob Zuma has survived an opposition-sponsored motion to impeach him. The National Assembly, where Zuma's ruling party has a comfortable majority, voted against removing the embattled leader from office Tuesday, according to South Africa's News24.
Several opposition lawmakers posted on Twitter that they voted to remove Zuma. But their efforts fell short, with 233 sitting members in the lower house voting against the motion and 143 voting in favor. None of the members present abstained from voting. The motion needed a two-thirds majority — 267 out of 400 — in the National Assembly in order to pass, meaning more than 100 lawmakers in the ruling African National Congress would have to vote against the party line.
The vote comes just days after South Africa's highest court ruled Zuma violated the constitution when he failed to repay millions of dollars in state funds that were spent on his private home near the town of Nkandla. Although he has denied any wrongdoing, Zuma has pledged to obey the scathing verdict.
"I wish to emphasize that I never knowingly or deliberately set out to violate the constitution," Zuma said in a televised address to the nation Friday night. "I did not act dishonestly or with any personal knowledge of the irregularities by the department with regards to the Nkandla project."
Prior to the court ruling, South Africa's main opposition party, the Democratic Alliance, or DA, launched impeachment proceedings against Zuma amid allegations of corruption and cronyism. There are reports that the Guptas, an influential Indian-origin business family with close ties to Zuma, had offered to arrange cabinet posts for South African politicians. DA leader Mmusi Maimane said his party will take any necessary steps to remove the 73-year-old leader from office.
"We cannot have Jacob Zuma and the constitution in one Parliament. Both those things cannot coexist," Maimane told a news conference Thursday, according to Reuters.
© Copyright IBTimes 2023. All rights reserved.