Zuma Home Upgrade Scandal: South African President Vows To Repay $16M In State Funds Spent On Renovations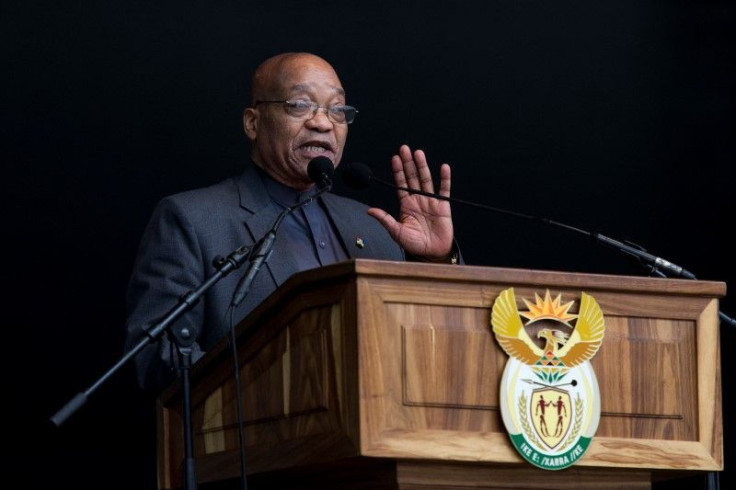 One day after South Africa's highest court handed him a scathing verdict, President Jacob Zuma pledged Friday to obey that ruling by repaying millions of dollars in state funds that were spent on his private home. Zuma, who has denied any wrongdoing, maintained that he acted in "good faith" but apologized for the "frustration and confusion" caused by the long-running scandal.
"I wish to emphasize that I never knowingly or deliberately set out to violate the constitution," Zuma said in a televised address to the nation Friday night. "I did not act dishonestly or with any personal knowledge of the irregularities by the department with regards to the Nkandla project."
Zuma's Nkandla compound is located near the town of the same name in the state of KwaZulu-Natal. It sits on traditional Zulu land which is held by a trust led by the king of the Zulus.
South Africa's constitutional court ruled Thursday that Zuma violated the constitution when he used some 250 million rand (about $16 million) from government coffers to renovate his personal residence with upgrades including a swimming pool, cattle pen, chicken run and a visitor's center. Construction on his sprawling estate for the so-called security upgrades began in 2009, just months after he first took office. Zuma must now repay the amount spent on renovations unrelated to security. South Africa's national treasury will determine an exact figure, according to CNN.
"The constitution, rule of law and accountability is the sharp and mighty sword ready to chop off the ugly head of impunity," the court ruled Thursday. "The president has failed to uphold, defend and respect the constitution as the supreme law of the land."
In his national address Friday, Zuma called the verdict "very helpful," saying "there are lessons to be learned for all of us." South Africa's main opposition party, however, said it has launched impeachment proceedings against Zuma and will take any necessary steps to remove the 73-year-old leader from his post.
"We cannot have Jacob Zuma and the Constitution in one parliament. Both those things cannot coexist," Democratic Alliance leader Mmusi Maimane told a news conference Thursday, according to Reuters.
© Copyright IBTimes 2023. All rights reserved.