South China Sea Controversy: Pentagon Sends USS John C Stennis Aircraft Carrier To Disputed Region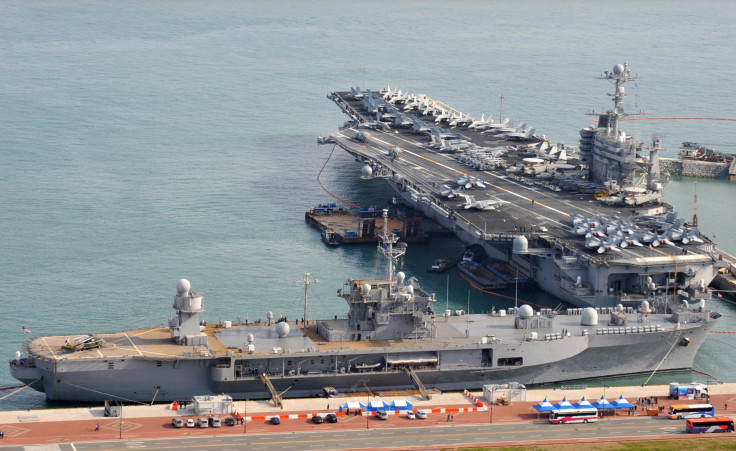 American aircraft carrier USS John C. Stennis is sailing along in the South China Sea, reports said Thursday. The carrier is accompanied by the cruiser USS Mobile Bay and destroyers USS Stockdale and USS Chung-Hoon, according to Navy Commander Clay Doss, a spokesman for U.S. Pacific Fleet.
Doss told the Washington Post that the carrier is out on a routine patrol in the disputed region. He added that the Navy will regularly be in the South China Sea.
It remains unclear if or when the ships will complete any freedom of navigation patrols, the Post reported. Since October, the Navy has conducted two patrols in the South China Sea, including one by guided missile destroyer USS Lassen, which was sent within the 12-nautical mile limit that China claims marks its territorial waters.
Beijing has consistently blamed the U.S. government for militarizing the disputed region that China claims. However, the Pentagon argued saying that it will continue to sail through it because the waters have long been considered international waterways. China has called the patrols provocative.
"We feel that the U.S. actions in sending vessels and planes near to the Spratly Islands and reefs as a show of force are not a good thing. It arouses a feeling of disgust among the Chinese people," Fu Ying, spokesperson of the China's National People's Congress, said, following the deployment of USS John C. Stennis, according the Strait Times.
"The U.S. has said it doesn't take a stance on South China Sea territorial disputes but its actions seem to be aimed at agitating tensions, which raise serious questions over its motives. The accusation [that China is militarizing the region] can lead to a miscalculation of the situation. If you take a look at the matter closely, it's the US sending the most advanced aircraft and military vessels to the South China Sea," Fu reportedly added.
© Copyright IBTimes 2023. All rights reserved.