South China Sea Dispute 2015: Philippines Should Withdraw Military From Spratly Islands, Beijing Demands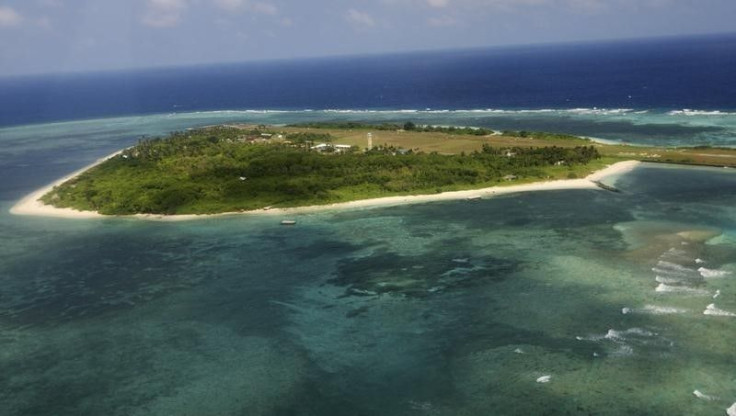 China demanded Monday that the Philippines withdraw its military forces from one of the disputed islands in the South China Sea. China's request came a few days after 50 Filipino protesters landed on Pagasa Island in a symbolic demonstration to condemn Chinese construction of artificial islands in the region.
"We again call on the Philippines to withdraw their personnel and construction from the islands which the Filipino side illegally occupied, refrain from actions that harm regional peace and stability, and do not facilitate Chinese-Filipino relations," Chinese Foreign Ministry's official spokesman Lu Kang said, as reported by Russian news agency Tass.
Pagasa Island is one of the largest landmasses among the contested Spratly Islands group in the South China Sea. Various countries in the Asia Pacific region have made claims of sovereignty over some part of the islands, with China making the largest claims. The Philippines, Malaysia and Brunei, among others, have also asserted sovereignty.
Pagasa Island made headlines over the weekend after several dozen protesters arrived Saturday for a three-day demonstration to assert the Philippines' exclusive right to the land. The protesters, mostly students, were set to depart Monday.
The Spratly Islands are small and mostly uninhabited, though countries have been lobbying for dominance in the region for decades as they sit in the middle of several lucrative trade routes and may also contain precious natural resources.
China in particular has come under criticism from other international powers, including the United States, for building up its land claim through the construction of artificial islands. Beijing has said the construction of those islands, including several military-grade airstrips, is within its right to sovereignty, while neighboring powers dispute that assertion.
The U.S. sailed several naval ships through the region that China claims as its own sovereign waters in a series of freedom of navigation missions throughout the year.
© Copyright IBTimes 2023. All rights reserved.
FOLLOW MORE IBT NEWS ON THE BELOW CHANNELS