South China Sea Dispute 2015: US B-52 Bombers Flew Close To Artificial Islands Despite China's Warning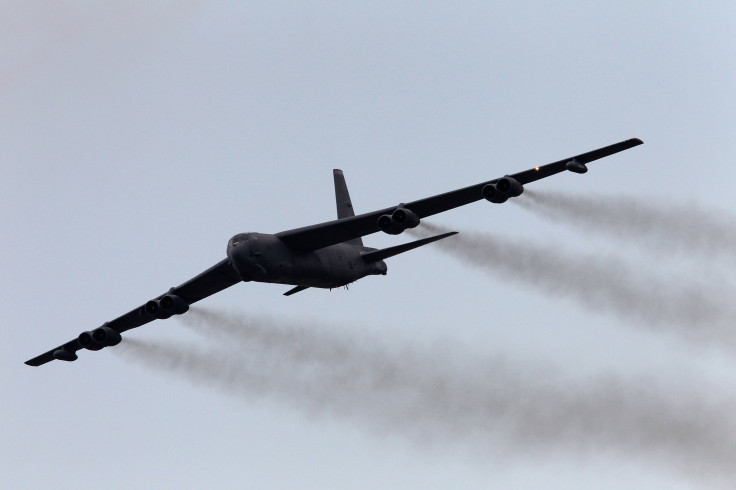 Two U.S. B-52 bomber planes recently flew close to Chinese-built islands in the disputed South China Sea, the Pentagon confirmed Thursday. The incident comes days ahead of a visit by U.S. President Barack Obama to a summit in Manila, Philippines, next week, which will also be attended by China's President Xi Jinping.
The latest U.S. patrol, which occurred overnight on Nov. 8-9, continued despite warnings from Chinese ground controllers, officials reportedly said. Pentagon spokesman Commander Bill Urban reportedly said that the bombers flew "in the area" of the Spratly Islands but did not come within the 12-nautical-mile zone that China claims as territory.
"The B-52s were on a routine mission in the SCS (South China Sea)," taking off from and returning to Guam, Urban said, according to the BBC.
Pentagon spokesman Peter Cook reportedly told a news briefing earlier Thursday: "We conduct B-52 flights in international air space in that part of the world all the time."
The conflict centers on an area in the South China Sea, containing the 750 landmasses referred to as the Spratly Islands. Several countries in the region, including Malaysia, Brunei and the Philippines, have made land claims over the territory. China has made the largest claim and has looked to reinforce that claim by covertly building artificial islands in the region.
During the Asia-Pacific Economic Cooperation forum summit next week, Obama is reportedly expected to reassert Washington's commitment to freedom of navigation and overflight in the area.
"We are quite concerned about protecting freedom of navigation, the free flow of commerce in the South China Sea," White House spokesman Josh Earnest told reporters while talking about the summit, according to Reuters. "And we're going to continue to encourage all parties, big and small, to resolve their differences diplomatically and to not try to use their comparative size and strength to intimidate their neighbors."
Earlier this month, U.S. Defense Secretary Ash Carter said that the U.S. will continue to conduct naval operations in the South China Sea. His comments reportedly came following a meeting with his Chinese counterpart, Chang Wanquan, in Malaysia to discuss the two nations' activities in the region.
Last month, the U.S. sailed warship USS Lassen into the 12-nautical mile zone China claims around reefs in the Spratly archipelago, an action that angered Beijing. China's foreign ministry reportedly condemned the move, calling it "illegal" and provocative.
© Copyright IBTimes 2023. All rights reserved.