South China Sea Land Reclamation: Satellite Images Show Chinese Progress On Man-Made Island
Newly analyzed satellite imagery shows the speed at which China is creating a land mass that could support a military force in a hotly dispute part of the South China Sea that is also claimed by other Asian nations.
The progress that China's military has made in creating the land mass between March 2014 and January 2015 shows the aggressive nature of the so-called 'land reclamation' effort.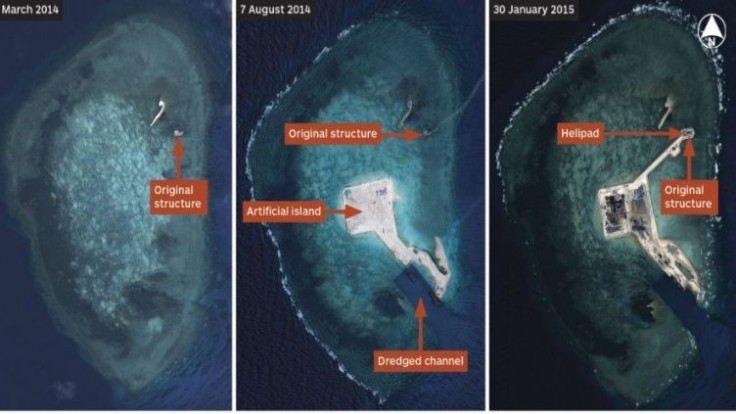 According to images analyzed by IHS Jane's Defense Weekly, the land mass is being constructed by China at Hughes Reef in the Spratly Islands. The images show expansion of the land into Johnson South Reef and Gaven Reefs. China's military has been dredging the resource-rich ocean over the past three months to create the artificial island, which is now approximately 3,000 meters (9,842 feet) long and about 300 meters (984 feet) wide.
Countries that lay claim to the waters surrounding the island, like the Philippines, Brunei, Malaysia, Vietnam and military allies like the United States, have all expressed concern. In previous reports, U.S. military spokesman Lt. Col. Jeffrey Pool said that the man-made island will likely feature a landing strip and be used by China's military for surveillance in the region, radically improving the country's claim to the area.
Now, Singapore and India have also taken an official stance on the dispute, issuing separate joint statements with the U.S. The statement from Singapore urged "all parties to exercise self-restraint in the conduct of activities, including land reclamation, in the South China Sea," adding that all ASEAN member states involved in the dispute and China should rely on diplomatic channels to pursue their claims in a peaceful manner, according to the United Nations Convention of the Law of the Sea (Unclos).
India's statement echoed a similar sentiment, pointing to Unclos as a guide to handle the disputes. "We call on all parties to avoid the threat or use of force and pursue resolution of territorial and maritime disputes through all peaceful means, in accordance with universally recognized principles of international law, including UNCLOS."
However, China's claims to the area using the so-called "Nine-dash line" demarcation, which uses historical maps to back claims, is inconsistent with Unclos' demarcation of areas. According to Lawfare Blog, which is published by the Brookings Institution, China has in the past opted out of settling territorial claims under Unclos for this reason.
© Copyright IBTimes 2023. All rights reserved.