China And US Face Off Over South China Sea Artificial Island: US, Neighbors See It As Threat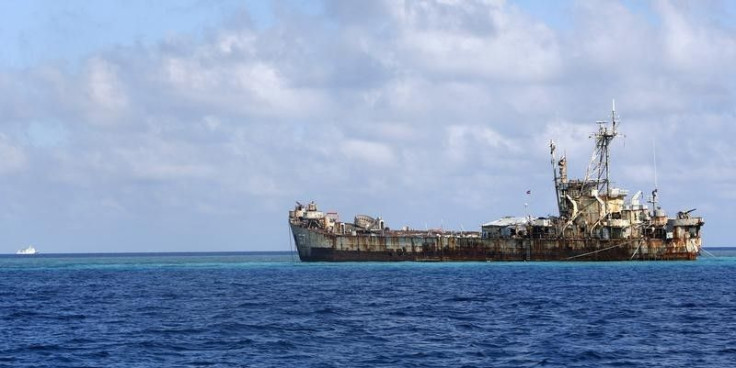 Though economic cooperation between China and the United States was cemented after the Asia-Pacific Economic Cooperation summit in Beijing, military interests in the South China Sea are at odds. New reports on China's controversial artificial islands in the disputed waters near the Spratly Islands shed light on an area where both nations are far from cooperating.
A report released Saturday by IHS Jane's Defense stated China's military has been dredging the resource-rich ocean for the past three months to create a man-made island about 3,000 meters (9,842 feet) long and roughly 200- to 300 meters (656- to 984 feet) wide sitting in the Fiery Cross Reef, or what China calls the Yongshu Reef through satellite imagery. The report triggered alarm for all of those with vested interests in the South China Sea, like the Philippines, Malaysia, Brunei and Vietnam, countries that lay claim to areas of the Spratlys, as well as the U.S., a military ally of the Philippines that also has increased attention to the Pacific Rim as part of the "Asia pivot."
U.S. military spokesman Lt. Col. Jeffrey Pool told a congressional briefing the reef may soon accommodate a landing strip. "It appears that's what they're working toward," Pool said, according to the South China Morning Post. "We urge China to stop its land reclamation program, and engage in diplomatic initiatives to encourage all sides to restrain themselves in these sorts of activities."
The development of an air base in the area would drastically improve Chinese surveillance over the area and further support claims of sovereignty in the disputed seas.
China's military, however, has sent back a warning to the U.S., that China's developments have nothing to do with U.S. interests.
"The U.S. is obviously biased considering that the Philippines, Malaysia, Vietnam have already set up military facilities," People's Liberation Army Maj. Gen. Luo Yuan told China's state-run Global Times newspaper, adding pressure from the U.S. will not change China's plans in the area.
"China is likely to withstand the international pressure and continue the construction, since it is completely legitimate and justifiable," Luo said.
© Copyright IBTimes 2023. All rights reserved.