South China Sea Tensions: Beijing Bristles At German Warship Visit; Taiwan Gets Its Missiles Ready
KEY POINTS
US welcomes the plan as "a support for a rules-based international order"
Analysts think the German move is rare and concerning
Taiwan will stage six rounds of missile tests this month
As tensions simmer in the South China Sea, Beijing has reacted rather tautly to the German plan to send a frigate to the disputed region in August.
Chinese foreign ministry spokesman Wang Wenbin said all countries enjoy the freedom of navigation and overflight in the South China Sea, but "this should not be used as an excuse to endanger the sovereignty and security of littoral countries," reported South China Morning Post.
The Nato ally confirmed Tuesday that the frigate will cross the South China Sea on its return journey from Asia in August, the first time since 2002. German officials added the frigate will not pass within the 12-nautical-mile limits of any land, in a mission aimed at demonstrating Germany's support for the UN Convention on the Law of the Sea.
The US, which has a steady military presence in the region, has hailed the German plan calling it "a welcome support for a rules-based international order in the region."
"We welcome Germany's support for a rules-based international order in the Indo-Pacific. The international community has a vital stake in the preservation of an open maritime order," a spokeswoman for the U.S. State Department said.
While Thomas Silberhorn, parliamentary state secretary for the German Defense Ministry, maintains that the plan is not aimed at anyone, analysts disagree. They speculate this rare move by Berlin is directed at Chinese expansionism.
Helena Legarda, a senior analyst with the Mercator Institute for China Studies in Berlin, told South China Morning Post this was a "symbolic move" that "would send a strong message to Beijing that Germany ready to more actively confront China's territorial claims in the area."
The move is concerning, said Sun Keqin, a research fellow at the China Institutes of Contemporary International Relations. "Germany wants to strengthen its presence in the Indo-Pacific region and enhance collaborations with Asean, Japan, South Korea and India. It also shows the United States hopes Germany will take more responsibility to pressure China."
Meanwhile, Taiwan, in a bid to counter Chinese aggression, will soon stage six rounds of missile tests this month. As per the Taiwan Fisheries Agency, the government-funded National Chung-Shan Institute of Science and Technology will test-fire missiles off the eastern and southern coasts, with five more rounds planned between March 10 and March 19.
Reports said the nation would be firing Hsiung Feng-2E (Brave Wind-2E) cruise missiles and the extended-range version of the Thunderbolt-2000 tactical missiles. While the Hsiung Feng-2E has a firing range of 600 km, capable of reaching China, the latter Thunderbolt-2000 has a firing range of 200-300 km and can easily reach the mainland coast.
China's People's Liberation Army too has sent troops to take part in a war game around Triton Island, in the Paracel Islands, "to explore the tactics and methods of joint warfare".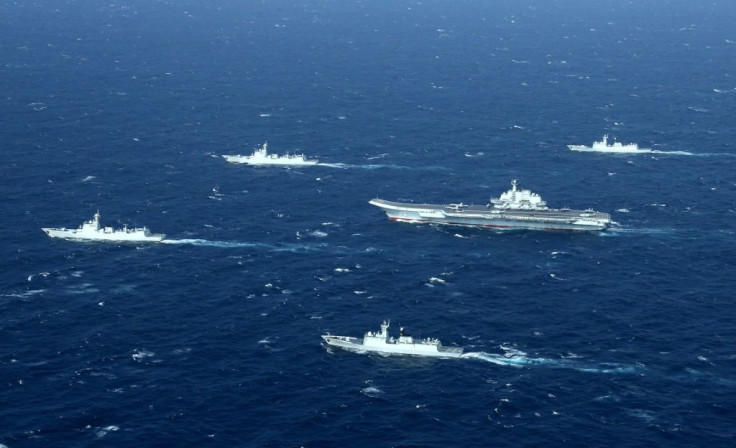 © Copyright IBTimes 2023. All rights reserved.
FOLLOW MORE IBT NEWS ON THE BELOW CHANNELS