South Dakota Transgender Bathroom Bill: How 'Reasonable Accommodations' Can Be Problematic For Trans Students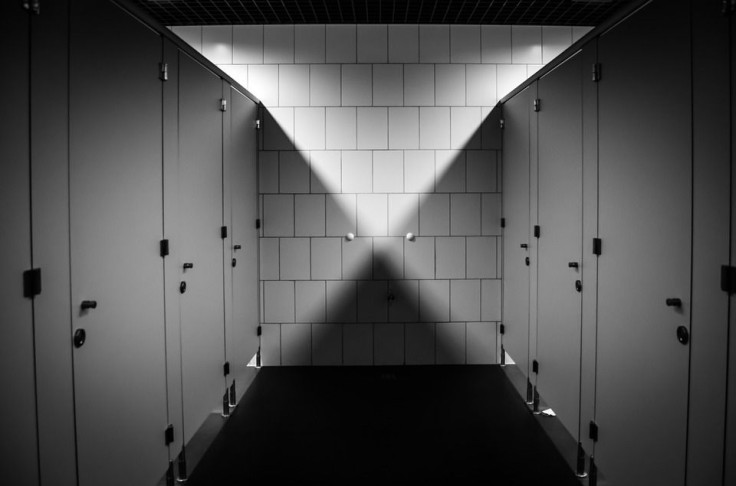 When Casey Hoke was in high school, the private single-stall restroom transgender students were required to use had a reputation for being like the hidden fantasy world of Narnia: "It just doesn't exist, it's just in some closet somewhere, and it's probably locked," he said.
So Hoke, assigned female at birth, used the boys' room. At first he was scared, timing his bathroom breaks during classes when he knew fewer people would be around and posting his friends as guards at the door, but it quickly became routine. Hoke, now 18, hasn't been in a girls' bathroom since.
Lawmakers across the country are now weighing legislation that would force transgender youth to use school restrooms, locker rooms and showers that correspond to their assigned sex in an effort to protect kids' privacy and prevent uncomfortable situations. Last week, South Dakota became the first state to pass such a bill, which includes the stipulation that schools would have to provide "reasonable accommodations" for transgender students. But experts and advocates say any kind of alternate facilities pose a threat because they can stigmatize, inspire bullying of, and ultimately harm already vulnerable children and teens.
"It makes us sound like aliens, honestly," said Hoke, now an 18-year-old freshman at California State Polytechnic University in Pomona and a member of the Gay, Lesbian and Straight Education Network's National Student Council. "It just sends a message to trans students that we are not welcome. We cannot be accommodated unless we are put separately from other students, and we need to go to extra lengths to make other people feel comfortable."
South Dakota Gov. Dennis Daugaard, a Republican, spent Tuesday meeting with transgender advocates ahead of his March 1 deadline to sign, veto or take no action on House Bill 1008. Meanwhile, opponents of the bill were circulating a petition that had more than 80,000 signatures as of Tuesday afternoon, while celebrities like actress Laverne Cox, actor George Takei and former Olympian Caitlyn Jenner took to Twitter to urge Daugaard to veto.
The bill would make every multiple-student bathroom, locker room and shower in a public elementary or secondary school "designated for and used only by students of the same biological sex," depending on chromosomes and anatomy at birth. If a transgender student comes forward with his or her parent's support, the student will be provided with a "reasonable accommodation" that does not impose an undue hardship on the school district, like a single-occupancy or unisex bathroom. It cannot include "the use of student restrooms, locker rooms or shower rooms designated for use by students of the opposite biological sex if students of the opposite biological sex are present or could be present," according to the legislation.
Protesters argue the bill could endanger the roughly $195 million South Dakota receives every year in federal education funding, as the Department of Justice and Education Department have declared school polices barring students from their gender identity to be sex discrimination under the Title IX education law. A federal lawsuit as to whether such rules violate the 14th Amendment's equal protection clause is pending.
Dr. Lawrence D'Angelo, the director of the Youth Pride Clinic at Children's National Health System in Washington, D.C., said that aside from legal consequences, bathroom bills have psychological repercussions. They imply to kids in their most formative years that it's "perfectly appropriate" to discriminate against a group of people.
"What other conclusion could one draw?" D'Angelo said. "And if it's OK to discriminate against these people, maybe there are other people we can discriminate against, as well. Maybe we can discriminate against people of color or an ethnicity."
This could quickly escalate into violence where transgender students are beaten up or bullied by their peers, he added.
Making transgender children use a special bathroom could also out them before they're ready, said Clinton Anderson, the director of the lesbian, gay, bisexual and transgender concerns office of the American Psychological Association in Washington, D.C. That, in turn, indicates that "they are not in control of their own fate," he added.
Transgender kids are already under an increased stress, Anderson said. More than half of LGBT students surveyed by the Gay, Lesbian and Straight Education Network in 2013 said they felt unsafe at school, and about the same amount said they'd been verbally harassed because of their gender expression. According to data from the Centers for Disease Control and Prevention, LGBT youth are at least two times more likely to attempt suicide than their straight peers.
Anderson said feeling singled out at school can exacerbate transgender teens' anxiety and hurt their self-esteem. "Putting more barriers in their way is not a way to increase their likelihood of being successful as students, and that's fundamentally what school should be about," he said.
In the case of Gavin Grimm, a 16-year-old from Gloucester, Virginia, who's suing the local school board over their bathroom policy, having separate bathrooms has caused physical injury. In a complaint filed in his case, his attorneys wrote that Gavin so hates using the special restrooms that he simply tries not to go at all during school hours.
"He limits his beverage intake to try to reduce the discomfort and distraction caused by 'holding it' as he tries to focus in class," the complaint reads, going on to say that he has also developed multiple urinary tract infections as a result.
But Peter Sprigg, a senior fellow for policy studies at the Family Research Council in Washington, D.C., said his group's stance is that the idea of providing reasonable accommodations for transgender students is already generous. Government entities like public schools aren't obligated to recognize gender identities that differ from people's sexes, Sprigg said.
He's concerned not about transgender kids in special bathrooms but their non-transgender peers in the regular ones.
"Ordinary young people who are not transgender have a legitimate right to privacy that should protect them from being forced to share this type of facility with a person from an opposite biological sex," Sprigg said. "[The bill] sends a message to the transgender students that we want them to be able to have a restroom facility they can use without being uncomfortable, but at the same time we want the majority to be in a situation where they are not put in a situation that's uncomfortable for them, too."
He added that parents of young kids might be especially upset if their kindergartner or first-grader encounters sex changes or gender reassignment at school.
Rep. Fred Deutsch, also a Republican and the sponsor of the South Dakota bill and a dad to four daughters, said he wants to make clear that he cares about all children. He was motivated by a need to protect students' privacy and innocence, so he said he thought his proposal of reasonable accommodations was a fair "middle ground" that could benefit all involved.
"Right now, some schools deal with it one way and other schools deal with them another way," Deutsch said. "If this bill is signed into law, we'd be the only state in the country that would require our schools to provide reasonable accommodations to students."
The idea that the bill could threaten South Dakota's federal education funding is a scare tactic, according to Deutsch. He said he consulted with transgender youth and adults while writing it, and opponents have unnecessarily blown up the debate. It's not about exclusion but about keeping, for example, someone's young daughter from encountering male genitalia in the showers.
"In South Dakota, we want to go back to the way it's always been since the state was incorporated: Boys in the boys' rooms, girls in the girls' rooms," Deutsch said. "That's the entire focus of the bill."
Still, for people like transgender freshman Hoke, the legislation seems to be an implication that they're anomalies in the system.
"The only thing that matters to a lot of these politicians is that something different is in their pants — something that could hurt other kids and other people," Hoke said. "They're not seeing it for what it really is: Just a person trying to use the restroom."
© Copyright IBTimes 2023. All rights reserved.