Bills To Protect Gay And Transgender Workers From Discrimination Are Stalling Nationwide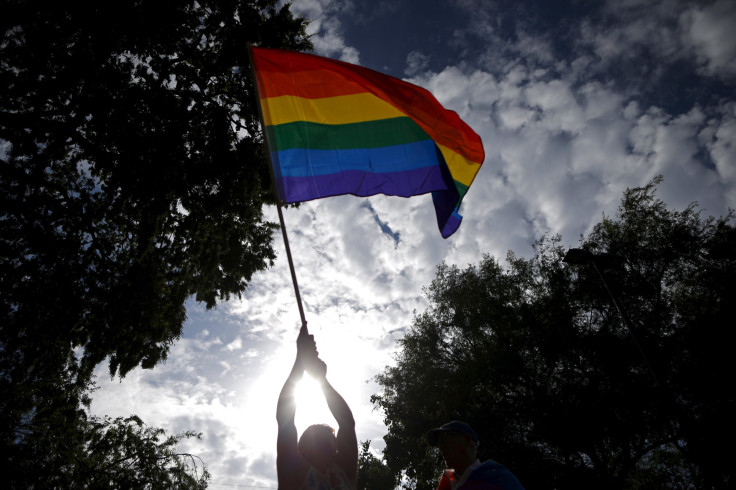 The state of Kentucky protects smokers from employment discrimination. Lesbian, gay, bisexual and transgender denizens of the Bluegrass State aren't so lucky.
It's one of 31 states where, according to state law, employers can fire and harass workers for being gay or transgender. And the situation is not — to borrow a popular phrase among LGBT rights advocates — getting better. Less than a year after same-sex couples won marriage rights at the Supreme Court, and as public opinion becomes increasingly gay-friendly, efforts to extend workplace discrimination laws to LGBT people are struggling to gain traction across the country.
Since most of this year's state legislative sessions kicked off in January, nondiscrimination proposals have stalled in Indiana, Florida and Georgia. Other uphill battles loom in Arizona, Pennsylvania and Kentucky, where legislators held a hearing on such a bill Wednesday.
"Why would we protect smokers and not gay people?" said one of the legislation's sponsors, Rep. Mary Lou Marzian. "As elected officials, we have to be working toward justice and equality for all citizens. We can't just pick and choose."
At the same time, Marzian decided against bringing her measure to a committeewide vote. That's because she expected it would fail.
The Democrat from Louisville has sponsored a version of the bill in each legislative session for more than a decade. Over that stretch, it's moved from the political fringe to winning support from the state's leading employers and three Republicans across both chambers. Still, Marzian does not believe it can overcome opposition from the state's GOP majority — fueled, in her words, by "the right-wing Tea Party groups, the homophobes, the conservative Christians."
Matt McTighe is the executive director of Freedom for All Americans, a newly launched advocacy group focused on passing nondiscrimination protections for LGBT people in employment, but also advocates in fields like housing and public accommodation. He doesn't believe the cause is necessarily a partisan one.
"The biggest thing is there is still a great need for public education on what it means to have a fully inclusive nondiscrimination law in a state," McTighe said. Many legislators and the general public alike don't even know it's a problem that needs to be addressed, he added.
In fact, a range of studies show anywhere between 15 to 43 percent of gay and transgender workers have experienced some kind of discrimination on the job — whether that's abuse from a co-worker or being fired or forced to quit.
The bedrock of federal anti-discrimination law, the 1966 Civil Rights Act, prohibits employment discrimination on the basis of race, color, religion, sex and national origin. No such protections exist for sexual orientation and gender identity.
In recent years, the agency that enforces that law at the workplace, the Equal Employment Opportunity Commission (EEOC), has taken up a limited number of discrimination cases involving gay and trans workers on the basis that they constitute a form of sex discrimination. The development has heartened LGBT advocates, but many consider it inadequate: They worry the EEOC's interpretation has not been tested enough in the courts and could change if a less sympathetic administration comes to Washington next year.
In the meantime, McTighe said states — and eventually Congress — need to pass bills explicitly protecting LGBT people from workplace discrimination. According to the Movement Advancement Project, an LGBT-focused think tank, 52 percent of the gay and transgender population in the U.S. currently live in states without these protections.
Heather Cronk, co-director of GetEqual, a LGBT advocacy group, said the leading gay rights groups deserve some of the blame for the current state of affairs because they focused too much on the battle for marriage rights.
"I didn't think the win at the Supreme Court would translate into wins at the state level," Cronk said. "We hadn't told the stories or built the movement necessary to win this fight."
"Marriage was centered around these heteronormative stories that people could get into and identify with," she continued. "With nondiscrimination, it's a totally different ballgame."
Cronk also said many gay rights groups failed to account for the backlash generated by the Supreme Court decision last June. Since same-sex marriage became legal nationwide, religious groups have pressured state legislators to pass a bevy of laws that gay rights advocates consider to be discriminatory.
This year, Washington state legislators nearly repealed a new state regulation that authorizes transgender people to use public restrooms that correspond with their gender identity. The Virginia House recently passed a bill that would prevent state agencies from punishing organizations that discriminate against transgender people or people in same-sex marriages; The West Virginia House recently passed a similar bill, with supporters citing the need to preserve religious freedom. As of press time, the governor of South Dakota had not yet indicated whether he would sign a bill that prevents transgender students from using bathrooms that correspond with their gender identity.
McTighe acknowledged the onslaught has weakened efforts to win employment protections. He likened it to a "game of whack-a-mole." He added: "If you keep getting caught playing defense, it's harder to keep the offensive momentum going."
McTighe's group, Freedom for all Americans, has helped assemble business coalitions supportive of nondiscrimination laws. It's harder to mobilize them in the face of such pressure, he said.
Cronk, on the other hand, said many of the movement's supposed businesses allies aren't doing enough to pressure legislators — especially when compared with their opponents.
As the Charleston Gazette-Mail recently reported, for example, West Virginia's largest employers have effectively remained silent about the state's so-called religious freedom bill.
Without a substantive threat to relocate or shift operations, pro-equality gestures from employers often appear empty, Cronk said. "Corporations have not stepped in a way that exerts pain on legislators," she said. "The religious right knows how to exert pain."
National organizations like Focus on the Family and the Family Research Council, each of which have a number of state allies, have helped lead the fight against non-discrimination laws. The groups maintain they're opposed to discrimination in all forms and are simply committed to preserving religious liberty. The Family Research Council did not respond to a request for comment.
Jeff Johnston, issues analyst at Focus on the Family, said that "laws giving special protections based on nebulous concepts such as 'sexual orientation' and 'gender identity' threaten religious freedoms; free speech; safety and privacy; and parental rights in education."
In Florida, the Christian Family Coalition helped lobby against the state's proposed nondiscrimination bill. In Indiana, the Indiana Family Institute and the American Family Association of Indiana led the efforts. In Kentucky, it's the Focus on the Family-affiliated Family Foundation of Kentucky.
The group's executive director, Kent Ostrander, explained to International Business Times why his group is opposing Kentucky's proposed nondiscrimination bill.
"No. 1, it's not needed because we do not have discrimination of gays, lesbians, transgenders, et cetera. It's not widespread," Ostrander said. "But perhaps more importantly, what we have seen with fairness ordinances across the nation is that they generate anti-religious intolerance, and we've experienced that in this state as well."
When asked about studies that show workplace discrimination, Ostrander said the trends don't apply in Kentucky.
"In terms of wanting no discrimination, we don't want it, and fortunately we don't have it," he said. "I would be more concerned about another class of people that are discriminated against and that's overweight people. You think about it, they are the most discriminated against across America, across the state and nobody seems to be speaking up for them."
© Copyright IBTimes 2023. All rights reserved.