South Korea Threatens Pyongyang With 'Pitiless' Payback For Detonating Landmines In DMZ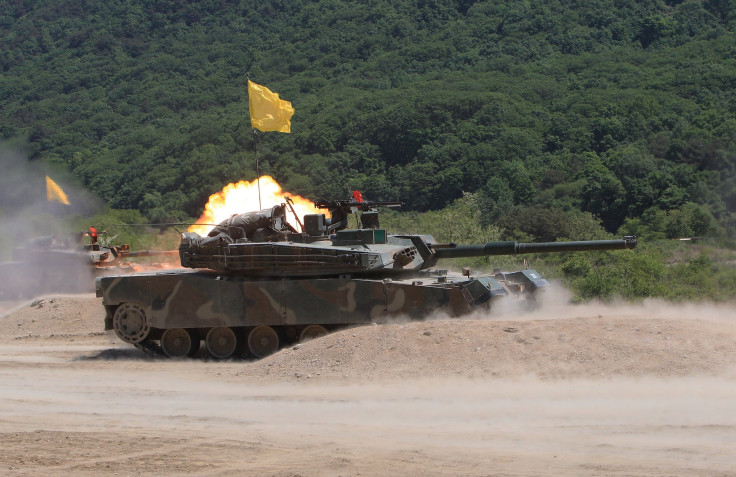 The United Nations Command and the South Korean defense ministry denounced North Korea for placing landmines in the demilitarized zone (DMZ) last week, which injured two South Korean staff sergeants. The South Korean defense ministry went a step further and threatened dire consequences if Pyongyang did not apologize for the act.
"As previously warned on many occasions, our military will make North Korea pay the equally pitiless penalty for their provocations," Maj. Gen. Koo Hong-mo, head of operations for the Joint Chiefs of Staff, said, in a statement, according to Yonhap, while the country's defense ministry urged the North to apologize for its actions and punish those responsible for the explosions.
South Korean officials believe that North Koreans secretly crossed over the border and placed three landmines in wooden boxes that reportedly went off when eight South Korean army soldiers were conducting a regular scouting exercise in the DMZ near the city of Paju, Gyeonggi Province. The accident severed the legs of two staff sergeants.
The investigation into the incident said, Yonhap reported, that the landmines were intended to thwart next week's Ulchi Freedom Guardian exercise between Seoul and Washington.
"This provocation is a clear violation of the armistice agreement and the non-aggression agreements between the South and the North," the Joint Chiefs of Staff said, in a statement, according to Yonhap, adding that North Korea's attempt was a "nasty behavior that is unthinkable for any normal military."
South Korean defense ministry spokesman Kim Min-seok said: "North Korea's provocation is an unforgivable act that directly goes against the armistice agreement," Yonhap reported.
The U.N. Command (UNC), which monitors the ceasefire in the region said Monday, according to Agence France-Presse (AFP), that it had conducted a special investigation into the incident and determined that "the devices were recently emplaced, and ruled out the possibility that these were legacy landmines which had drifted from their original placements."
The UNC also said that it maintains its commitment toward the Armistice Agreement, which does not allow the use of acts of aggression in the demilitarized zone or the crossing of one country's soldiers to the other side of the border. The UNC reportedly added, according to AFP, that over a million mines are expected to have been placed in the border region.
South Korean Brigadier General Ahn Young-Ho reportedly said that 43 pieces that went off near the border were analyzed. "Our troops have operated in this area on a regular basis," Ahn said, according to AFP, adding: "These mines were planted by the North Korean military with an intention to kill our soldiers."
North Korea has not yet responded to the report's claims.
© Copyright IBTimes 2022. All rights reserved.
FOLLOW MORE IBT NEWS ON THE BELOW CHANNELS