South Korea's Unemployment Rate Jumps To 6-Year High Of 4.1%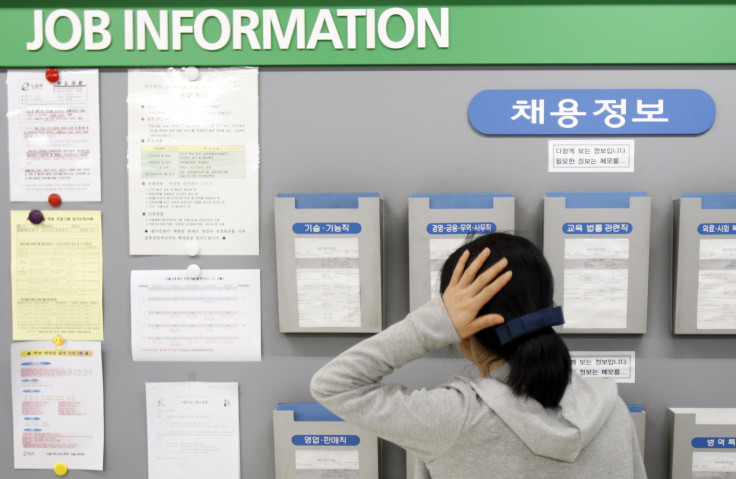 South Korea's seasonally adjusted unemployment rate jumped to a six-year high of 4.1 percent in February, government data released Wednesday showed. The figure for the previous month was up from 3.5 percent in January and higher than economists' expectations of 3.6 percent.
In non-seasonally adjusted terms, the jobless rate last month stood at 4.9 percent, also the worst in six years. Statistics Korea — the country's official statistics agency — said that the spike in unemployment was caused due to the Lunar New Year holiday, which fell early in the month. The rise in unemployment followed the termination of temporary jobs that had been created for the holiday.
The rate of jobs growth in the manufacturing sector slowed to 2.4 percent year-on-year in February, down from 3.3 percent in January, while the number of people employed in the country's construction sector shrank 0.3 percent over the past year.
"We will not be downgrading our employment rate forecast just from this batch of data, as it does not confirm a downward trend. We do recognize the importance of improving the job market though and will be announcing new measures soon," South Korean Finance Minister Yoo Il-ho reportedly said Wednesday, without providing further details.
The data revealed that the youth unemployment rate for those between the ages of 15 and 29 years was 12.5 percent, the highest on record, with college graduates rushing to join the workforce after graduation. In February, the number of unemployed college graduates surged 19.2 percent over the year.
The data, which comes amid a slowdown in the South Korean economy, is likely to build pressure on the country's central bank to further ease monetary policy. The bank's seven-day repo rate, which is its base policy rate, is already at a record low of 1.5 percent.
"The jobless rate usually tends to rise in the first quarter but right now the situation looks pretty depressing as manufacturing industry is sluggish. The job market is unlikely to recover in the first half of the year," Suh Dae-il, an analyst at KDB Daewoo Securities, told Reuters. "This won't be a direct reason for the central bank to lower interest rates but as it is an indicator of a slowing economy, so views for a rate cut will find support."
© Copyright IBTimes 2023. All rights reserved.