South Sudan Crisis: UN Uses Nile River Border Crossing To Deliver Food Aid Amid Threat Of 'Hunger Catastrophe'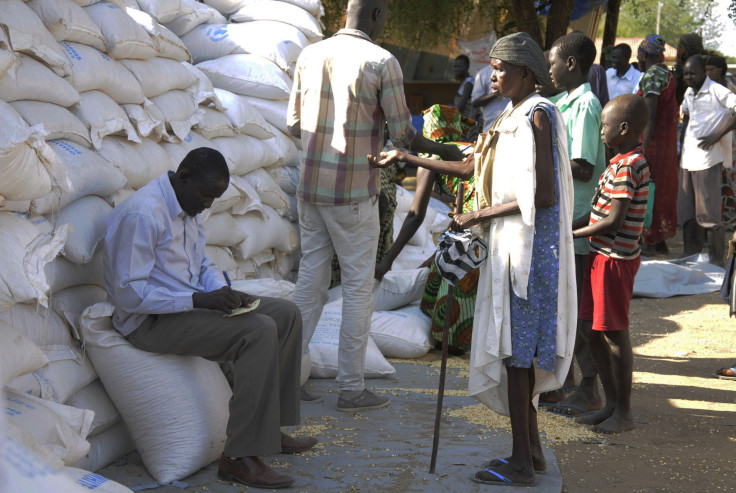 The United Nations has begun using the Nile River to deliver food aid to South Sudan, according to a statement released by the World Food Program (WFP) on Monday. The aid shipment marks the first time the highly militarized corridor between the country and its northern neighbor Sudan has been used by the U.N. since South Sudan became an independent state in 2011.
A WFP barge carrying 450 metric tons of food traveled from the Sudanese town of Kosti to the Upper Nile state towns of Renk and Wadakona in South Sudan, delivering a shipment that is expected to provide food for an estimated 28,000 people for a month. "This is the first time in several years we have been able to use the Nile River to deliver food across the border between Sudan and South Sudan," said Stephen Kearney, the WFP's acting South Sudan country director. "This will make an enormous difference in our efforts to bring food assistance to people in critical need."
The use of the river to ship humanitarian goods across the border between Sudan and South Sudan came to a halt following the border's closure in the aftermath of South Sudan's independence. The border dispute between the two countries has dragged on despite a 2013 agreement to open 10 border crossing points, according to Reuters. Since the closure of the border, the WFP has relied on costly airplane and helicopter flights to deliver food and nutrition supplies, a method that costs six to seven times as much as river and road transport, said the agency.
The continued fighting in South Sudan has made the food security situation in the country "very precarious," said WFP spokeswoman Challiss McDonough in an interview with U.N. Radio. "It is a very delicate situation, and we are very concerned that if the fighting continues in the New Year that we could be looking at a continued threat of a hunger catastrophe," she said. The conflict that erupted following the political infighting between South Sudan's President Salva Kiir and his former vice president Riek Machar has resulted in the displacement of 1.9 million people, with an additional 7 million now at risk of hunger and disease, according to the U.N.
The agreement between the two governments to allow river transport of humanitarian aid will allow an additional 21,000 metric tons of food to enter South Sudan in the coming days and will constitute a "critical supply line," especially if hostilities in the country continue through its annual dry season. Aid groups have been warning that such a scenario could led to famine in the country during 2015, according to the New York Times.
© Copyright IBTimes 2022. All rights reserved.
FOLLOW MORE IBT NEWS ON THE BELOW CHANNELS