Southern Exposure: As Gun Sales Surge, Northeast Manufacturers Fleeing For Dixie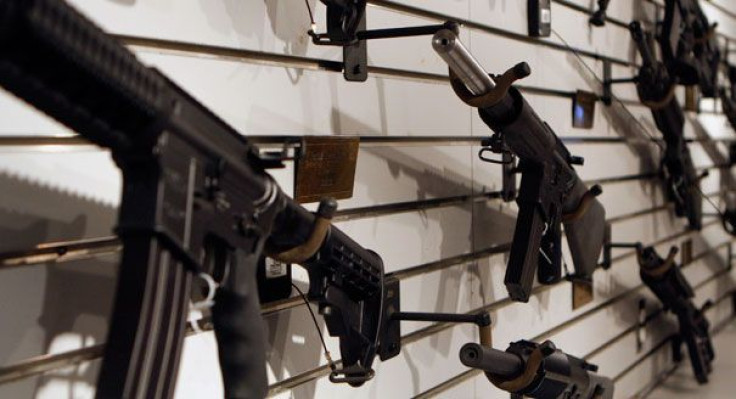 Along with abortion and homosexuality, gun control and gun rights are among the most polarizing subjects in current American political life.
Gun advocates, backed by the National Rifle Association and many Republicans, demand a strict adherence to the Second Amendment of the U.S. Constitution by allowing them free access to any weapon of their choice, while gun control proponents often motivated by recurring deadly massacres, fret that too many guns are already in circulation and limitations must be imposed on the availability of such deadly firearms.
Caught in the middle are gun manufacturers (mostly small companies that sell a legal product) and millions of gun owners (the overwhelming majority of whom do not commit violent crimes). The debate over guns indeed represents a facet of the so-called "culture war" that shows no sign of resolution.
Now, changes in the country's political environment have pushed some gun manufacturers to pack up and move, especially from the northeastern U.S. Over the past year, in the wake of stricter gun control legislation passed by state governments in New York and Connecticut (in response to the horrific mass murder of 26 people, including 20 children, at Sandy Hook Elementary School in Newtown, Conn., in December 2012), several firearms makers have either threatened to relocate to the South or have actually done so.
In October 2013, Townhall.com reported that American Tactical Imports, or ATI, a Rochester, N.Y.-based importer and distributor of domestic firearms became the third New York gun manufacturer to leave the state partially due to Democratic Governor Andrew Cuomo's SAFE Act -- a piece of gun control legislation enacted in January in response to the Sandy Hook massacre. The SAFE legislation severely limits the sale of assault weapons and this year will track sales of ammunition across the state. In November, ATI packed up and moved 700 miles away to sunnier climes (and a more gun-friendly environment) in Summerville, S.C., just outside Charleston.
Guns.com reported that ATI will bring 117 jobs to South Carolina as well as a new $2.7 million investment in Dorchester County, S.C. Moving to the Palmetto State will also enable ATI to enjoy proximity to key shipping routes (i.e., the busy port of Charleston), facilitating product deliveries, particularly from Germany, from where ATI imports many of its products.
"This move to South Carolina will help ensure a solid foundation for our company," said Tony DiChario, president of ATI. "The people of South Carolina have welcomed ATI with open arms and we are excited about making our new corporate home there."
Of course, South Carolina also provides strong support for the Second Amendment and welcomes new businesses.
"South Carolina is a destination for job-creating investments," gushed Republican Governor Nikki Haley while Bobby Hitt, secretary of South Carolina's commerce department, said: "Our state's business-friendly resources and excellent workforce further underscore what makes South Carolina just right for business," according to Guns.com.
Tom King, president of the New York State Rifle and Pistol Association, the state affiliate of the NRA, told the Buffalo News that most of ATI's product line would be banned for sale in New York under terms of the SAFE Act.
"ATI believes it is imperative that a firearms importer and manufacturer do business within a state that is friendly to the Second Amendment rights of the people,'' the company said in a statement.
In July 2013, another New York-based gun maker, Kahr Arms, a subsidiary of Saeilo Enterprises Inc., which is based in Pearl River, N.Y., said it planned to relocate its headquarters not to the Deep South but rather to neighboring Pennsylvania, again citing Cuomo's SAFE Act as the primary factor. By January 2014, the Pocono Record newspaper reported that Kahr had purchased a 600-acre property in Pike County in northeastern Pennsylvania, a rural, deer-hunting region.
"We don't feel welcome [in New York]," said Frank Harris, Kahr's vice president for sales and marketing, to the New York Times. "All the people we were dealing with [in Pennsylvania] on the town level were hunters and comfortable with firearms. We were received with open arms."
Kahr will construct a 40,000-square-foot facility for both its corporate offices and a manufacturing center in Pike County and expects to create at least 200 jobs in the area.
"This company will… create much needed jobs," County Commissioner Mathew Osterberg said. "We look forward to the positive impact to our local economy that Kahr Arms will bring."
One of the biggest and most celebrated gun-makers in New York -- which has been in the business for almost two centuries -- may also flee southward. According to media reports in Tennessee, Remington Arms, based in Herkimer County, N.Y., is actively seeking a new headquarters in the Nashville area. Like many firearms manufacturers in New York, Remington fears what SAFE will do to its bottom line, and its concerns have been exacerbated by warnings from some gun consumers that they may not do business with New York-based companies anymore.
The Albany Business Review reported that Remington is the largest employer in the town of Ilion where generations of people have worked for the company. The area has witnessed the collapse or departure of other manufacturers over the decades, and should Remington also exit, it might be a death knell for the local economy.
"If they [Remington] leave, that would be the last nail in the coffin of the Mohawk Valley," said Cosimo Tangorra, the local school superintendent. The Remington 870, which has been on the market for more than 50 years, remains the most popular and best-selling shotgun in history.
The National Shooting Sports Foundation, or NSSF, a lobbying organization, estimates that about 8,000 people in New York State work for the gun industry and that they contribute more than $1.2 billion to the state's economy annually.
In June 2013, a gun manufacturer in Connecticut (the state where the Sandy Hook massacre occurred) also announced their move to South Carolina after officials in Hartford tightened gun-control regulations. PTR Industries will move to South Carolina's Horry County, which includes Myrtle Beach, where they will build a plant that will employ 140 people, said Josh Fiorini, PTR's CEO. Many of those workers will themselves relocate with the company from Connecticut. Workers at PTR earn $17.50 an hour on average, reported the New York Times.
Fiorini cited cost as a principal motivation for the relocation. He estimated that doing business in South Carolina will be one-third cheaper than in New York, what with lower labor and electricity costs. NBC reported that PTR presently employs 42 people, but plans to expand its workforce over the next two years. Fiorini also complained that Connecticut officials did not lift a finger to prevent the move.
PTR indicated that they were contacted by no less than 41 states, with South Carolina chosen from six finalists, including Texas.
"One hundred percent of our product line is illegal in Connecticut," said John McNamara, PTR's vice president of sales. "They just want to collect our tax dollars on a product that they don't think is safe to own."
Connecticut, in fact, boasts one of the toughest gun-control laws in the country, banning high-capacity ammunition magazines like those used in the Newtown shooting. "I sensed an opportunity," Alan Clemmons, a South Carolina state representative, told the New York Times about PTR. "They are not feeling loved right now in Connecticut. We're delighted to have them."
The New York Times noted that South Carolina enticed PTR with tax credits, cash grants and other incentives, including free rent at their new facility outside Myrtle Beach.
"[Connecticut] state officials will tell you that my fears are overblown. But why do I need to do business in a place where I have fears, overblown or otherwise? We'd rather be in a place with no gray areas," Fiorino declared.
In response to PTR's departure, Andrew Doba, spokesman for Connecticut Gov. Daniel Malloy, said: "They announced this several months ago, so it's not a surprise. We compete for jobs every day of the week, but on this issue the governor is prioritizing public safety and the gun violence prevention law he signed will improve public safety."
Connecticut has long served as the heart of the American gun-manufacturing industry. NSSF said about 2,900 people in the state are employed by the gun business.
Yet another Connecticut-based firearms maker, Stag Arms, which is a major supplier to law enforcement agencies, will also pull up stakes for Dixie (again, South Carolina or perhaps Texas, according to Brad Lofton, president and CEO of the Myrtle Beach Regional Economic Development Corp.).
The Wall Street Journal reported that Stag Arms, which was founded in 2003, currently has about 200 workers on its payroll and hopes to add 100 more people to its workforce over the next few years. Stag manufactures AR-15 rifles, which are now illegal in Connecticut.
"It's hard for me to even consider [remaining] in Connecticut," Stag's owner, Mark Malkowski said.
O.F. Mossberg & Sons, which is based in North Haven, Conn., and has remained in business for almost a century, told the Wall Street Journal, that they are receiving offers from more than 10 states, including South Carolina, to change address.
"They are calling every day," said Joseph Bartozzi, senior vice president and general counsel of Mossberg, who insisted the company would prefer to keep his 270 employees at home. "I don't know [any] incentive package that can undo 94 years of history," he added. (However, Mossberg already has a facility in South Carolina that employs some 400 workers).
BearingArms.com reported that Ohio-based gun manufacturer, the 130-year-old Ithaca Gun Co. (originally based in Ithaca, N.Y.), is expanding its operations to South Carolina, near the Myrtle Beach area. Company officials cited the "pro-2nd Amendment culture" of the South as one of the driving factors behind its move.
"The project will consist of a capital investment of approximately $6.7 million plus the creation of 120 new high-skilled jobs [including] machine operators, gunsmiths, engineers and assemblers that will earn wages significantly higher than the Horry County average wage," Ithaca officials said, in a press release.
"Ithaca Gun Company is excited about locating to Horry County," said Mike Farrell, COO of Ithaca. "We have received great support from the state and the local officials to make this happen. South Carolina offers us the right mix of business-friendly climate, a steady workforce with training opportunities and an excellent quality of life we were looking for in establishing a new facility."
Maryland, which has passed a number of gun-control laws, including restricting magazines to 10 bullets or less and prohibiting the sale of no less than 45 types of assault weapons, may also witness an exodus of gun-makers, including perhaps Baretta U.S.A. of Prince George's County.
"We've excluded states that have not shown consistent, strong support for Second Amendment rights," Jeff Reh, Beretta U.S.A.'s general counsel told the New York Times.
Perhaps the most famous American gun manufacturer, Sturm, Ruger & Co. (NYSE: RGR), based in Southport, Conn., is staying put, but has said it might expand in other parts of the country, having already opened a new plant in North Carolina.
Yet another iconic gun-maker, Colt, the oldest firearms manufacturer in Connecticut and which supplies the police and military, and boasts 750 employees, is not going anywhere, but that doesn't mean they are pleased with the current political climate in the state.
Gerald Dinkel, chief executive of Colt, told the New York Times that "we were disappointed in the position Connecticut took [with respect to gun legislation]." Colt, which was founded in Hartford in 1855, said it has heard sales pitches to move from other states, but there are no plans to relocate yet, the Wall Street Journal noted.
Gun control supporters in New York dismiss the pro-gun faction's claims that new laws are driving away firearms makers.
"I think they [gun-makers and gun advocates] are using the New York SAFE Act as a scapegoat,'' Leah Gunn Barrett, executive director of New Yorkers Against Gun Violence, told the Buffalo News, noting that the law is designed to keep weapons out of the hands of criminals, drug dealers, felons and the mentally ill. "I don't see how that's harming anyone's business.''
She suggested that New York-based firearms companies are attracted to states like South Carolina for its lower taxes. "But putting it on the SAFE Act is disingenuous,'' she said.
South Carolina is particularly attractive for gun manufacturers. WBTW News reported that the state has created special incentives for out-of-state gun makers to relocate. Thus far, they have added at least 4,000 new jobs through their efforts and the state Senate has even passed an official resolution to entice gun manufacturers to move to the state. The Baltimore Sun reported that South Carolina has up to 15 different incentives for gun manufacturers, including attractive real estate deals, training for workers, lower taxes and cheaper utilities.
"We're very open to gun companies in South Carolina as we have been," Bobby Hitt told the Post Courier newspaper. "We've been in the gun business for a third of a century here. We have well-known craft capability in South Carolina in that area."
He specifically praised FN Manufacturing of Columbia, where hundreds of workers make parts for military weapons, as an example. (It was at FN where Governor Haley famously toured last summer touting the state as a leading firearms manufacturer).
IBISWorld Industry analyst Maksim Soshkin said in an interview that aside from restrictive gun regulations in New York and Connecticut, northeastern firearms makers are also attracted to the South and the Midwest because they are, for the most part, "right-to-work" states, which means weaker unions and lower labor costs.
"By relocating to these states companies are also moving closer to their largest customer base, thereby, lowering transportation costs and increasing flexibility," he said. "These states also have a more gun-friendly policies, which can reduce a manufacturer's uncertainty about regulation."
However, given the size, nature and global market for guns, some experts do not believe that the exodus of firearms makers from the Northeast will necessarily hurt local economies.
Steven Lanza, an economist at the University of Connecticut, wrote in a study that "whatever the in-state constraints on firearm and munitions sales and use, an arms maker's market is primarily national and international, both of which are beyond the reach of local lawmakers."
On the whole, gun sales are mushrooming in the U.S., making the firearms industry quite prosperous. Gun sales have soared largely due to fears that President Barack Obama would restrict sales of weapons (despite the fact that violent crime has been falling for many years all over the country).
Interestingly, sales of guns and ammunition usually go up after an event like the Sandy Hook killings because people get worried that these events will trigger stricter gun laws, Soshkin indicated.
"In particular, they go out and buy products that they think might get banned," he said. "Similarly, many consumers believe that the Obama administration will push through more stringent regulations, which helps explain why sales have gone up once Obama took office."
Data on gun sales can be somewhat tricky, but one can make an estimate based on the number of background checks for weapon purchases (most of which are approved). Based on statistics on National Instant Criminal Background Check System, or NICS, background checks, the FBI estimated that 2013 set an all-time new record for gun sales, with more than 21 million background checks conducted during the year, beating the 2012 figure of about 19.6 million. In some states like Maryland, gun sales actually doubled in just one year.
"They can't make guns fast enough," said Nima Samadi, a gun industry analyst with IBISWorld, according to the New York Times.
Many U.S. gunmakers are privately held, while share prices of publicly-held companies like Smith & Wesson Holding Corp. (NASDAQ: SWHC) and Sturm, Ruger have soared over the past two years.
According to Small Arms Survey, an independent research project at the Graduate Institute of International and Development Studies in Geneva, Switzerland, American companies have manufactured more than 100 million firearms over the past quarter century (the country has at least 270 million guns and other weapons in the public's hands). Nearly half of all Americans own at least one firearm in their home, while a significant portion possess multiple firearms.
"The industry has entered a golden era, a renaissance of gun ownership that transcends a dedicated segment of Americans who consider firearms a natural part of their lives," wrote Russ Thurman in the July 2012 issue of Shooting Industry Magazine. "The remarkable level of firearms sales that are exceeding previous lofty projections go beyond political- or fear-motivated factors. Yes, those elements are still present, but the dominating factor is a culture revival. Gun ownership has gone mainstream. It's the fun factor of firearms that has been restored to the culture."
The gun industry is highly dispersed, comprising thousands of small companies spread out all across the country.
"There are a lot of smaller manufacturers that support a very large base of suppliers," said Jake McGuigan, director, government relations, state affairs for NSSF. "These kinds of small, independent businesses are really the backbone of the U.S. economy, not the GMs, Wal-Marts and other big businesses."
Still, three companies dominate the industry, accounting for 40 percent of all guns made in the country: the aforementioned Sturm, Ruger & Co. (which manufactured 15.3 million firearms from 1986-2010); Remington, which is owned by Freedom Group, (14.2 million guns) and Smith & Wesson (10.5 million).
Soshkin of IBISWorld explained that the Southeast, Southwest and Rocky Mountains regions make up a large portion of the industry's customer base and they tend to have lax gun regulations, which allows for a greater range of products to be sold. The Great Lakes region is also a major manufacturer of guns and ammunition because it is a manufacturing hub and a leading steel producer -- a key component of gun industry products.
NSSF data revealed that the three states with the highest number of gun-industry workers were California (24,000 jobs), Texas (13,100), and Florida (12,000). Interestingly, the tiny New England states of Connecticut and Massachusetts, boasted more than 8,000 gun workers each. Also, average salaries for gun workers tend to range from $50,000 to $60,000.
According to Soshkin, most firearms industry workers are blue collar. "However, manufacturers have been increasingly automating their factories," he added. As a result, there has been an increase in gun workers with technical expertise, i.e. those who operate software.
Business research firm Hoovers estimates that the guns and ammunition industry in the U.S. generates annual revenues of about $6 billion. But NSSF estimates that the total economic impact of U.S. firearms industry is about $31.8 billion, up from $27.8 billion three years prior, and employs almost 99,000 workers directly, while another 111,000 (mostly suppliers and retailers) are indirectly lined to the business. Moreover, the total wages earned annually by these people reaches almost $10 billion. Between 2008 and 2011 (amidst the economic crisis and rampant unemployment), the number of gun-related jobs in the U.S. surged by 20 percent, NSSF said.
William J. Vizzard, professor of criminal justice at California State University in Sacramento, who has long studied the firearms industry, commented that the gun market has not only expanded dramatically over the past 50 years, its very nature has drastically changed.
"Up until about the 1980s, gun-buyers were primarily hunters, competitive shooters and sportsmen," he said in an interview. "Prior to that period, guns were viewed as a utilitarian product, similar to hammers and saws. But now, guns have essentially become like 'toys' for adult men, similar to motorcycles, something most of them don't really even need."
Prior to the 1980s, there was no market for such items as paramilitary rifles of semi-automatic weapons among civilian consumers, he added. Indeed, Vizzard pointed out that as the population has grown and forests have diminished in size, the sport of hunting has actually declined in the U.S. And yet, gun sales keep climbing -- to the point where there is almost a weapon for every man, woman and child in the country.
But the firearms industry, Vizzard pointed out, has some very unique characteristics. Consider the classic Colt 1911 pistol, which is still hugely popular among collectors and buyers.
"That design is more than a century old and it's still being manufactured," Vizzard exclaimed. "Can you imagine someone today buying a car made in 1911? Even the computers were have now will be obsolete within five years. But the Colt keeps selling."
Meanwhile, as the political wars over gun rights only get more heated and with no resolution in sight, it is likely that more gun makers may seek out warmer climes in the 'Red' states of the South.
© Copyright IBTimes 2023. All rights reserved.
FOLLOW MORE IBT NEWS ON THE BELOW CHANNELS