Europe And Guns: EU Tries To Address Illegal Firearms As American Gun Violence Overshadows Debate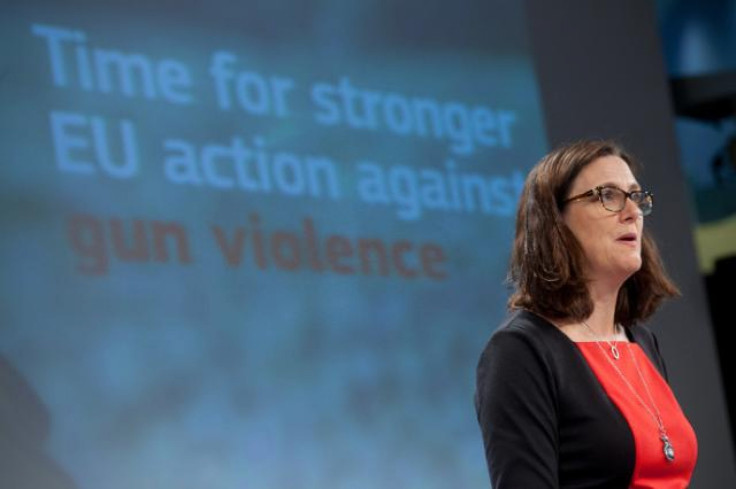 If a gun goes off in Europe, does it make a sound?
Tired of being drowned out by America's deafening debates over the Second Amendment, members of European Commission on Monday discussed suggestions on how to reduce gun-related violence in Europe. Meeting in Brussels, the commission attempted to identify potential legislative solutions, operational activities and funding strategies to deal with threats posed by the illegal use of firearms.
Citing notable gun attacks in Norway, Belgium, France and Italy, the commission said that more than 1,000 people are victims of homicide within the E.U. each year. According to the CDC, the United States has 10 times that number, so it should come as no surprise that gun violence in America tends to dominate the topic on both sides of the Atlantic. But Cecilia Malmström, the E.U.'s commissioner of home affairs, said in a statement that Europeans should not take their relatively low number of gun deaths as an excuse to be silent:
"Every week, we hear of new acts of violence being committed with firearms. Yet the debate about the illegal use and trafficking of guns in Europe is worryingly quiet. The American debate on gun prevalence is often more visible, when we should be focusing on the home front. We have plenty of work to do here in Europe to make sure handguns, rifles and assault weapons do not end up in the hands of criminals."
Despite their reluctance to discuss the issue, Europeans are increasingly concerned about gun violence. A survey released by the commission on Monday shows that six in 10 Europeans believe that crimes involving firearms are likely to increase over the next five years. It also shows that 55 percent want stricter gun legislation. The E.U. has some of the strictest gun regulations in the world, according to the commission, which said that it has "made significant progress in the last decade through updating and strengthening regulation of commercial aspects of firearms manufacturing, possession and sale."
Like in the U.S., Europeans own guns for a variety of reasons. In Finland, the majority said they owned guns for hunting, while Romanians cited "professional" reasons. Of the E.U. citizens polled, the vast majority -- 95 percent -- support a law that would "mark each firearm to identify its owner," a finding that mirrors public opinion in America, where nine out of 10 people support background checks, according to a recent Quinnipiac University poll.
Europeans were surveyed on the issue of illegal firearms in a public consultation between March 25 and June 17 of this year. Watch Malmström's press conference on gun violence in Europe here.
Got a news tip? Email me. Follow me on Twitter @christopherzara
© Copyright IBTimes 2023. All rights reserved.
FOLLOW MORE IBT NEWS ON THE BELOW CHANNELS