SpaceX Tests Falcon Rocket, Schedules New NASA Satellite Launch [VIDEO]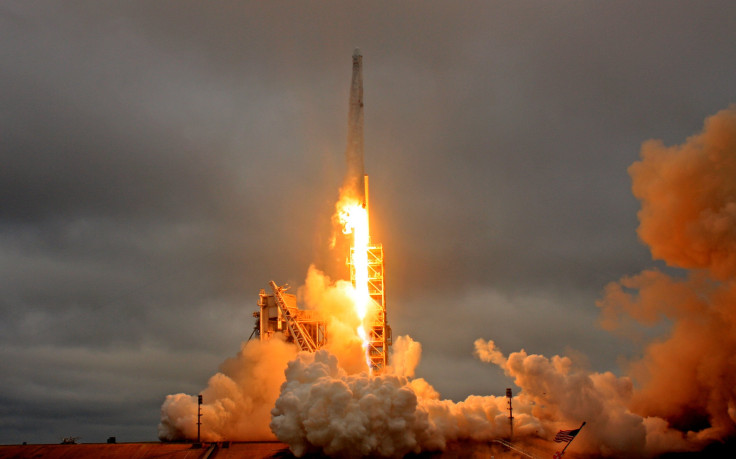 Aerospace giant SpaceX test fired its Falcon 9 rocket Thursday, ahead of an upcoming commercial communications satellite launch.
The rocket underwent a static test fire at the Kennedy Space Center in Cape Canaveral, Florida, where it's set Tuesday to launch the EchoStar 23 communications satellite from NASA's Launch Pad 39A. During the test, the company fired the rocket's nine Merlin 1D engines, producing 1.5 million pounds of thrust as it was firmly fixed to the ground, allowing experts to diagnose any potential issues prior to Tuesday's live launch, SpaceX's third this year. The satellite was reportedly programmed to service television stations in Brazil.
Cape Canaveral-based space news site Space Flight Now caught the event on camera and posted the wide-angle footage Friday on its official site and social media page where it's viewable in 4k resolution.
The test followed a launch last month by SpaceX's Dragon rocket, which delivered NASA cargo to the International Space Station. Another Falcon rocket exploded in September, destroying a $200 million Spacecom AMOS-6 communications satellite attached to it on behalf of Facebook and causing significant damage to the company's launch pad. SpaceX founder and CEO Elon Musk vowed to recover the company's losses and, in December, he revealed a more powerful version of the Falcon 9, called the Falcon Heavy. SpaceX boasted that the $90 million rocket could provide double the power of its next competitor at a third of the cost.
Musk founded SpaceX in 2002 in hopes of generating renewed interest in space travel and it became the first to successfully launch a privately funded, liquid-fueled rocket into orbit in September 2008. In addition to securing the lucrative private communications satellite deals with major firms, Musk has also since pledged to spearhead the initiative to colonize Mars and bring tourists to the moon by 2018.
© Copyright IBTimes 2022. All rights reserved.
FOLLOW MORE IBT NEWS ON THE BELOW CHANNELS