Spain Elections 2015: Exit Polls Show Small, Liberal Parties Threatening Ruling Groups In Cities Like Madrid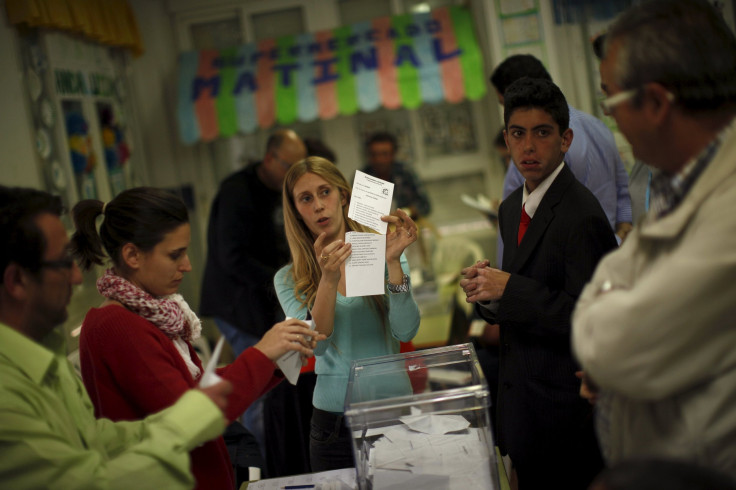 UPDATE 7:55 p.m. EDT: Spain's ruling People's Party was poised to lose control of the Madrid City Council for the first time since 1991, Reuters reported. The party won 21 of 57 seats, with 20 going to the Ahora Madrid coalition and nine to the Socialists. Ahora Madrid could form a left-wing coalition.
The results were seen as punishment of Prime Minister Mariano Rajoy for severe spending cuts and several corruption scandals in the past four years, and could portend trouble in the November general elections, Reuters said.
The party also lost its dominance of Valencia.
Original post:
Spanish exit polls Sunday indicated new, leftist parties were staking their claims in the country's regional and municipal elections. It looked as if Partido Popular, the conservative group currently in power, would lose its absolute majority in some cities, necessitating compromise and coalitions going forward, Reuters reported.
Even though Partido Popular, or Popular Party, also called the People's Party, was the most voted in most regions, upstarts like Podemos and Ciudadanos had widespread support. They and their liberal coalitions looked to dominate in places like Madrid, upsetting the Popular Party's 24-year hold on the area.
In the 2011 municipal elections, Popular and rival Socialist Party accounted for 65.32 percent of the nationwide vote. This year, the Associated Press reported, that dropped to 53 percent.
"There is no doubt that a majority of Spaniards want change," Jose Pablo Ferrandiz, who works for the polling company Metroscopia, told Agence France-Presse. "What they want now are governments that make pacts and engage in dialogue."
The election has the potential to change the leadership of all the country's local councils and 13 regional parliaments, BBC News reported. The official results were due to be released later Sunday.
Voters told polling groups their top issues were government corruption and the country's 24 percent unemployment rate, the Telegraph reported.
"Tonight our city halls and regions will begin to change, and Spain will also begin to change," said Podemos leader Pablo Iglesias.
With 10 percent of the vote counted, Digital Look reported Popular had gotten 22.69 percent, the Socialist Party, 26.85 percent, and Ciudadanos, 4.17 percent. Statistics for Podemos were not yet available.
You can follow along on Twitter with the hashtags #SpainDecides and #Eleccion2015, the latter of which was trending in Spain Sunday.
© Copyright IBTimes 2023. All rights reserved.