Spain Vs. Italy, Euro 2012 Final: Balotelli, Xavi, Pirlo... 5 Keys to Sunday's Encounter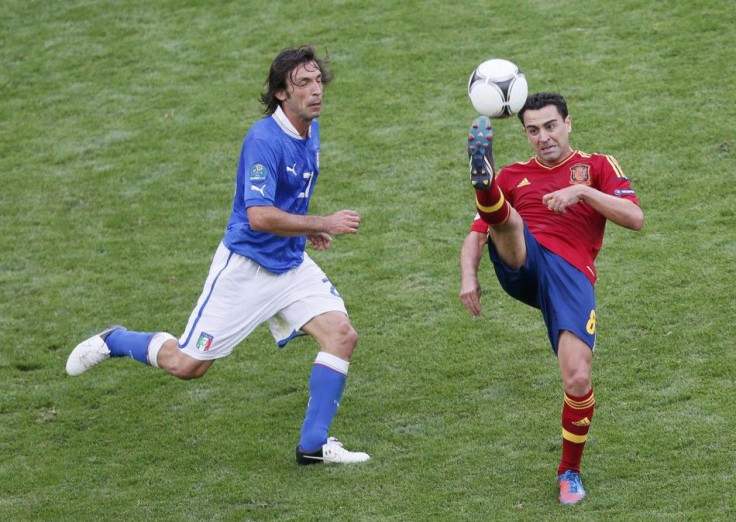 Battle of the Midfield Maestros
The two creative linchpins of each finalist have been understandably compared to the hilt in the buildup to this final. Both will go down as two of the greatest midfielders of their generation, perhaps of all time, but they are very different players. Andrea Pirlo enjoys picking the ball up deep, having time to read what's ahead of him and pinging usually pitch-perfect long balls to a teammate. Xavi, on the other hand, prefers to be slightly more advanced and become the team's hub, playing incisive short passes.
In this competition, there is little doubt that Pirlo has been by far the more influential. Xavi has appeared to struggle both as a result of the persistent injuries that have dogged him for much of the season at Barcelona and with the fact that, with Xabi Alonso's presence, he has been pushed into an even more advanced role.
The two are likely to be in close competition on Sunday and whoever has the biggest influence on the match may well be key to which side takes home the trophy.
Spanish Full-Backs
If, as is anticipated, Italy stick to their midfield diamond then there will be plenty of space for Spain's full-backs to move into. With no direct opponent, both Jordi Alba and Alvaro Arbeloa will be expected to provide the attacking width high up the pitch.
As happened when the sides met in their opening game of the competition, though, that will leave gaps for Italy's strikers to move into. Andrea Pirlo will be more than capable of finding both Antonio Cassano and Mario Balotelli and dragging Spain's center-backs wide—potentially allowing gaps for the likes of Claudio Marchisio and Riccardo Montolivo to exploit with their late runs into the box.
Super Mario
Despite much dramatic criticism of his early performances, Mario Balotelli had performed well through the first four matches of these European Championships. The one thing lacking was his ability to make the most of his opportunities in front of goal. His tournament had been summed up in Italy's quarterfinal with England. Balotelli harangued England's center-backs for 120 minutes and played a key role in Italy's dominance. Yet, the Manchester City striker could not put one of his several chances away.
Then came Thursday's semifinal against Germany. Balotelli exploded with first a powerful near-post header and then almost burst the net with a finish of absolute conviction to take Italy into the final. If Italy is to complete the dream and take home the trophy then the maverick will be need to be at his best once more. Balotelli's pressing of Spain's center-backs could be crucial to disrupting their team's passing rhythm, while he will also need to clinically exploit any opportunities he gets in front of goal.
True or False Nine
Vicente Del Bosque has so far gone back and forth between a conventional striker and Cesc Fabregas as a forward dropping back into midfield. In the earlier match between these sides Fabregas was given the nod, though against a positive Italian side Fernando Torres came on in the second half and on three occasions utilized his pace to break in behind the Azzurri rear guard. For that reason there must be a huge temptation on Del Bosque to start with the man who scored Spain's winner in the final of Euro 2008.
But there are also compelling reasons to name Fabregas in his lineup in Kiev. For starters, Torres' form and finishing remains unreliable—his selection would represent a major gamble in such a big match. What's more, against an Italian side who play with a narrow midfield four, having Fabregas to add an extra body coming back to try and control possession could prove more valuable than in any other game Spain have played thus far.
Most importantly, Fabregas would potentially be crucial to preventing the deep-lying Pirlo from having time on the ball with which to pick apart the Spanish defense.
Spain's Wildcards
While Del Bosque has rotated between a conventional striker and a false nine, the make-up of the rest of his attack has remained unchanged throughout the five games so far at Euro 2012. That has meant Andres Iniesta and David Silva deployed nominally wide of a front three, but consistently coming inside. The tactic has arguably aided Spain's control of their matches and both players, particularly Iniesta, have had strong individual tournaments. Yet, it has left Spain lacking a certain impetus and width in the final third.
On each occasion that Jesus Navas and Pedro have come off the bench they have made a major impact on proceedings. Navas scored against Croatia, Pedro won a penalty against France but never was their influence more evident than against Portugal. After 90 minutes of barely threatening their opponents' goal, the pair's introduction paid dramatic dividends in extra time as Spain attacked Portugal with incessant vigor led by Navas and Pedro's ability to runs at players, break in behind and bring increase width to the attack.
While sticking with the status quo would be a conservative move for Del Bosque, the introduction of either Navas or Pedro—the latter would be favorite given his previous experience—then Spain may be able to show some of the attacking sparkle with which many have accused them of lacking in Poland and Ukraine.
© Copyright IBTimes 2023. All rights reserved.