Spain's Unemployment Hits Record In March, Adds To Deficit Woes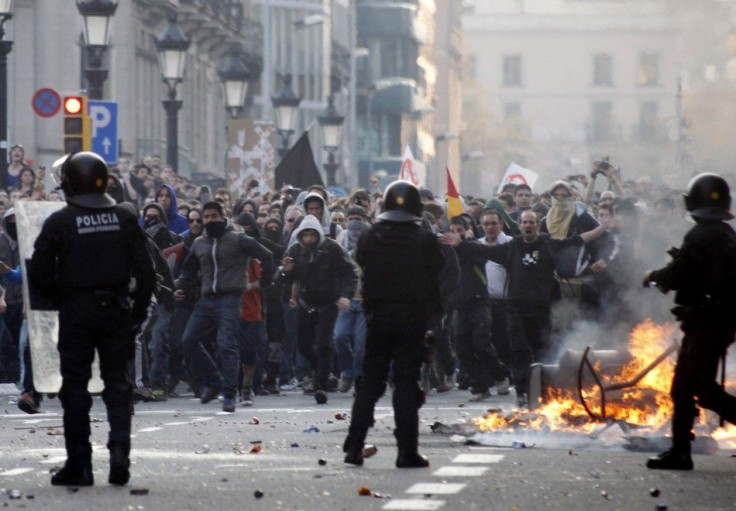 Unemployment in Spain, where more than half of young people are out of work, rose for the eighth straight month in March to a record high, adding to the risk of an economic contraction as the government struggles to cope with its ballooning public debt.
The number of workers officially registered as unemployed climbed last month by 0.8 percent, or 38,769, to 4.75 million, the Ministry of Employment and Social Security said Tuesday. That's the highest reading since the current statistical series began in 1996.
On an annual basis, unemployment was 9.6 percent higher in March. According to data released by Eurostat, Spain's February jobless rate stood at 23.6 percent, the highest in the European Union.
Spain's economy -- the continent's fourth largest after those of Germany, France, and Italy -- was hit hard by the bursting of Spain's labor-intensive property bubble in 2008, which destroyed millions of jobs.
Record-high jobless claims figures add another layer of gloomy outlook for the Spanish economy, which is expected by the government to contract by 1.7 percent this year after expanding 0.7 percent in 2011.
Spanish Treasury Minister Cristobal Montoro on Tuesday presented the government's 2012 budget to lawmakers and warned that Spain's government debt-to-gross domestic product will soar to 79.8 percent in 2012, from 68.5 percent last year, as the economy sinks into recession and borrowing costs rise.
The government's effort to improve its finances and meet a strict European Union deficit goal by cutting spending has further weighed on the fragile economy.
To fight unemployment Spain is in the process of reforming its labor market to make it cheaper and easier for companies to slash jobs and cut wages unilaterally, which could -- in the short term -- push the skyrocketing jobless numbers even higher.
Enraged by the austerity driven labor reforms to prevent the nation from becoming Europe's next bailout victim, Spanish workers staged a general strike Thursday -- a sign that their patience is wearing thin after more than three years of budget cuts and growing unemployment.
The government expects the annual unemployment rate to surge to 24.3 percent this year.
The 10-year Spanish bond yield rose to 5.42 percent, while the corresponding Italian bond yield increased to 5.14 percent. Trading is expected to be thin ahead of the Easter weekend, which could increase volatility.
© Copyright IBTimes 2023. All rights reserved.