Spike Lee Calls End To Gun Violence In Friday Peace March With Jennifer Hudson, John Cusack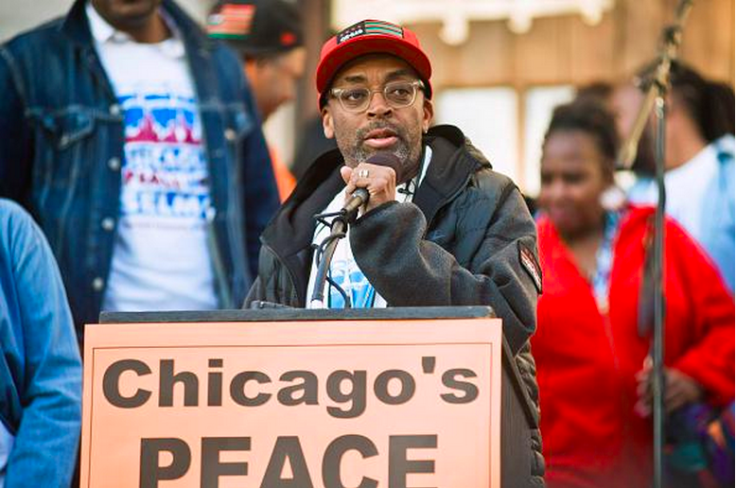 Spike Lee demands peace. The famed film director, along with entertainers Jennifer Hudson and John Cusack, called out to a crowd of 500 Chicago residents during a peace march Friday evening.
"You know why we're here -- we all want peace in Chicago," Lee said, according to the Chicago Sun-Times. The Atlanta-based director is currently in the windy city working on a film called "Chiraq," which depicts gun violence in Chicago.
The gathering began at St. Sabina, a Catholic church on 78th and Throop Street, where several attendees made short speeches and a children's choir sang. Chicago-born Jennifer Hudson also gave a tear-filled response. "We gotta stop this. We gotta stop this. Please. We need peace," Hudson said.
Dressed in an all-black suit, Cusack mimicked the church's pastor Rev. Michael Pfleger, who helped lead the rally. Cusack is starring in Lee's film and reportedly playing a character loosely based off of Pfleger.
Lee's rally also coincided with other peace marches nationwide that were organized in response to Wednesday's shooting in Charleston, South Carolina. Nine people were killed in the historic Emanuel African Methodist Episcopal Church. The suspected gunman is 21-year-old Dylann Storm Roof, who was arrested Thursday afternoon.
On Friday, the suspect stood for a bond hearing and heard accounts from the victim's families. Later that evening, people nationwide called out their names.
In Atlanta, a remembrance march was held at 7 p.m. Nearly 100 people marched from the state capitol building to the Big Bethel African Methodist Episcopal Church, Atlanta-based journalist Max Blau wrote on Twitter.
Before leaving the capitol building, participants read aloud the names of the nine victims. The activists then marched down and delivered a wreath to the church nearly a mile away.
A march is scheduled in Charleston at 6 p.m. in Wragg Square.
© Copyright IBTimes 2023. All rights reserved.
FOLLOW MORE IBT NEWS ON THE BELOW CHANNELS