Spring Blizzard 'Bomb' Headed For Northeast US: How Bad Could Snowstorm Be And What You Can Expect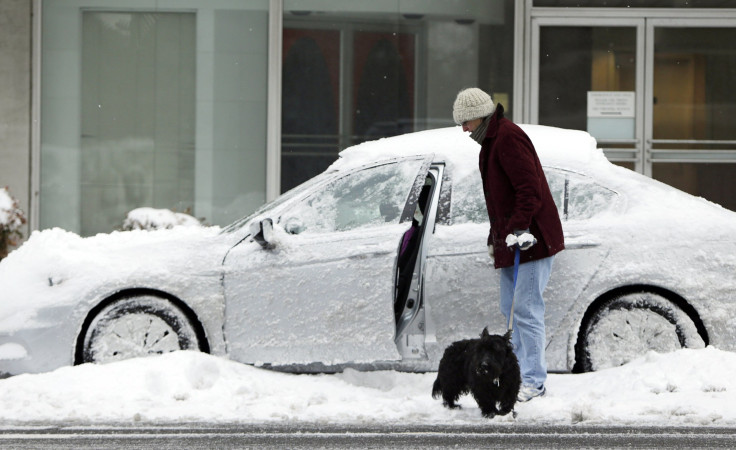 Those of us who have waited patiently for winter to retreat into its icy lair will shudder at the news that a potentially major snowstorm is headed for the northeast U.S., even though the first day of spring will have passed. Doesn't Mother Nature have a calendar?
Meteorologists say to prepare for a wintry mix of rain and snow from the Carolinas to Maine and into Canada as a mass of cold Arctic air descends over the Northeast and East Coast. Models suggest the storm will rapidly intensify Tuesday night and Wednesday, qualifying as as an "explosive development" or "bombogenesis," defined as a mid-latitude cyclone whose surface barometric pressure drops by 24 or more millibars in a 24-hour period.
According to Alex Sosnowski, a senior meteorologist for AccuWeather.com, the storm is moving from the Gulf of Alaska and will travel southeastward into British Columbia and the northern Rockies over the weekend. The storm is expected to either slam or shoulder New York, New Jersey, Pennsylvania and New England. Residents of these areas can expect strong winds and windswept snow Tuesday night and Wednesday. Coastal cities should look out for possible flooding with high tide Wednesday morning.
"The storm will spin up as eastbound disturbances from the Midwest and the Gulf of Mexico interact over the East Coast and Western Atlantic," according to Weather.com. "These disturbances, initially relatively weak, are expected to 'phase' – essentially, to merge – into a much more powerful low-pressure system just off the East Coast."
These types of collisions can create massive East Coast storms, but because they're also so complex, it's hard to predict exactly what will occur.
While the latest models say the storm is likely to shift back towards the coast, parts of New England could encounter blizzard conditions before the storm takes off into Atlantic Canada on Wednesday. Parts of New York and New Jersey can count on temperatures dipping into the low 30s and up to 6 inches of snowfall. Pennsylvania may get up to 3 inches of wet snow.
"There is a chance we'll see a similar outcome in terms of snow compared to 1983," southern weather expert Frank Strait told Accuweather.com, referring to a particularly memorable late-season snowstorm that year. "It is the difference in the upper atmosphere that could allow the storm to turn northward along the coast, instead of forcing it eastward and out to sea like the storm from '83."
While meteorologists say lower-than-average temperatures across the Northeast are a guarantee, they are less confident about just how bad the spring snowstorm developing off the East Coast will be.
"It's too far in the future for us to have a lot of confidence in the 'bomb' scenario," Tim Morrin, a meteorologist with the National Weather Service, told New York Daily News. "We can't put a lot of credence or confidence in forecasting a major storm at this point."
The National Weather Service, or NWS, says snowstorm forecasts should be made on a state-by-state basis. Still, NWS forecasters say they have the "highest confidence of significant impact across southeast New England."
© Copyright IBTimes 2023. All rights reserved.