Spurs vs. Nuggets Game 7: Prediction Against The Spread, Betting Odds For 2019 NBA Playoffs
The series between the Denver Nuggets and San Antonio Spurs has been the most unpredictable in the first round of the 2019 NBA playoffs. Both teams have had dominant victories, as well as underwhelming performances, leading to Game 7 Saturday night.
San Antonio forced the deciding game by beating Denver 120-103 in Game 6 Thursday night. The win came just two nights after they had lost by 18 points on the road.
The last four games in the series have all been decided by double digits. After losing the opener at home 101-96, the Nuggets beat the Spurs by nine points in Game 2. Both teams have two wins at home and one on the road.
All of that has led to Denver being a 5.5-point favorite at home in Game 7, according to the latest betting line at OddsShark. The total is 210.
The Spurs certainly have the experience edge. Players like LaMarcus Aldridge and DeMar DeRozan have been here before. Obviously, head coach Gregg Popovich knows all about big games like this.
The Nuggets will be entering new territory. Aside from Paul Millsap, Denver's key players largely entered this postseason with little to no playoff experience. Perhaps that's why we are approaching Game 7 after Denver was clearly a better team than San Antonio in the regular season with six more wins.
Despite Thursday's loss, Denver is looking more like the West's No.2 seed as the playoffs move along. Their young stars continue to impress, even in the Game 6 loss.
Nikola Jokic is playing like a future MVP candidate. After scoring just 10 points in the series opener, he's averaging 23.5 points on 16.8 field goal attempts per game against San Antonio. The center did all he could to close out the series Thursday night by scoring 43 points, in addition to grabbing 12 rebounds and dishing out nine assists.
Jokic is averaging 11.7 rebounds and 9.0 assists per game.
Jamal Murray is Denver's No.2 scorer with 18.3 points per game. The guard had a miserable Game 1 with 18 points on 23 field goal attempts, but he led the charge in the Nuggets' first victory. He's averaging 23.5 points on better than 50 percent shooting in his last two home games.
Aldridge has alternated good and bad games, scoring 18 points or fewer and then 24 points or more in every other contest. He's on track to have one of his down performances in Game 7.
But if you've watched these games, you know it's really hard to make a pick against the spread with much confidence.
This series has been so back and forth that it could be difficult to lay nearly six points. The smartest play might be taking Denver to win outright at -245.
Prediction Against The Spread: Denver over San Antonio, 109-106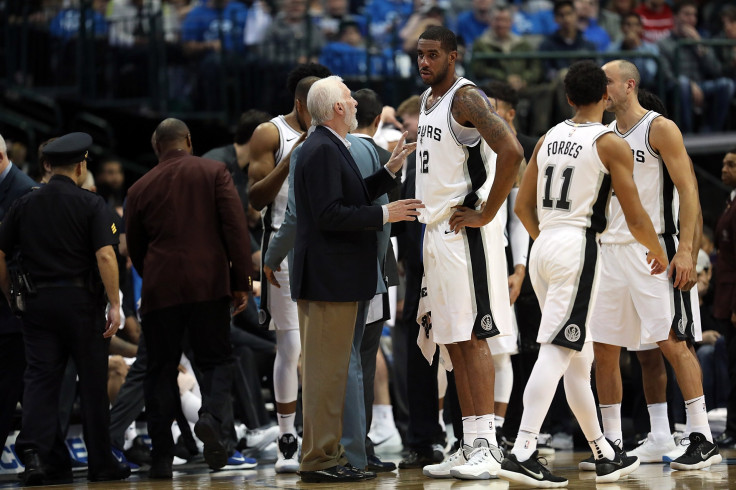 © Copyright IBTimes 2023. All rights reserved.