'Star Wars: The Force Awakens': Greg Rucka Explains The Rise Of The First Order After Endor Battle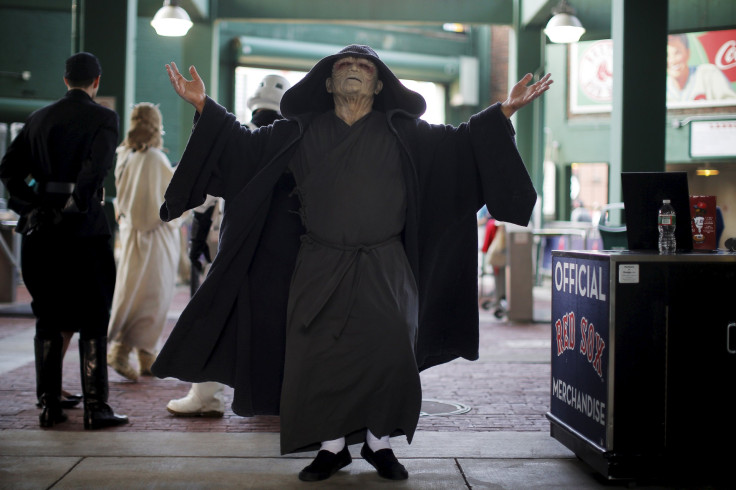 Greg Rucka explained some of the events that led to the rise of the First Order in "Star Wars: The Force Awakens." A four-issue series will explain some of the events that took place just before the movie. [Spoiler alert]
In a recent interview to the official "Star Wars" website, the author of the book series "Star Wars: Shattered Empire" explained what happened right after the Battle of Endor that saw the deaths of Emperor Palpatine and Darth Vader. He said though fans may have been happy seeing the celebrations at the end of the 1983 movie, they realized later the Empire was too big to get dismantled with the deaths of two people at the top.
"The Empire still has resources. The Empire still has an enormous fleet," Rucka said and explained some people in the ranks of the Empire stepped up to fill the power vacuum that gets created after the death of the top leadership. He said for every Moff who thought about leaving the Empire, there were 10 who felt that they should use the large Imperial army to crush the rebellion.
The book series will explain how the First Order filled the power vacuum. Multiple books, toys and other merchandise have been planned by the producers in the run up to the release of "Star Wars: The Force Awakens," which will give hints about the movie. One of the first products related to the movie posted on eBay are watches showing the villain Kylo Ren [Adam Driver]. Stormtroopers and the soccer droid BB-8.
The first Millennium Falcon toy of the movie already has been purchased by a family in Canada, MakingStarWars reports. Leaked pictures of the packaging of some of the toys from the franchise posted on JediNews show Snowspeeders and X-Wing fighter planes can be purchased by fans on the Sept. 4 "Force Friday" launch.
"Star Wars: The Force Awakens" is slated to be released on Dec 18 in the U.S. Some of the cast members include Oscar Isaac as Poe Dameron, Daisy Ridley as Rey, John Boyega as Finn, Harrison Ford as Han Solo, Mark Hamill as Luke Skywalker and Carrie Fisher as Leia.
© Copyright IBTimes 2023. All rights reserved.