'Star Wars: The Force Awakens' Leaked Images Hint At Darth Vader Return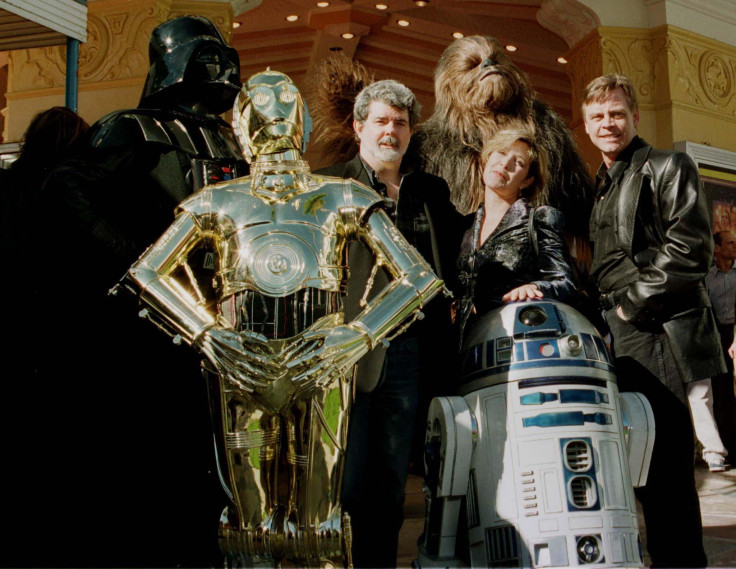 "Star Wars: The Force Awakens" director J.J. Abrams is keeping details about his upcoming seventh installment in the franchise under a tight lock and key. However, alleged leaked concept art may be hinting at the return of one very big character from the original trilogy.
An anonymous user has posted what he or she claims to be leaked concept art for "Star Wars: The Force Awakens" to the site MillenniumFalcon.com. The images show a figure that looks a lot like Darth Vader. That's right, the dark lord of the Sith, and possibly one of the most iconic villains in movie history, may be returning from the dead in Abrams' upcoming trilogy. The artwork shows Vader standing with a group of Storm Troopers as they watch a village burning to the ground. It's important to keep in mind that these supposedly leaked images have not been verified, or even acknowledged, by Lucasfilms or Disney. Still, if these images are truly from the film's storyboard though, it would hint that the character is somehow back.
Concept art isn't the only clue for a Vader return. According to The Hollywood Reporter, Ewok actor Warwick Davis shared some photos from his trip to the set of "The Force Awakens" on a British talk show called "The One Show." The first image shows Davis standing in front of a Chewbacca costume and the other, you guessed it, shows him in front of a costume that looks suspiciously like Darth Vader's. Unfortunately, the actor took to Twitter to reveal that he was just playing a joke on fans.
Still not convinced that Darth Vader is really coming back? Although your lack of faith is disturbing, it's not misplaced either. When last we saw Vader in "Return of the Jedi" he was very clearly dead at the hands of the Emperor. Still, a bit of clever writing could bring him back; he survived being consumed by lava after all. Another possibility is that the villain may return in some kind of flashback sequence. Fans will simply have to wait until the film comes out on Dec. 18.
The leaked concept art came with two additional pictures. One showed designs for a new spaceship that appears to have weapons clipped to the side of its wings. The other looks like an image of Max Von Sydow in his yet-to-be-revealed role in "The Force Awakens." Unfortunately, the image doesn't give any real clues as to his character's identity.
© Copyright IBTimes 2023. All rights reserved.
FOLLOW MORE IBT NEWS ON THE BELOW CHANNELS