Starbucks CEO Asks Customers Not To Carry Guns In Its Stores But Does Not Impose Outright Ban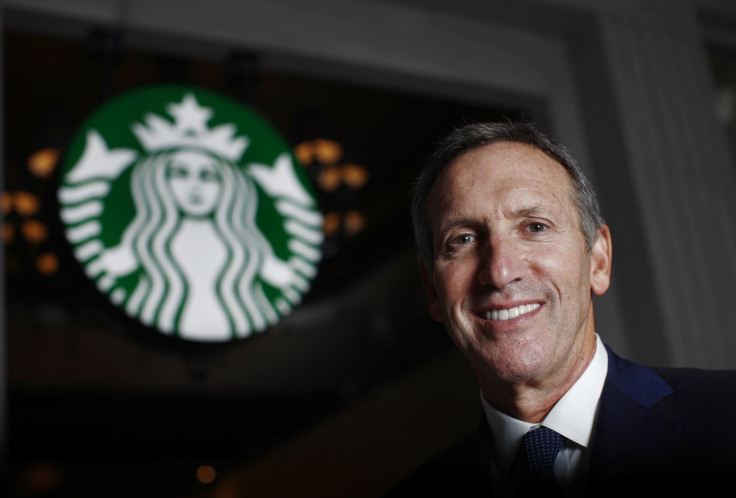 Starbucks Corporation (NASDAQ:SBUX), which has been under fire for refusing to ban loaded guns in its coffee shops across the country, appealed to its customers Tuesday not to bring firearms into its outlets, but said that it will not impose a ban and customers who do not abide by the request will not be asked to leave.
The popular coffee chain has been dragged into the gun-control debate over the past few years, and a controversy ensued recently when gun-rights advocates declared Aug. 9 as "Starbucks Appreciation Day" to thank the company for allowing patrons to carry weapons in its stores, and marked the day by visiting Starbucks outlets bearing firearms.
However, Starbucks CEO Howard Schultz responded with an open letter to the public, stating: "We are respectfully requesting that customers no longer bring firearms into our stores or outdoor seating areas—even in states where 'open carry' is permitted—unless they are authorized law enforcement personnel."
Schultz said Starbucks is not imposing an outright ban on firearms because "we want to give responsible gun owners the chance to respect our request... and because enforcing a ban would potentially require our partners to confront armed customers, and that is not a role I am comfortable asking Starbucks partners to take on."
He added that the company "cannot satisfy everyone" and said that the presence of a weapon in its stores is "unsettling and upsetting" for its customers.
In May 2010, Starbucks issued a statement on its position pertaining to gun laws, saying that advocacy groups from both sides of the gun-control debate "have chosen Starbucks as a way to draw attention to their position," and that the company's "long-standing approach to this issue remains unchanged."
"We comply with local laws and statutes in all the communities we serve," the statement said. "That means we abide by the laws that permit open carry in 43 U.S. states. Where these laws don't exist, openly carrying weapons in our stores is prohibited. The political, policy and legal debates around these issues belong in the legislatures and courts, not in our stores."
Schultz, 58, has been outspoken in the past about politically charged issues and has publicly extended support for gay marriage. In August 2011, he urged the business community to withhold cash donations to political parties until Congress and President Barack Obama delivered "a fiscally disciplined long-term debt and deficit plan."
© Copyright IBTimes 2023. All rights reserved.
FOLLOW MORE IBT NEWS ON THE BELOW CHANNELS