State Dept eyes rerouting Keystone XL pipeline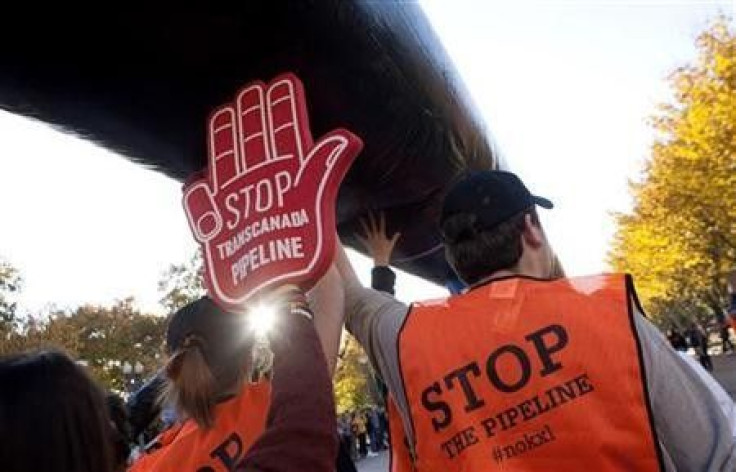 WASHINGTON (Reuters) - The State Department is considering rerouting TransCanada Corp.'s proposed $7 billion Keystone XL pipeline to avoid ecologically sensitive areas of Nebraska, a U.S. official said on Tuesday.
The State Department has been weighing issues raised in public meetings and talks with officials in six states that would be affected including whether to consider a rerouting of the Keystone XL pipeline away from an environmentally delicate area of Nebraska, the official said.
A decision to consider an alternative route would require an environmental impact study on the new segment of the pipeline, the official said. Such a move could delay a final decision on whether to go forward on the pipeline.
The State Department said last week that it still hoped to make a decision by the end of the year, but did not rule out delaying the decision if necessary.
Nebraska lawmakers are considering legislation to regulate the pipeline and possibly force TransCanada Corp to move its route away from the state's ecologically sensitive Sand Hills region and Ogallala aquifer, a major source of drinking and irrigation water for several states.
The State Department has the power to decide whether the TransCanada Corp's pipeline can go forward because the project crosses the national border.
President Barack Obama said last week that health and economic factors would be taken into account when his administration decides whether to approve the pipeline.
Obama's inclinations about the pipeline are being closely watched by environmentalists, who oppose the project, and proponents, who say it would create jobs.
If Nebraska succeeds in changing the route for the planned pipeline, the could delay the project.
The State Department is committed to conducting a thorough, rigorous and transparent process that leads to a decision that is in the national interest, including if needed gathering and assessing additional information, a State Department official familiar with the process said.
The $7 billion project would take 700,000 barrels per day or more from Canada's oil sands in the province of Alberta through six states to refineries in Texas.
TransCanada said last month that it was too late in the federal approval process to move the proposed path for the line.
(Reporting by JoAnne Allen; Editing by Eric Walsh)
© Copyright Thomson Reuters 2023. All rights reserved.