Steph Curry Injury Update: Warriors Star Guard Out For Another Week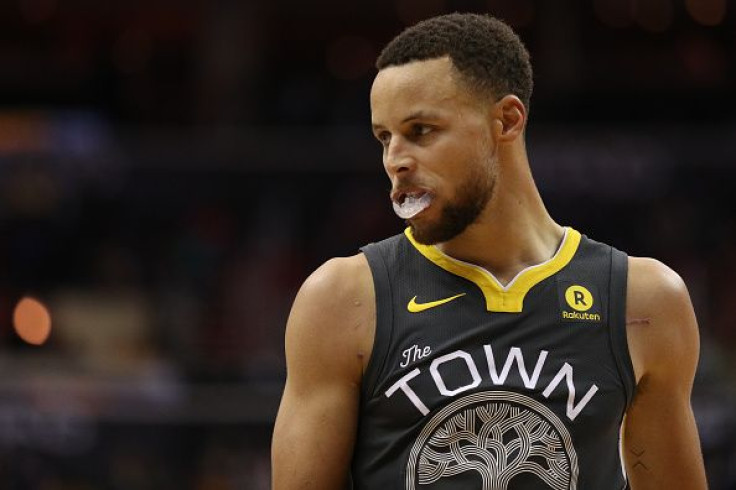 Golden State Warriors star guard Stephen Curry's return from an ankle injury is delayed for at least another week.
The two-time Most Valuable Player (MVP) twisted his right ankle against the San Antonio Spurs on Thursday last week but was expected to return for Wednesday's meeting with the Los Angeles Lakers at the Oracle Arena.
According to ESPN however, the Warriors revealed on Tuesday that Curry will be re-evaluated in a week which means he will miss the Bay Area side's upcoming games against the Lakers, Sacramento Kings, Phoenix Suns and San Antonio Spurs.
Curry rolled his ankle while attempting a lay-up in the first quarter against the Spurs in last week's win. It is the second time he injured his right ankle after twisting it in December last year in a game against the New Orleans Pelicans.
The 29-year-old went on to miss 11 games back then as he had his ankle surgically repaired. His recent absence, along with other players, coincide with the reigning NBA champions succumbing to a two-game losing run for just the second time this season after defeats against the Portland Trail Blazers and the struggling Minnesota Timberwolves.
The Warriors' regular season record is currently 51-16 and they trail behind the Houston Rockets (53-14) in the race for the No. 1 seed in the Western Conference after the latter defeated the Spurs on Monday.
Fellow Warriors teammate and NBA All-Star Kevin Durant recently said it was "weird" to play without Curry and other teammates such as Andre Iguodala, David West and Jordan Bell as he awaited their return, though he was later critized for his comments by ESPN commentator Stephen A. Smith.
"It's weird not having Steph out there," Durant said. "And Andre [Iguodala] and D-West, Jordan [Bell], so we're missing a lot, and we're just kind of playing on the fly each possession."
"Steph is the system here, and he's been a part of this since Steve Kerr's been here. And D-West knows how to play and won a championship with us last year. Andre is in the same boat as Steph. … Those guys are smart, and we're looking forward to having them back because they definitely change our team and get us back on what we want to do out there as a basketball team," he added.
Despite missing 17 of the Warriors' games this season, Curry is still enjoying a remarkable year with 26.3 points per game, 5.1 rebounds per game and 6.2 assists per game in the 50 games he featured in.
Meanwhile, the Warriors did not train on Tuesday as originally planned as they were celebrating Curry's birthday on Monday night, which is actually on Wednesday when he turns 30.
Curry arrived to the party in a yacht as players and Golden State coach Steve Kerr were all present and were seen dancing as videos started to circulate on social media.
© Copyright IBTimes 2023. All rights reserved.