Stephen Colbert For Senate? Fans Want Host To Replace Tea Party Senator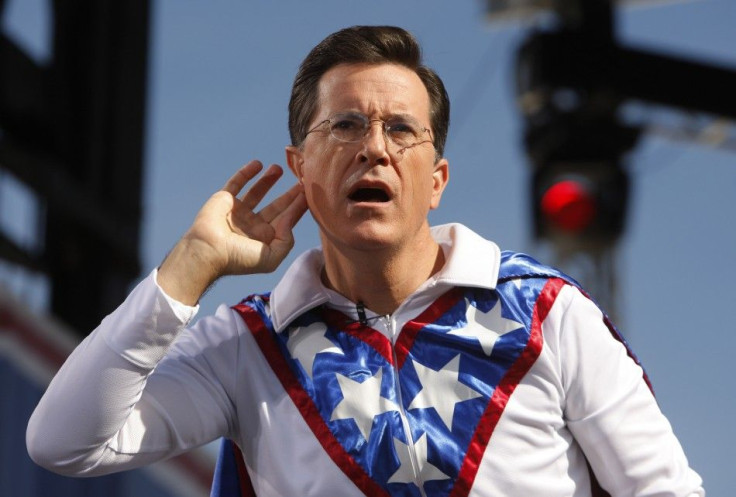 Two questions emerged Thursday following Jim DeMint's unexpected announcement that he is retiring from the Senate. First, could a leading tea party senator actually be replaced by a satirical talk-show host? And second, would anyone notice?
Fans of Stephen Colbert of Comedy Central's "The Colbert Report," have launched a rapidly growing campaign to convince South Carolina Gov. Nikki Haley to choose the comedian as DeMint's successor. Just two years into his second six-year term, the Republican senator and leading tea party mouthpiece is stepping down next month to head up a conservative think tank. His unexpected departure means that Gov. Haley, also a Republican, must choose his replacement.
Colbert, a South Carolina native, announced his pseudo-candidacy Thursday on his show. "Take to the Twitters," he told fans. "I want you to tweet @nikkihaley why she should appoint me to the U.S. Senate with the hashtag SenatorColbert."
Fans listened. Within hours of the announcement, the website Colbert for Senate was up and running, allowing fans to tweet a message of support to Gov. Haley with a single click. A Twitter account, @ColbertforSC, was also established. As of Friday morning, it has attracted more than 2,600 followers and counting.
Neither the website nor the Twitter page are officially affiliated with Colbert, who has joked about running for office in South Carolina before. But fans are supporting the campaign in earnest nonetheless, and judging from some of the comments pouring in under the SenatorColbert hashtag, many don't think the idea is so farfetched.
"After seeing the career of Al Franken, the idea of #SenatorColbert doesn't sound that crazy," tweeted one user.
"He'd probably be one of the smartest guys in there," tweeted another.
Haley has not said whom she will appoint, and she may not make her decision for another few weeks. The Hill reported Thursday that Republican sources say DeMint prefers Tim Scott, a GOP congressman from South Carolina and one of only two African-American Republicans in the House.
DeMint, an ideological rabble-rouser with no tolerance for centrists, has often been at odds with his own party. Through his political action committee, the Senate Conservatives Fund, he has spent more than $15 million over the last four years to elect far-right senators such as Marco Rubio of Florida and Rand Paul of Kentucky. He has also thrown his support behind notable losers, such as Delaware's Christine O'Donnell, who famously declared that she is "not a witch" during a 2010 TV campaign ad.
DeMint's resignation announcement on Thursday came as a surprise to many on Capitol Hill. "This is a good time to leave, because I have term-limited myself," DeMint told reporters. "I never intended to be a career politician."
Colbert, who rose to fame portraying a caricatured version of a conservative pundit, has identified himself as a Democrat in the past, but the comedian mostly avoids talking about politics outside of his conservative alter ego.
Whether or not Colbert's supporters will make enough noise to get Gov. Haley's attention remains to be seen, but in regards to the comedian's qualifications, perhaps Twitter user Stanley Finnigan said it best: "Why should Stephen Colbert be #SenatorColbert? Because he has better hair than Mitt Romney."
© Copyright IBTimes 2023. All rights reserved.