Stephen A Smith Explains Why Jordan And Not LeBron Is The GOAT
The Michael Jordan-LeBron James debate has gathered pace yet again in recent weeks with Houston Rockets general manager Daryl Morey suggesting the latter is the greatest of all time (GOAT) by a big margin compared to the Chicago Bulls star.
But ESPN's Stephen A Smith, who is never far away from giving his opinion, disagrees and thinks Jordan is the greatest of all time while admitting James will be among the top three greatest NBA players in history.
The debate about who is the greatest has raged on since James made himself known to the basketball world and he has gone on to dominate the current era in terms of individual records.
He recently signed a $154 million four-year deal with the Los Angeles Lakers after leading the Cleveland Cavaliers to their fourth straight final. James has three NBA titles to his name and leads the overall points table in the playoffs.
Meanwhile, Jordan is ahead in almost every other aspect. Apart from being a six-time NBA champion, he is ahead of James in career points per game average and in the playoffs also. He also has more MVP awards both in the regular season and in NBA Finals.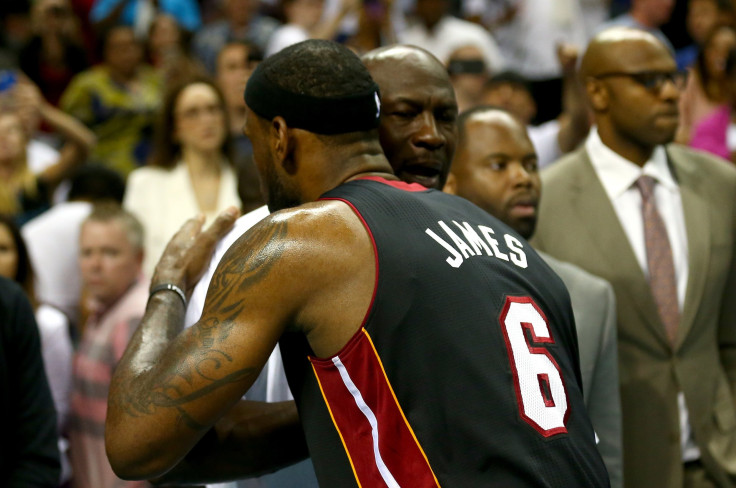 The biggest difference, however, according to Smith, is Jordan's ability to stand up when the going gets tough. When it is crunch time, the NBA insider feels there is no one better than the Chicago Bulls legend.
James has played in the NBA Finals nine times, and the last eight have been in consecutive years — from 2011 to 2018 — but has won the title on just three occasions, while Jordan played six finals and won all six of them collecting the MVP each time.
"LeBron James is great. He is fantastic," Smith explained, as quoted by the Express. "He is one of the greatest players in NBA history. Top three players of all time. … But when money arrives, there are a bevy of players you would pick before LeBron James. I don't know of anybody you would pick before Michael Jordan."
"Everything doesn't get measured in numbers. Sometimes the level of greatness is defined by the moment of adversity that is presented to you and for you. How do you respond in those moments?" the ESPN analyst explained.
"LeBron did very, very well this year. Jordan did that throughout most of his career," Smith added.
LeBron still has a chance to cement his legacy if he leads the second most successful franchise in NBA history — the Lakers — to their first NBA title since 2010. He joined as a free agent in July and has a young team at his disposal to turn around their fortunes — they have not made the playoffs for five straight years.
© Copyright IBTimes 2023. All rights reserved.