Students, Colleges Say $303M Pell Grant Cuts In Cromnibus Spending Bill Could Exacerbate Student Debt Crisis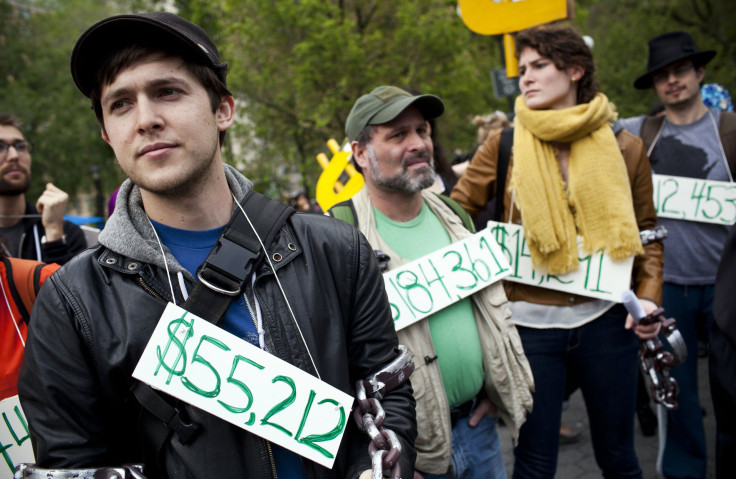 Students and teachers across the country say they're worried that a plan to cut federal Pell Grant funding will exacerbate the student debt crisis and make it harder for minorities and poorer people to access higher education. The U.S. House of Representatives on Thursday night narrowly passed a $1.1 trillion spending package that would slash $303 million in annual funding for the college grant program. The money instead would pay off private companies that collect student loan payments.
"We're very concerned about the chipping away of aid for students -- particularly aid that doesn't put students in the hole when they graduate," said Barbara Goodman, a spokeswoman for the Pennsylvania chapter of the American Federation of Teachers, a trade union. "The Pell Grants are really a lifeline for many young people who want to attend college."
The House spending plan, which is now being taken up in the Senate, would trim the 42-year-old Pell Grant program by 1.3 percent, to about $22.5 billion. Some 9 million people now receive Pell Grants, and more than 75 percent of beneficiaries come from homes with incomes of $30,000 or less, according to the Department of Education.
Sen. Tom Harkin, D-Iowa, who proposed the reduction this summer, has called the cuts a necessary move. He said the money would fill a critical gap in funding for the debt servicers that collect loans on behalf of the U.S. Department of Education. The outgoing senator touted the plan as a win for the Pell program, since it increases the maximum grant value by $100, to $5,830 a year, the Washington Post reported. And the Pell program still has a $4.4 billion surplus thanks to money that went unspent in previous years.
But opponents of Harkin's Pell plan say the cuts couldn't come at a worse time. Outstanding student loan debt is at a record high of $1.3 trillion in the U.S., in large part because of the jump in tuition costs and dramatic cuts to state education budgets. The costs of higher education have jumped nearly 1,300 percent over the past four decades, according the Bureau of Labor Statistics.
More than 60 percent of African-American undergraduates and about half of Latino students rely on Pell Grants to attend college or university, an analysis of federal data by the Institute for College Access and Success (TICAS), a California-based advocacy group, found. The report found that need-based awards help reduce the likelihood that low- and moderate-income students will be forced to drop out. A shrinking Pell program means more students will have to take out high-interest loans or take time off from school to work, advocates say.
Shayna Stevens, a 22-year-old senior at Northern Arizona University in Flagstaff, said she wouldn't be able to afford her tuition without the Pell award. Stevens works 40 hours a week as the executive director of the Arizona Students' Association. She has earned other grants and scholarships, but she says the Pell Grant has kept her from needing a second job to pay the bills.
"It's really made all the difference," she said. "It's allowed me to stay in school."
Jessica Thompson, a senior policy analyst at TICAS, said the $303 million in Pell reductions wouldn't have an immediate effect on undergraduates in 2015. But she pointed out that the Pell program is expected to run a budget deficit by 2017, and she said the funding cuts could make it harder for students to secure grants in the future.
The cuts "will eat into the current surplus and increase the cumulative funding gap that we're expecting within the next few years," Thompson said. "Anything that exacerbates that gap ... is a very harmful thing for students."
The shortages will have an unequal effect on universities. Many Ivy League colleges, for instance, have needs-based programs for undergraduates that could replace the value of a Pell Grant. Joel Carstens, director of financial aid at the University of Pennsylvania in Philadelphia, said that cuts to the Pell program "won't have an impact on students being able to afford Penn, because Penn will substitute its own dollars in lieu of the Pell grant."
The number of Pell recipients at Penn has risen 60 percent since 2008, Carstens said, and about 15 percent of the university's freshman class hold Pell Grants. Attending Penn as an undergraduate cost around $64,200 for the 2014-2015 year, according to the school. The average financial aid package is around $44,800, of which the Pell awards account for about $2,000, the Daily Pennsylvanian, the university's independent student newspaper, reported Tuesday.
Unlike Penn and other wealthier schools, "not all universities may be able to step in and fill that gap," Carstens said. "Ultimately it's the students who are harmed."
Alexandra Flores-Quilty, vice president of the United States Student Association, said her organization was quickly ramping up its efforts to keep the $303 million funding cut out of the congressional spending package. Members have already blasted email messages and called up legislators to express their concern about the Pell program. The grass-roots group, based in Washington, has 1.5 million members. "Students are really, really upset right now," Flores-Quilty said.
© Copyright IBTimes 2023. All rights reserved.