Subaru Outback And Legacy Earned Top Marks in Front-To-Rear Collision Avoidance Technology, Beating Cadillac, Mercedes And Volvo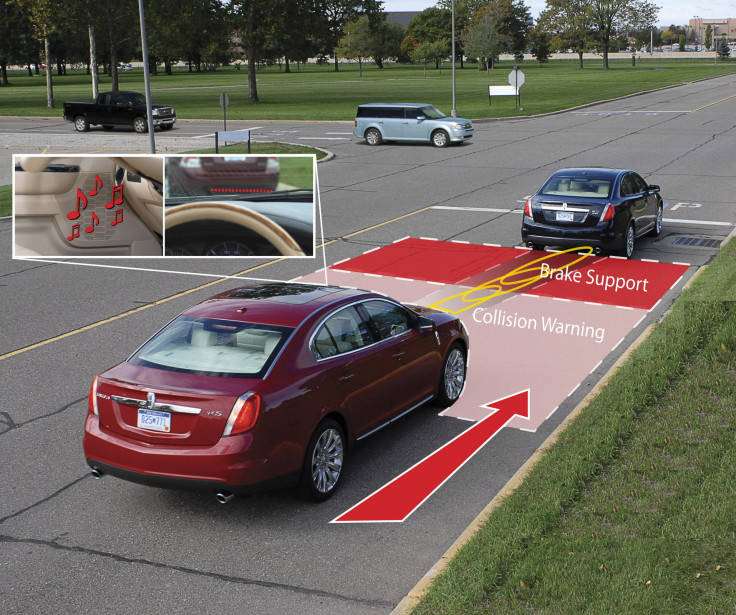 An increasing amount of vehicles in the U.S. fleet are coming with crash-avoidance options such as pedestrian detection and auto braking.
To keep up with the new technology, the Insurance Institute for Highway Safety (IIHS) released on Friday its first crash-avoidance ratings after reviewing 74 new vehicles in the market. The move to judge these new features is an indication of the direction new-car technology is headed; the features, which are mostly optional at this point, and costly, may become standard in the near future.
"The combination of forward collision warnings and autobrake systems on many new cars has the potential to substantially reduce vehicle accidents and their related injuries," said Karl Brauer, a senior analyst at Kelley Blue Book. "This is really the future of both automotive safety and safety testing. The visibility of IIHS' ratings will encourage more automakers to provide this level of protection in the coming years."
The IIHS, a 44-year-old Virginia-based nonprofit whose ratings program can be compared with the U.S. National Highway Traffic Safety Administration's (NHTSA) own crash-test program, found three brands and seven 2013/14 models that are currently leading the way in front-to-rear collision avoidance.
The winners are:
From Fuji Havy Industries Ltd (TYO:7270) -- The Subaru Legacy sedan and Subaru Outback wagon;
From General Motors Co. (NYSE:GM) -- The Cadillac ATS compact luxury and the Cadillac SRX mid-sized luxury crossover SUV;
From Daimler AG (FRA:DAI) -- The Mercedes-Benz C-Class sedan; and
From AB Volvo (STO:VOLV-A) -- The Volvo S60 sedan and Volvo XC60 SUV.
The IIHS said these vehicles earned "superior" ratings when decked out with all the features that can add thousands of dollars to the transaction price. The Volvos and the Caddys earned a lower rating "when not equipped with certain [optional] safety features," the IIHSA said in a statement. The Subarus, equipped with the company's EyeSight Driver Assist System, was the top-ranked of the lot.
The IIHS is known for its distinct front-end collision testing. Unlike the government's NHTSA, which tests full frontal front-end collisions (where the entire front end of a car smashes into a barrier), the IIHS tests these collisions by smashing only 40 percent of the front end. The test is considered superior because it better tests structural strength of a frame and more accurately simulates typical front-end collisions in which only a portion of the front of the vehicle is damaged as the driver swerves to avoid collision. This is the IIHS's first foray into rating preemptive technology
Here's a rundown of the IIHS's list of top rear-to-front crash-avoidance systems by model: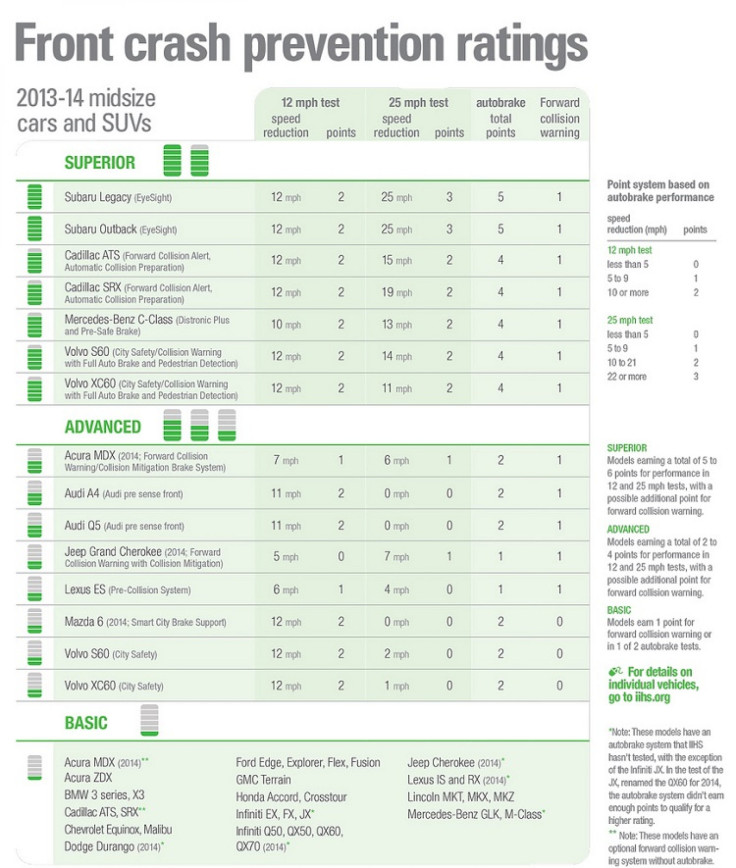 © Copyright IBTimes 2023. All rights reserved.