Suicide Of 4 Children In Rural China Highlights Tragedy Of Millions Of 'Left-behind Kids'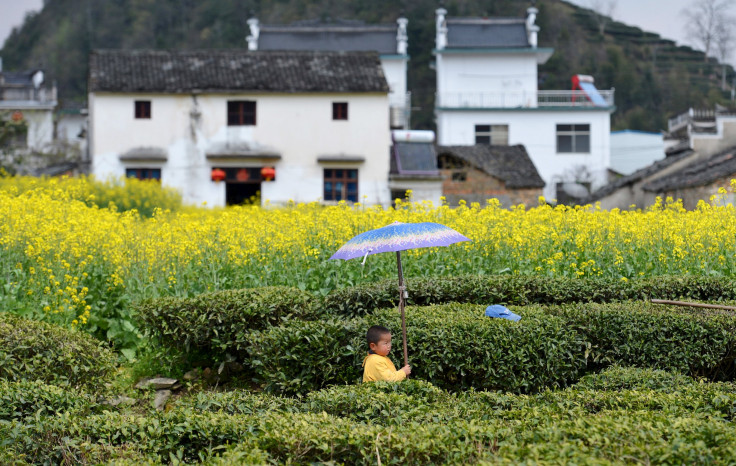 SHANGHAI -- China has been shocked by the apparent suicide of four children, aged between 5 and 13, in a case that experts say highlights the tragedy of those left behind in the nation's rural areas when their parents move to the cities to find work.
The four siblings -- a boy of 13, and his three sisters aged 9, 7, and 5 -- died in a hospital on Tuesday night, after being found unconscious in their home in a village near Bijie, in southwestern Guizhou province -- one of China's poorest regions. They are reported to have drunk a bottle of pesticide. Police have ruled out foul play.
Chinese media said the children had been living alone in the decrepit house since March, after their father left home to find work in Guangdong province. The children's mother left home a year earlier, after reportedly being injured by her husband in a fight. Their only surviving grandparents lived some distance away, and neighbors said the father had not made any arrangements for anyone else to look after the children, according to Shanghai news website The Paper.
Local police, quoted by state media, said the regional government had given the family financial support, and the children's father sent around 700 yuan (just over $100 dollars) a month to a bank account that his son could access. The account reportedly contained 3,500 yuan ($560) at the time of the children's death. Their father is also reported to have left them large quantities of corn and preserved meat to eat.
Relatives said, however, that the children were "socially withdrawn" and often skipped school -- an aunt said the father had beaten the oldest child and broken a bone in his arm, and also damaged his ear. Official media said local authorities had often gone to visit the children and tried to persuade them to come to school. But The Paper reported that the children had burnt their schoolbooks before drinking the poison.
The Paper said China's Premier Li Keqiang was very concerned about the case, and had said that "such tragedies cannot be allowed to happen again and again." Li is reported to have told government departments they must work "effectively and thoroughly" to prevent such cases recurring, and said that anyone who did not do so should be punished.
Several local officials in Bijie were reported on Friday to have been punished, with the deputy head of the district government and the head of the local education bureau suspended and put under investigation, and other officials sacked.
The case is at least the sixth suicide or attempted suicide involving children who have been "left behind" by their parents in the past seven years, according to the China Daily.
Official figures show that more than 60 million children have been left behind in rural areas of China, as their parents have joined the rush of migrant workers to find jobs in factories and the service industry in the nation's cities. Guizhou province alone is reported to have at least 1.2 million such children.
Most of these children are, in theory at least, looked after by their grandparents. However, sociologists say many grandparents are unable to provide appropriate care, either because they are old and infirm, or because they are more or less illiterate, and therefore unable to help children with their schoolwork and other challenges. Experts say such children are much more likely to experience psychological problems than those who grow up with their parents.
They are also considered to be vulnerable to exploitation -- The Paper also reported Friday on the case of a 13-year-old girl in Sichuan province who lived with her 80-year-old grandmother, and was abducted by a 12-year-old boy and held for six days, during which she was violently attacked.
And a minority of these "left-behind children" are thought to have been left without any family members to look after them at all. Some live in local boarding schools, others live on the streets or join gangs of beggars.
Bijie, the area where the four children lived, experienced a previous tragedy in 2012, when five boys aged between nine and 13, who were living on the street, were found dead in a large dumpster. The five cousins were reported to have taken shelter in the dumpster during winter, and had lit a fire to keep warm, but died of carbon monoxide poisoning. The fathers of four of the children were working in other provinces, while the fifth child had reportedly run away from home.
Local officials said at the time that they would establish a monitoring system to ensure no children were left on the streets, and to keep tabs on those without parental care. They also said they would set aside around $10 million dollars annually to help such children, according to the China Daily.
However Tan Jun, a researcher from the Chinese Academy of Social Sciences told the China Daily that the latest incident showed that these measures had "failed." He called on the government to provide more social benefits to the country's migrant workers, "to ensure that children go with their parents as they migrate to other cities to work."
Many of China's estimated 260 million rural migrant workers have left their children behind in the countryside over the past two decades, because China's residency system did not allow them to send their offspring to schools in the cities. These restrictions have now been relaxed in many urban areas, at least for primary- and junior high school-age children.
However, the children of rural migrants are still barred from attending senior high schools in many cities, and some local authorities continue to find other ways to exclude them from education. And experts say that many migrant parents have to work long hours and live in poor conditions in urban areas, and are therefore unable to look after their children there anyway.
Measures to relax the residency rules, which discriminate between urban and rural citizens, are currently being debated. However sociologist Tang Jun said that the deaths of the children in Guizhou were a warning that if action was not taken soon, "similar cases will take place again and again." Other experts quoted in state media called for rural teachers to receive more training to monitor the psychological state of children in their classes -- saying such knowledge was extremely rare in rural areas.
The case is also a reminder of the continuing poverty in some parts of rural China, despite the country's economic boom of recent decades. China now officially has more than 88 million people living below its poverty line of just over a dollar a day.
© Copyright IBTimes 2023. All rights reserved.