Super Bowl 2014 Ratings: How Many People Watched The Seattle Seahawks Vs. Denver Broncos?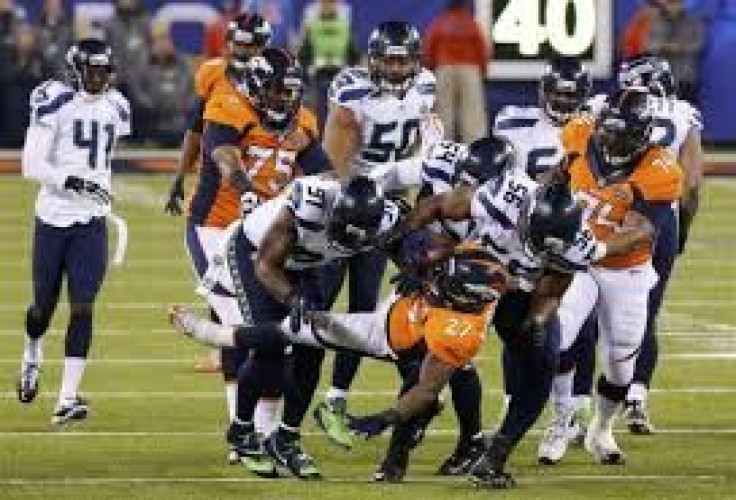 Every year, the Super Bowl is the most-watched program on television. The trend continued this year, as the Seattle Seahawks defeated the Denver Broncos.
Less than 24 hours after the games conclusion, early Nielsen numbers indicated that less than 100 million people watched Super Bowl XLVIII. However, those projections were not very close, considering Sunday's game set a new record for viewership. The matchup between the Seahawks and Broncos was seen by 111.5 million people.
Super Bowl XLVI between the New York Giants and New England Patriots was the most-watched game in the history of the NFL. It drew an average of 111.3 million people, peaking with 117.7 in the final half hour. While that game was very close, the 2014 Super Bowl was anything but a back and forth affair.
The final score did not lead to decreased viewership. At halftime, the Seahawks had a 22-0 lead, and extended it to 29-0 on the first play of the third quarter. The 35-point victory was the third-largest drubbing of any Super Bowl. Last year's game between the Baltimore Ravens and San Francisco 49ers came down to the final two minutes and was seen by an average of 108.4 million people..
Just less than 57 percent of households in Seattle watched the Seahawks win their first ever championship according to early projections, giving it the second-highest rating of any city. It wasn't outdone by Denver, though, which came in at just No.10 on the list. Kansas City led all markets with 58.1 percent of households tuning in.
The viewership of the game itself was more than that of previous years, and the same was the case for the halftime show. Bruno Mars' performance, as well as that of the Red Hot Chili Peppers drew over 115 million fans to their TV screens. That was higher than the previous two years, which featured Madonna and Beyonce.
The highest-rated show of all-time still remains the series finale of "MASH." The show was viewed by over 60 percent of U.S. households. However, the last five Super Bowls were seen by more people.
© Copyright IBTimes 2023. All rights reserved.