Super Bowl 2017 MVP Odds: Tom Brady, Matt Ryan, Julio Jones Among Betting Favorites To Win Award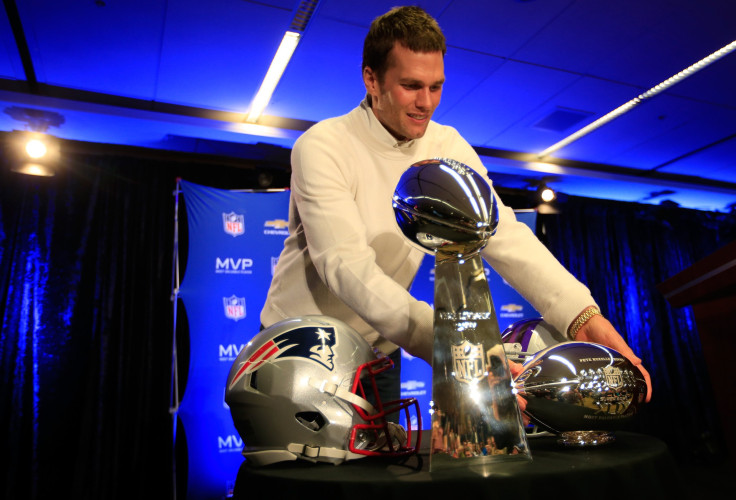 Not only is Tom Brady looking to win a record fifth Super Bowl title on Feb. 5, but the quarterback has a chance to make even more history. He could win his fourth-ever Super Bowl MVP award if the New England Patriots defeat the Atlanta Falcons.
Brady is tied for the all-time mark with Joe Montana, having won the award three times in his career. He was most recently named the MVP two years ago when he threw for 328 yards and four touchdowns in the Patriots' Super Bowl XLIX victory over the Seattle Seahawks. Heading into Super Bowl LI, he's given a better chance to win the award than anyone else.
Brady is the MVP favorite with 3/2 betting odds. Falcons' quarterback Matt Ryan is right behind him with 5/2 odds.
More often than not, the winning quarterback is named the game's most valuable player. Twenty-seven signal callers have won the award, including seven in the last 10 years.
Only six wide receivers have ever been named the Super Bowl MVP, but a few are given a realistic shot to do so in Houston. Julio Jones, who has the most receiving yards per game in NFL history, is third with 10/1 odds. Julian Edelman led the Patriots with 1,106 receiving yards in the regular season, and he's fourth with 12/1 odds.
Seven running backs have won the award, but it hasn't happened since Terrell Davis did it for the Denver Broncos in 1998. Still, New England running back LeGarrette Blount has the fifth-best odds at 20/1.
Recent history suggests that if a quarterback isn't named the MVP, a linebacker might win the award. That's been the case in two of the last three years with Malcolm Smith in 2014 and Von Miller in 2016. Atlanta linebacker Vic Beasley led the league with 15.5 sacks in the regular season and he has 25/1 MVP odds.
Four other players (Tevin Coleman, Devonta Freeman, Chris Hogan and Dion Lewis) also have 25/1 odds. Gamblers can bet the field at 20/1.
It's nearly impossible for a player on the losing team to be named the MVP, considering Dallas Cowboys' linebacker Chuck Howley is the only one to ever do it. He won the award in Dallas' 16-13 loss to the Baltimore Colts in Super Bowl V, which was so poorly played that it's been nicknamed the "Blunder Bowl."
Super Bowl XII between the Cowboys and Denver Broncos is the only one that featured two MVPs. Defensive end Harvey Martin and defensive tackle Randy White shared the award.
Below are the complete MVP odds for the 2017 Super Bowl, via Bovada.lv.
Tom Brady (NE) 3/2
Matt Ryan (ATL) 5/2
Julio Jones (ATL) 10/1
Julian Edelman (NE) 12/1
LeGarrette Blount (NE) 20/1
Vic Beasley Jr. (ATL) 25/1
Tevin Coleman (ATL) 25/1
Devonta Freeman (ATL) 25/1
Chris Hogan (NE) 25/1
Dion Lewis (NE) 25/1
Mohamed Sanu Sr. (ATL) 33/1
Logan Ryan (NE) 40/1
Martellus Bennett (NE) 50/1
Matt Bryant (ATL) 50/1
Taylor Gabriel (ATL) 50/1
Stephen Gostkowski (NE) 50/1
Austin Hooper (ATL) 50/1
Malcolm Butler (NE) 66/1
James White (NE) 66/1
Devin McCourty (NE) 75/1
Danny Amendola (NE) 100/1
Patrick Chung (NE) 100/1
Dwight Freeney (ATL) 100/1
Dont'a Hightower (NE) 100/1
Deion Jones (ATL) 100/1
Malcolm Mitchell (NE) 100/1
Keanu Neal (ATL) 100/1
Rob Ninkovich (NE) 100/1
Eric Weems (ATL) 100/1
Chris Long (NE) 150/1
Levine Toilolo (ATL) 150/1
Field 20/1
© Copyright IBTimes 2023. All rights reserved.