Super Bowl 2019 Prediction, Betting Odds Before 2018 NFL Season Opener
The quest toward Super Bowl LIII for all 32 teams begins with Week 1 of the 2018 NFL season finally getting underway, and a large portion of the league seems to have a realistic shot of making some noise this year. A quarter of the NFL has 15/1 championship odds or better, and 12 teams have 20/1 odds or better.
Here's a look at the Super Bowl LIII betting odds for every NFL team, via Bovada.lv, as well as a prediction for the big game that's set to take place on Feb. 3, 2019 in Atlanta:
The Favorite: New England Patriots+550
Never mind the rumors regarding whether or not there's some kind of rift between Bill Belichick and Tom Brady. The best coach-quarterback duo in the history of the sport remains at the peak of their powers, and they clearly have the best chance of any team to both reach and win Super Bowl LIII.
There might be no bigger lock in sports than the Patriots winning the division each year. They've done it in each of the last nine seasons and in 14 of 15 years. Since 2010, New England has never won fewer than 12 games. The Patriots have made seven straight AFC Championship appearances, reaching the Super Bowl in three of the last four years and winning two championships during that span.
No one in the AFC made enough improvements in the offseason to close the gap between themselves and the Patriots. Brady will have to slow down eventually, but considering he just won his third MVP award, there's little evidence to believe he won't be spectacular again in 2018.
Top Contenders: Philadelphia Eagles+850, Los Angeles Rams+850, Pittsburgh Steelers+1000, Minnesota Vikings+1100, Green Bay Packers+1100, New Orleans Saints+1400, Atlanta Falcons+1500, Jacksonville Jaguars+1800
More so than any season in recent memory, the NFC is wide open in 2018. It's not simply the result of parity—it's because there are more really good teams in the conference than maybe at any point in NFL history. The defending champion Eagles have the best odds, and they are tied with the reigning NFC West champion Rams, who managed to get better in the offseason. Minnesota replaced Case Keenum with Kirk Cousins after reaching the NFC Championship Game. The Saints and Falcons had double-digit wins in the league's best division last year and both could potentially have top-10 defenses in 2018. Green Bay has Aaron Rodgers, which always makes them a contender.
After the Patriots, the Steelers and Jaguars have to be considered in the next tier of AFC Super Bowl contenders. Pittsburgh nearly beat New England in last season's regular meeting to earn the conference's No.1 seed. Jacksonville defeated Pittsburgh twice, including in the playoffs, and they might have the best shot to dethrone the Patriots if their defense stays healthy.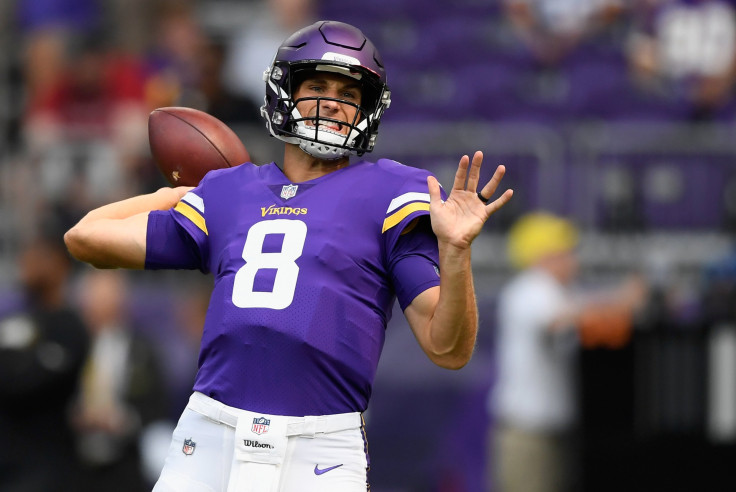 In The Mix: Los Angeles Chargers+2000, Houston Texans+2000, San Francisco 49ers+2000, Dallas Cowboys+2800, Kansas City Chiefs+3000
This tier is filled with teams that have high expectations based on arguably unrealistic expectations. The Chargers are clearly a talented team, but it's hard to believe they should be the overwhelming AFC West favorite when they haven't won 10 games in nearly a decade and seemingly find new ways to lose each year. Houston can do big things if Deshaun Watson and J.J. Watt can play like they did before suffering major injuries, though those are two pretty big "ifs". San Francisco might be getting more hype than any six-win team in history simply because Jimmy Garoppolo had a few good games to end last season. Even though the 49ers could compete for a playoff spot, 20/1 odds makes them a difficult Super Bowl bet.
The Cowboys and Chiefs could be underrated in Week 1 because of how their seasons ended in disappointing fashion. Dallas had a 9-7 record, despite losing Ezekiel Elliott for six games. Kansas City blew their wild-card playoff game and lost their starting quarterback, but Andy Reid has delivered five straight winning seasons for the Chiefs.
Long Shots: Oakland Raiders+3500, Carolina Panthers+4000, New York Giants+4000, Tennessee Titans+4000, Denver Broncos+4500, Baltimore Ravens+4500, Detroit Lions+5000, Seattle Seahawks+5500
No team has less value than the Raiders, who seem destined for a last-place finish in the AFC West. The Panthers and Titans both made the playoffs a year ago, and they'll be in the mix for a postseason spot if their respective quarterbacks can be more consistent. The Lions have won nine games in consecutive seasons, and their biggest issue is sharing a division with the Packers and Vikings.
Could the Giants or Broncos bounce back after awful seasons? New York did add Saquon Barkley and a now-healthy Odell Beckham Jr., though they've got question marks all over. Denver can compete in the AFC West if Case Keenum helps to improve the offense. The Ravens just missed last year's postseason at 9-7 and added a few playmakers. Russell Wilson has a lot on his shoulders in Seattle after the team lost a few Pro Bowl defenders in the offseason.
Extreme Long Shots: Chicago Bears+6600, Washington Redskins+7000, Indianapolis Colts+7000, Cincinnati Bengals+7000
There's a universe in which some of these teams could make deep playoff runs, but only if just about everything breaks right. For the Bears, Khalil Mack and Roquan Smith need to give Chicago a top-five defense, and the Mitchell Trubisky-Matt Nagy pairing has to be this year's version of Jared Goff and Sean McVay or Carson Wentz and Doug Pederson. Andrew Luck has a chance to carry the Colts to the postseason if he's completely healthy, though he doesn't have much help.
Alex Smith gives the Redskins a steady quarterback that doesn't make mistakes, and they'll have to hope that the rest of the NFC East disappoints. There's little point in trying to figure out how Marvin Lewis might win a playoff game after failing to do so for his first 15 years in Cincinnati.
No Chance: Cleveland Browns+7500, Tampa Bay Buccaneers+9000, New York Jets+15000, Miami Dolphins+15000, Arizona Cardinals+15000, Buffalo Bills+20000
The three AFC East teams have such long odds in part because the Patriots are expected to cruise to a division title. No second place team won fewer than nine games last season, so there's a chance that one of the Bills, Jets or Dolphins will surprise and compete for a playoff spot.
There are those that believe the Browns could be decent, though asking a team to go from no wins to even a .500 record is a lot. The Buccaneers are a bit of a mess with a bad defense and Jameis Winston suspended for three games. In Arizona, it's probably only a matter of time before rookie quarterback Josh Rosen starts playing.
Super Bowl LIII Prediction
Minnesota and Jacksonville came dangerously close to meeting in last season's Super Bowl. The Vikings were favored in the NFC Championship Game before getting blown out by the Eagles, and the Jaguars blew a 10-point lead in the fourth quarter at Gillette Stadium. The two teams have the best defenses in the NFL, and they'll have a great chance to get back to where they were if they can stay healthy.
New England, of course, could very well end up back in the Super Bowl, but they are the easy pick in the AFC each year. There are several realistic options in the NFC. The Vikings are as good as any of them with a top-10 quarterback, talented playmakers and a defense that is strong at every level.
Believe it or not, Kirk Cousins and Blake Bortles could very well go head-to-head with the NFL championship on the line in 2019. Philadelphia won their first-ever Super Bowl last season, and it might be another franchise's turn this season.
Minnesota Vikings over Jacksonville Jaguars
© Copyright IBTimes 2023. All rights reserved.