Supply Chain Theft A Growing Problem For Retailers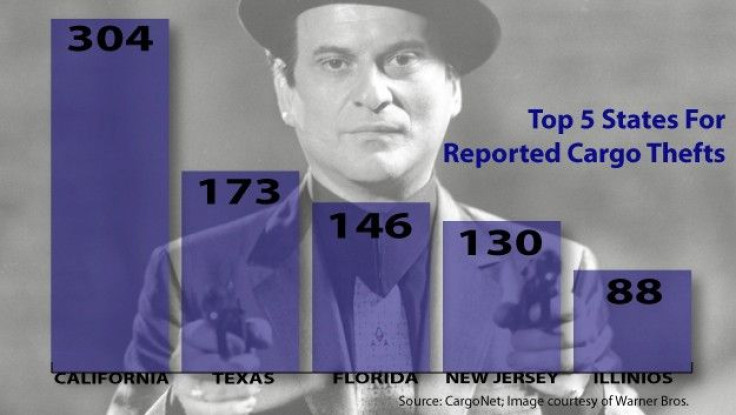 Here's a window into how far the bad guys will go to steal retail inventory: Last week in California, 1,600 pounds of premium dog food, a $10,000 cargo on its way to feed needy strays at a local pet rescue, was stolen.
The incident underscores the growing problem of supply chain inventory theft in the United States and how wide-ranging the targets can be.
The National Retail Federation's latest spring survey shows that more than nine out of 10 respondents say they have been a victim of organized retail crime in the previous 12 months, a 6 percent increase from the previous survey done in the spring of 2011. Sixty percent of respondents say they've noticed an increase in such criminal activity in the same period of time.
"Organized retail crime losses are attributed to several factors, including lower staffing levels at stores; the ease of selling stolen merchandise online, at pawn shops, flea markets and other fencing operations; and the current economic environment, which is ripe with consumers looking for low prices," said the NRF survey, which was conducted from April 19 to May 10.
The rash of supply chain thefts is forcing retailers, large and small, to work together against shrinkage -- industry-speak for inventory theft, much of which is part of a multibillion-dollar black-market industry that costs companies, and ultimately customers, a good deal of cash.
Shoplifting by unscrupulous customers and employee theft are major components to the problem, retailers have said, but supply chain theft is the domain of organized retail crime, because it involves people who can rapidly turn over a container of women's dresses or a truckload of cigarettes in one shady deal.
Retail industry advocates say it's very difficult to determine how much of this loss is attributed to organized retail crime, which is when product is stolen en route, often from truck stops, warehouses and terminal lots, usually over the weekend.
Tens of billions of dollars was the closest estimate by Lisa LaBruno, vice president of loss prevention and legal affairs for the Retail Industry Leaders Association (RILA). It's difficult to determine with precision. What makes it challenging is that folks are not always caught at the locations where the thefts occur. So they're selling the goods in different venues, online at flea markets.
The RILA, which advocates for some of the largest retailers in the U.S., including Wal-Mart Stores Inc. (NYSE: WMT) and Target Corp. (NYSE: TGT) says law enforcement has begun to look more closely at the data to try to determine more accurately the extent of this complex form of criminal activity.
"Law enforcement has always taken this very seriously, but it's getting a lot more attention. They're starting to separate this crime out more so they can respond to it with more precision," said LaBruno. "And retailers themselves are building their retail crime teams and getting more sophisticated in ways to combat it."
According to the UK-based Centre for Retail Research's Global Theft Barometer, shrink loss in the U.S. was estimated to be $41.7 billion last year, but the metric includes losses due to administrative errors, as well as individual acts of shoplifting and employee theft. The organization also estimates that the average American consumer spends $425 per year to compensate for all forms of retail theft.
For its part, the Federal Bureau of Investigation uses the figure $30 billion per year, but that includes the theft of industry materials, such as base metals. Recognizing the increased need for more specific data regarding supply chain theft, the FBI in 2010 started tracking cargo theft as a separate category of property crime, but the FBI usually only gets involved when an interstate nexus is achieved, especially in cases involving systemic or violent criminal acts or when the crime is global in nature.
Denise Ballew, an FBI representative, said it's difficult to determine how much stolen product ends up in the black market
"If those instances aren't reported to us, we will not have a stat for that, i.e. we don't know what we don't know," she said.
Organized retail criminals tend to target electronics, apparel, pharmaceuticals, cigarettes and prepared food products, according to New Jersey-based CargoNet, which tracks incidences of cargo theft that is reported to it. CargoNet says electronics made up 47 percent of goods nabbed from the logistics chain, while 75 percent comprised electronics, food, apparel, beauty products and pharmaceuticals.
Meanwhile, Bakersfield pet rescue owner Patricia Irwin is asking people in her community to be on the lookout for that 1,600 pounds of premium dog food that was stolen Friday, along with her car and the U-Haul trailer used to transport a donation by British Columbia-based pet nutrition company Darford Products Inc.
There have been no updates or leads on the stolen 200 bags of food donated to HALT, however we expect them to show up somewhere. So please keep an eye out on Craigslist, eBay, newspapers, Irwin said on her organization's Facebook page, referring to the pet shelter she founded that rescues about 100 dogs per year.
© Copyright IBTimes 2023. All rights reserved.