Support for Australian government tumbles after disasters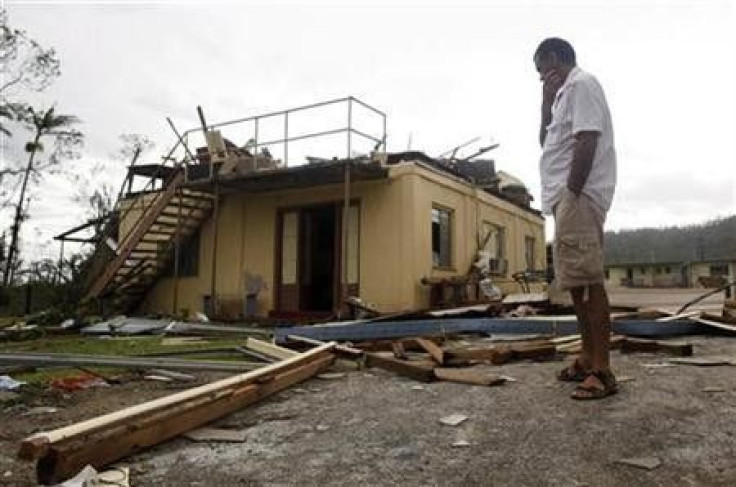 The Australian government's support has slipped to dangerously low levels following a summer of natural disasters and as Prime Minister Julia Gillard fights for a new tax to pay for flood and cyclone reconstruction, a new poll found on Monday.
If an election was held today Gillard would be swept from office, according to the Newspoll in the Australian newspaper.
Primary support for the ruling Labour party had slipped to 32 percent, 6 points lower than in last August's dead heat election. On a two-party basis, which is a better indication of who would win an election, Labour trails with 48 percent compared with 52 percent for the conservative opposition.
But in some good news for the government, the Newspoll found 55 percent support for Gillard's plan for a special floods tax on middle- and high-income families to raise about A$1.8 billion (1.1 billion pounds) to help pay for disaster reconstruction.
Julia Gillard may have won the policy fight on her plan for a flood levy but it seems she has lost the politics of a summer of disasters, The Australian's political editor Dennis Shanahan wrote on Monday.
Australia's northeast has been hit by a series of floods and cyclones over the summer, with at least 35 killed and 30,000 homes inundated in Queensland state, where floodwaters also wiped out roads, bridges and rail lines.
Floods also hit New South Wales and Victoria, while bushfires are currently burning around the Western Australian state capital of Perth, where dozens of houses have been razed.
Early estimates of damage have topped A$10 billion, with the national government to pay for around 75 percent of the costs. Gillard has promised more cuts to the national budget to fund infrastructure reconstruction following the disasters.
The government plans to introduce laws into parliament on Thursday for a special floods tax to last 12 months from July.
But Greens and independent lawmakers, who Gillard relies on for a majority in the lower house of parliament, have yet to agree to the package.
The government's primary support in the Newspoll is the lowest since the party dumped former Prime Minister Kevin Rudd in favour of Gillard last June.
Gillard refused to comment on the polls on Monday, only saying the government was focussed on the task of helping communities recover from the summer disasters.
But Gillard announced a new body to oversee spending on reconstruction, to be led by former conservative finance minister John Fahey, to head off opposition criticism of the government's handling of big spending programmes.
Opposition leader Tony Abbott stepped up his attack on the new floods tax on Monday, saying the government was addicted to new taxes and cannot be trusted to spend the money properly.
He made no direct comment on the polls, but told a meeting of the opposition cabinet that he remained committed to bring down the government.
We don't know what's going to happen this year; we do know that we will be doing everything we humanly can to try to get rid of a bad government by holding a bad government to account and by doing our best to be a credible alternative, Abbott said.
Transport and Infrastructure Minister Anthony Albanese played down the poll, and said Gillard continued to hold a 13-point lead over Abbott as preferred prime minister.
To get over-excited about it is I think a wrong response, Albanese told Australian radio.
© Copyright Thomson Reuters 2023. All rights reserved.
FOLLOW MORE IBT NEWS ON THE BELOW CHANNELS