Supreme Court Gay Marriage Ruling: LGBT Millennials Don't Want To Get Married, But They Want The Option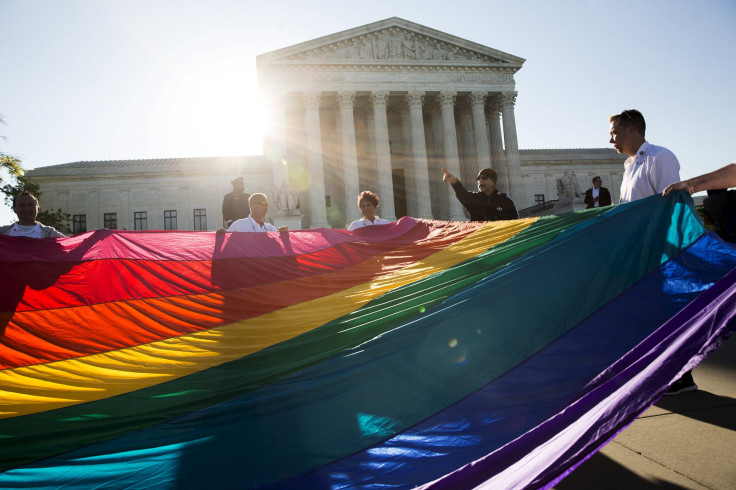 Melissa Mitchell recently got ordained on the Internet so she can be the minister at her sister's wedding in August, but she's not planning any ceremony of her own. Mitchell, 22, said she doesn't see herself getting married because she wants to focus on her career in social work. As a child of divorce, she said she's seen firsthand how spouses can cause each other excess stress and ultimately lead to a breakdown.
Like many lesbian, gay, bisexual and transgender millennials, Mitchell is closely watching the Supreme Court this month as it prepares to announce its ruling on a landmark same-sex marriage case. The justices will decide two issues: Whether states have to marry same-sex couples under the federal Constitution and whether they must recognize same-sex marriages performed elsewhere.
But while many young LGBT people are hoping for an outcome that will give them the same rights enjoyed by heterosexual couples, that doesn't mean they all are eager to walk down the aisle. Like millions of Americans who have eschewed marriage in recent decades, gay millennials said fears of economic instability and committing before they're ready means that while they desperately want the right to marry, they probably won't exercise it anytime soon.
"I'm a big believer in partnership rather than the legal boundaries of a marriage," said Mitchell, a pansexual student at Florida State University in Tallahassee. "Relationships can exist outside of those limitations."
Since April, the Supreme Court has been debating Obergefell v. Hodges, a consolidation of six cases from four states -- Kentucky, Michigan, Ohio and Tennessee -- that are seeking to continue their bans on same-sex marriage. The ruling will mean different things to different generations. Only about 26 percent of today's 18- to 34-year-olds were married in 2014, according to the Pew Research Center. When members of Generation X were that age, 36 percent of them already were wed. The percentages climb the further back you look: About 48 percent of Baby Boomers and nearly two-thirds of the Silent Generation, people born between the mid-1920s and early '40s, were married by this point.
Young people's reticence toward marriage usually centers around economic instability stemming from the Great Recession that began in 2008. A separate Pew study from last year found 26 percent of millennials weren't married because they weren't financially prepared. One-third of young people said they weren't ready to settle down, and 25 percent said they just hadn't found what they were looking for. Others reject the tradition of marriage as a whole.
Attitudes on Same-Sex Marriage by State | FindTheBest
Courtney Cramer, a 20-year-old journalism student who identifies herself as asexual and panromantic, said she won't wed until she's older. Cramer, the co-president of LGBT organization Spectrum at Missouri State University, said marriage has historically been a business transaction to protect property, combine assets or produce heirs. Because of that, she said she never developed strong feelings about it. "I don't really need that status to know that I am loved," Cramer said.
She's not saying "no" to marriage completely, just not right now. Cramer explained that she wants to travel the world after graduation, which she doesn't think would be a good environment to raise children in. Once she has a steady job and home, Cramer said she'll be in a better position to settle down. The only benefit to marriage that she could think of was being able to make medical decisions should her spouse become incapacitated.
For Andrew Cook, a 26-year-old nurse's aide in New York City, marriage is an ancient institution based on men possessing women, so he said he doesn't see it as any sort of eternal bond between two people. It's more of a economic decision, he said.
After Cook's parents split up, they came out of the divorce with words of caution about getting married too soon. "My mom, especially, always told me, 'You can't even think for yourself until you're 25,'" he said. "She always warned us not to do something like that."
Cook, who has a long-term boyfriend, said he could see himself getting married in 10 years once he's more financially stable -- "but it's not like I have this timeline in my head for marriage." Truthfully, he added, he's more concerned about making rent on his apartment at this point.
Adam Eickmeyer, a self-described queer 22-year-old, said he's found his partner but isn't in a hurry. Both of their families recognize them as a couple, so it's not important for them to be legally betrothed. "I'm happy with not having a husband and just a boyfriend," Eickmeyer said.
The University of Michigan public health student said he wants to finish his education before considering getting married. Eickmeyer dreams of enrolling in a doctoral program, and he doesn't know which college he'll choose or where in life he'll be, he said. Marriage laws (if it is not a national right by then) will play a big role in where he ends up.
"I don't want to set up my whole life in a state where I'm not afforded the same right that everyone else is," Eickmeyer added. "I feel like I am being held lower than people who are in opposite-sex relationships."
Marriage is also at least a decade away for Hunter Grissom, an 18-year-old sophomore at the University of Mississippi studying integrated marketing and communications. He wants to finish school, get a good job and feel secure before taking the next step. Grissom said his life isn't stable enough right now – which, he joked, is the reason he recently decided not to buy a cat.
That said, he still hopes to see the Supreme Court legalize same-sex marriage. Grissom and his boyfriend will celebrate eight months together this week, and he said it would be nice to know that they could get married later on if they wanted to.
"I don't want the government to look at me and say, 'Oh, that's his roommate. They own a business together, they have a couple of dogs and they want to adopt a kid one day, but they're roommates,'" he said.
FOR FREE to continue reading
✔️ Unlock the full content of International Business Times UK for free
offer available for a limited time only
✔️ Easily manage your Newsletters subscriptions and save your favourite articles
✔️ No payment method required
Already have an account? Log in
© Copyright IBTimes 2023. All rights reserved.