Swiss Police Will Press Charges Against WEF Protesters in Bern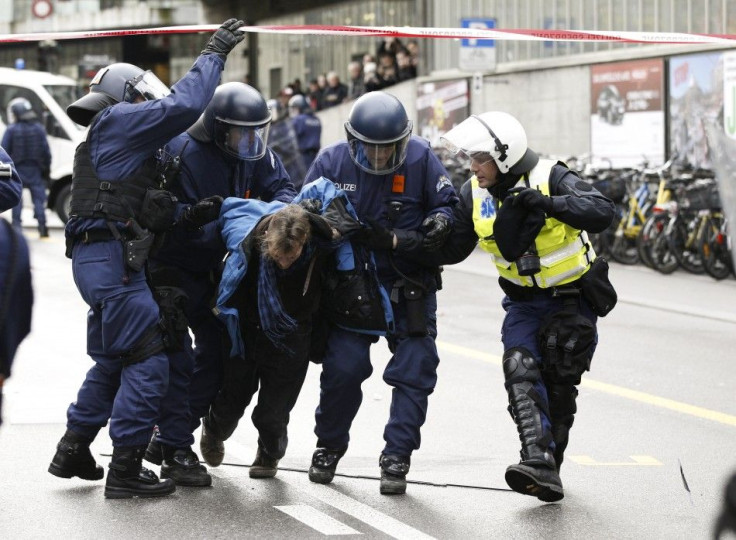 Swiss police will charge more than 100 demonstrators with breaching the peace after they rallied in Bern Saturday to protest against the World Economic Forum (WEF), which holds its annual meeting in Davos this week.
WEF describes itself as an independent international organization committed to improving the state of the world by engaging business, political, academic, and other leaders of society to shape global, regional, and industry agendas.
The protesters began an unauthorized demonstration, but were stopped by police in Bern, about 170 miles west of the Davos ski resort where the global elite will gather for the forum's meeting starting on Wednesday.
Some protesters threw firecrackers and missiles at police, but caused no material damage, police said in a statement.
Swiss police Wednesday arrested two men suspected of throwing red paint and scrawling Smash WEF in black graffiti on the walls of the Swiss National Bank in Zurich.
Anger against income inequality and the perceived greed of the rich and powerful has fed the Occupy Wall Street movement whose emergence in New York spurred copycat protests in other cities in the United States and elsewhere, including Zurich.
Occupy protesters are building an igloo camp in Davos, but few demonstrations are likely at the ski resort given stringent security measures, including exclusion zones around the main congress center and air patrols by armed fighter jets.
(Reporting by Silke Koltrowitz; Editing by Sophie Hares)
© Copyright Thomson Reuters 2023. All rights reserved.