Switzerland Ranks Top On Human Freedom Index - IBT Graphics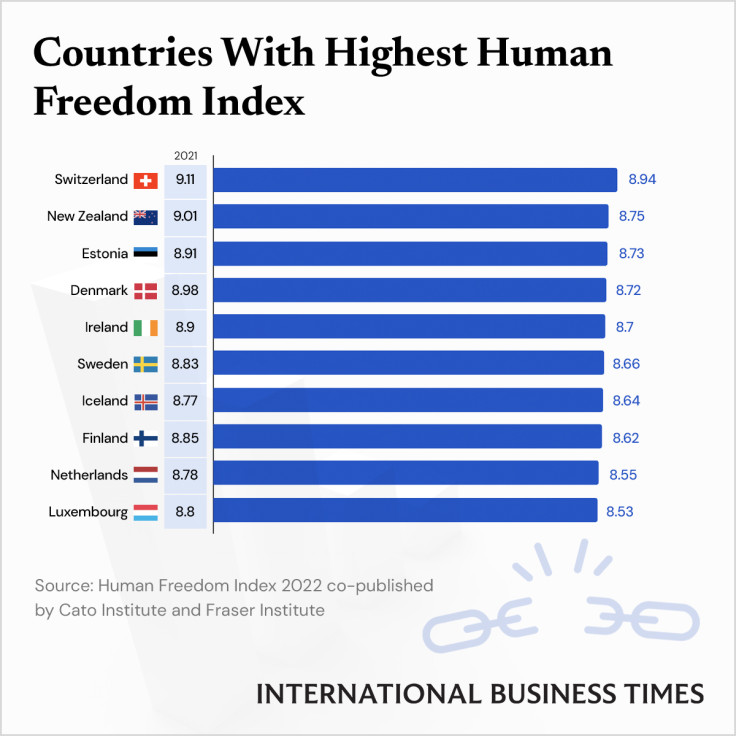 More than 90% of the world's population is currently living in countries with decreasing human freedom.
The Cato Institute and Fraser Institute co-published the Human Freedom Index 2022 by measuring different indicators of personal and economic freedom in several areas, including religion, rule of law, expression and information, legal system and property rights, and security and safety.
The countries with the highest Human Freedom Index scores are largely known as the freest in the world. The average human freedom score fell from 7.03 in 2019 to 6.81 in 2020.
The highest levels of freedom were found in countries in Western Europe, Oceania, and North America. Switzerland witnessed the highest level of freedom among 165 jurisdictions assessed in the index at 8.94, a significant fall from 2021 by 0.23. The European nation also scored 9.35 in personal freedom and 8.37 in economic freedom.
New Zealand followed a close second with a score of 8.75, a decline of 0.29 from the previous year.
At the other end of the spectrum, countries marked by the lowest levels of freedom last year include the Syrian Arab Republic, Yemen and Venezuela.
© Copyright IBTimes 2023. All rights reserved.