Syracuse's Fab Melo Ineligible For NCAA Tournament: Impacts On Your Bracket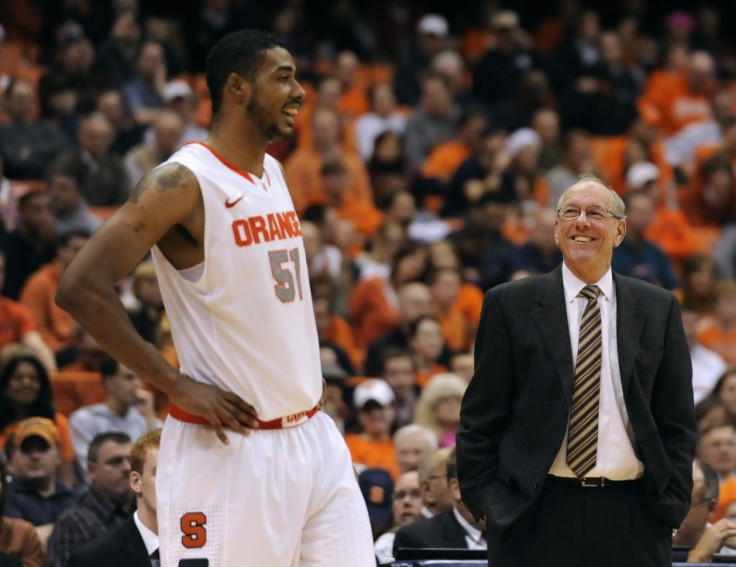 Syracuse's star center Fab Melo has been declared ineligible to play in the NCAA Tournament, and here is how it impacts your March Madness bracket.
Syrace University is one of the 2012 season's best college basketball teams. Despite Fab Melo being out of service for a couple of games earlier this year, the team had a great run, only losing one game with a full roster (the Orange's March 9 Big East Tournament upset at the hands of the Cincinnati Bearcats), and one without Melo to Notre Dame in January.
The one-seed--with all of its players--is a near-unanimous pick for a Final Four bid, and a reasonable selection for the winner of this year's NCAA Tournament Championship game.
In fact, my bracket as of Monday had Syracuse making it to the finals, only to lose to the dominant University of Kentucky.
But with Melo out, as the Syracuse University Athletics Department announced on its website Tuesday, the calculations have to be totally reevaluated.
Syracuse University sophomore men's basketball center Fab Melo did not travel with the team to Pittsburgh, and will not take part in the NCAA Tournament due to an eligibility issue, the Athletics Department announced online Tuesday. Given University policy and federal student privacy laws, no further details can be provided at this time.
Fab Melo was having a dominant season, leading the Orange to its 31-2 record on the season, and averaging 7.8 points, 5.8 rebounds and 2.9 blocks in 25.4 minutes per game. The sophomore is a defensive stalwart and a great transition player, and no other Syracuse player has managed even one block per game.
Though senior Scoop Jardine has also had a great season, averaging 8.3 points, 4,7 assists and 2.3 rebounds, it is nearly impossible for the guard to carry the team to a championship, and even a Final Four bid is highly questionable, considering the caliber of teams Syracuse would have to beat to make it to that round.
Basketball fans and analysts were already selecting Florida State University to beat Syracuse and make it to the Final Four even before the loss of Melo, and that choice is looking like more of a solid bet with the loss of the integral Syracuse star.
Plus Syracuse is coming off a massive loss, and could easily fall to who ever wins between Vanderbilt and Wisconsin, both of whom have had solid seasons and are rearing to go (particularly Vanderbilt, which is coming into its own and just notched a massive 7-point win on March 11 over the University of Kentucky, the overall number-one team in the NCAA Tournament.)
In other words, the loss of Melo for the entirety of the NCAA Tournament 2012 is a blow that will be reshaping people's brackets across the nation. Be sure to reevaluate your picks if you want to stay in the running in your office pool.
© Copyright IBTimes 2023. All rights reserved.